Mahan Esfahani / Richard Goode, Wigmore Hall review - clarity and contrast from two keyboard masters |

reviews, news & interviews
Mahan Esfahani / Richard Goode, Wigmore Hall review - clarity and contrast from two keyboard masters
Mahan Esfahani / Richard Goode, Wigmore Hall review - clarity and contrast from two keyboard masters
Lessons in Bach partitas, instinctive Chopin mazurkas
Tuesday, 18 December 2018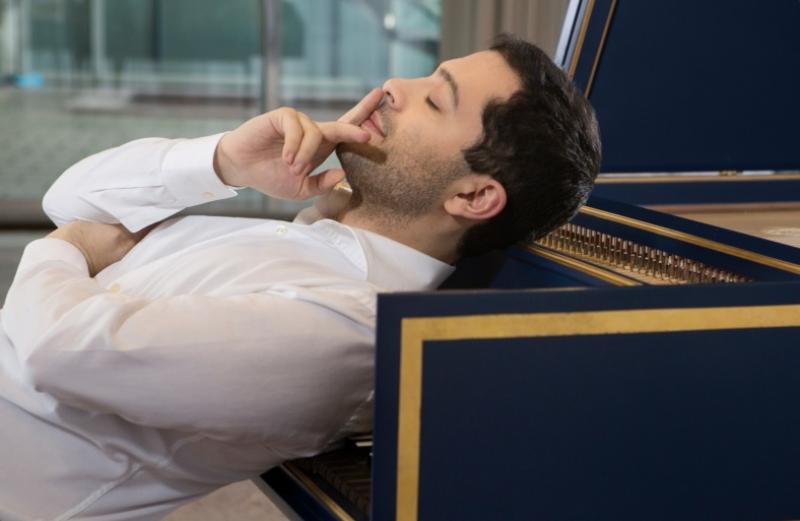 Mahan Esfahani: 'scholarship and discovery'
Two successive nights, two contrasted solo keyboard recitals at the Wigmore Hall: not great for the knees but marvellous for the soul.
On Saturday the Tehran-born, US-raised
harpsichordist
Mahan Esfahani continued a mammoth project: he has been invited by the Wigmore Hall to present more or less the entirety of
Bach's
works for harpsichord over five seasons. The series started with the Goldberg Variations, and in the current season, he is working his way through all of the Partitas, with further instalments to come in March and July. It is a series which really brings to life Beethoven's idea about the vastness of Bach's work: "Bach, this ocean, is infinite and inexhaustible in its wealth of inspirations and harmonies."
What had given me the taste for this concert and drawn me to it was Esfahani's totally persuasive performance of the cadenza from Brandenburg Concerto No. 5, the highlight of a long day of Bach and Bach-inspired works at the Proms this summer. I was very struck by Esfahani's way of elucidating complex music as he plays it.
These are recitals, but Esfahani also explains the context very well
He takes this approach further in this series. These are recitals, but Esfahani also explains the context very well. He talks entertainingly and self-effacingly about his own scholarship and discovery, he demonstrates by giving musical illustrations, and has very deft ways of explaining simultaneously to people who might know a lot while elucidating the basics to those who don't. It was certainly worth being told/reminded with such an elegant phrasing what "Partitas" actually are: works in which "the dance forms at hand are the subject of the music"; and, then with a smile, to have it explained how each one has "a skeleton which keeps on coming back..." Esfahani's talk about how with the "spirit of constant questing and lack of resolution we don't know where Bach is taking us" proved the ideal introduction to the final work on the programme, the 3rd Partita in A minor.
Esfahani's approach is decidely "scholarly" in the way that he informs and contextualises and illuminates the music – there is a parallel here with Jordi Savall – and yet this was also a very satisfying concert. And that was to do with the myriad ways in which contrasts are brought to the fore. There were virtuosic works: Esfahani launched powerfully into the crunchy chromaticism of the Fantasia in C minor BWV 906, but there were also moments of repose and beauty, especially the encore, Stölzel's Bist Du Bei Mir from the Anna Magdalena Bach Notebook. There was the more familiar – a final, stunningly virtuosic Capriccio from the second Partita – but also a generally unknown early work, the Praeludium e Partita del Tuono Terzo from before 1708, which had a charmingly limpid sarabande.A fine concert, which deserved to be better attended.
A more substantial and highly appreciative audience gathered on Sunday night for a programme of music by five composers spanning three centuries from the 75-year old American pianist Richard Goode (pictured above by Steve Riskind). He does not fully embrace the legendary asceticism of his teacher at Curtis, Rudolf Serkin – he doesn't refuse to perform Chopin, for example – and yet his pianism is all about honesty and clarity. His on-stage manner is unflamboyant, and there is nothing forced or attention-seeking in the way he shapes his sound.
There were countless moments in this varied programme where one had a sense that it was right, correctly weighted. Haydn's Andante con Variazioni was given with benevolent grace and good humour, and I loved the extra airiness and space he brought when he ushered in the andante theme for the last time. Goode does occasionally sing along à la Glenn Gould or Keith Jarrett – but one gets used to it.
For me, the highlight of this recital was a cleverly-wrought sequence of four Chopin mazurkas. Goode's instinctive, natural and exquisite feel for the way the triple-time is weighted reminded me of Rubinstein. There were contrasts: the harmonic instability and the obstinacy of the second piece in B major versus the inviting simplicity of the third in Ab. And I just loved the endings: whereas the fourth mazurka brought the sequence to a close emphatically with dominant-tonic, all of the first three had delicate, hushed endings. And in each case Goode put them gently to sleep with the all care and calm that a 75-year-old might lavish on, say, a beloved grandchild.
Esfahani's approach is decidely 'scholarly' in the way that he informs and contextualises and illuminates the music
rating
Share this article