Così fan tutte, Royal Opera review - fine singing and elegant deceits |

reviews, news & interviews
Così fan tutte, Royal Opera review - fine singing and elegant deceits
Così fan tutte, Royal Opera review - fine singing and elegant deceits
Metatheatrical devices turn the screw on Mozart's not-so-funny comedy of manners
Wednesday, 27 February 2019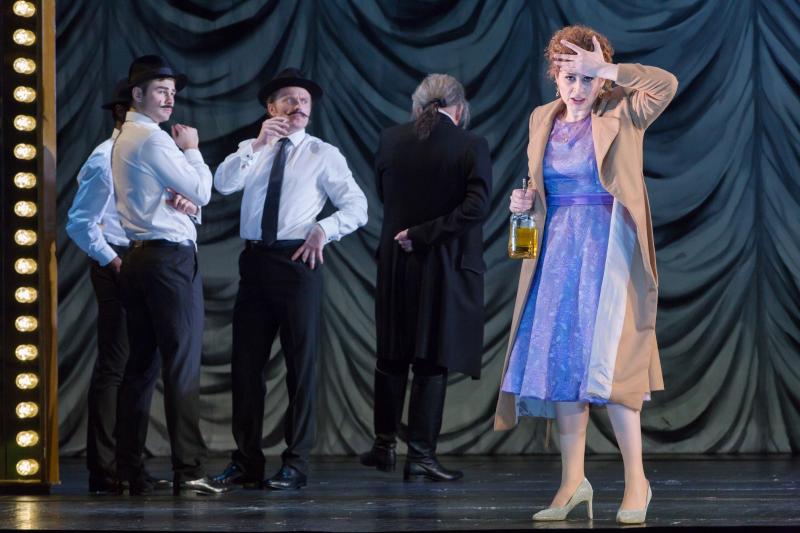 Playing hard to get: Serena Malfi, a winning Dorabella in the Royal Opera's revival of Così fan tutte
Give hope to all, says Despina: play-act. Così fan tutte has always been a piece about four young and silly people being appalling to one another without much need for encouragement from a cynical old manipulator and a confused maid who, in the main, is the one character capable of arousing real sympathy.
The big reveal in Jan Philipp Gloger's production for the
Royal Opera
is that there is no big reveal. We're all in on the act, and we're all as bad as each other.
It's a point made literally in lights towards the close with the kind of sledgehammer obviousness that seems to have made for a long evening on the production's original run in 2016. Or maybe that was Semyon Bychkov's old-school tempi. The same casting principle operates for this revival, tweaked and supervised by Julia Burbach. Take five singers near the start of big careers, add one old Mozartian hand, stir in rehearsal and serve with plenty of flourish on mobile sets of piquant colours (designed by Ben Baur). It's a cost-effective tactic, one that works well enough on a modest scale for student opera societies though not necessarily what you'd expect to see at the Royal Opera.
Gloger has substituted one set of theatrical devices for another. Out go da Ponte's tissue-paper premises of sisters, soldiers and ships, most of the time deftly elided by the surtitles. In comes a troupe of singer-actors (pictured above) trying out Don Alfonso's proposition if only to spice up a pair of relationships already on the rocks. It's a neo-classical Così, renewing on stage what Stravinsky rewrote on the page in composing The Rake's Progress, and Sir Thomas Allen's Don Alfonso goes full Nick Shadow as inscrutable fixer, black and white in costume but never in action, rich in nuance if no longer in honeyed projection.
He deserved more sympathetic support in the pit from Stefano Montanari, a Baroque violinist turned conductor who set off at an express pace and largely stayed that way, reducing many ensembles to so much bustle and gabble, though he had trouble securing ensemble no matter how broad his beat or telegraphed his cues. Stylistically at a polar extreme from Bychkov, he has stripped back the string tone and introduced a fashionably hyperactive continuo fortepiano which intensifies the workshop feel to the recitatives.
As Ferrando, Paolo Fanale supplied most of the evening's vocal highlights, floating "Un' aura amorosa" with unaffected feeling, and establishing a believably guarded rapport with Gyula Orendt's Guglielmo, who filled "Non siate ritrosi" with as much charm as Montanari's breathless speeds would allow. Paired up, Salome Jicia (Fiordiligi) and Serena Malfi (Dorabella) were more convincing than when apart, though Jicia had a nice line in assertive self-parody for "Come scoglio" and Malfi's surrender to Guglielmo carried one of the evening's few moments of sincere passion. Despina was sung with pertinent self-assurance by Serena Gamberoni, though it was her disguises as doctor and notary that caught the ear. Working well as a team, in an opera demanding of mutual understanding like no other, they all nonetheless projected moments of uncertainty as to how seriously we should take them, and perhaps that's how Gloger likes it. Still, there's nothing wrong with a Così that leaves a nasty taste in the mouth, and this one ends as sourly as a bottle of cheap red.
It's a neo-classical Così, renewing on stage what Stravinsky rewrote on the page in composing 'The Rake's Progress'
rating
Explore topics
Share this article