While the Sun Shines, Orange Tree Theatre review - frothy, yes, up to a point |

reviews, news & interviews
While the Sun Shines, Orange Tree Theatre review - frothy, yes, up to a point
While the Sun Shines, Orange Tree Theatre review - frothy, yes, up to a point
Slice of Rattigan esoterica is useful to see even as it shows its age
Sex please, we're British: Philip Labey and Sabrina Bartlett in 'While the Sun Shines'
Terence Rattigan completists, and count myself among them, will leap at the chance to see a rare production courtesy the Orange Tree Theatre of While the Sun Shines, a 1943 monster hit for this great English writer that has languished in semi-obscurity ever since.
(Theatre Royal, Bath, did an acclaimed version in 2016 but London hasn't seen it in an age.) Returning to a playwright whose previous
French Without Tears
enjoyed two sellout runs at this address, the director Paul Miller confirms a gift for mining the canon afresh.
If one's actual experience of the play amounts to a rather more muted pleasure, that is due to a plot rife with crossed wires and misapprehensions that has to huff and puff to make its way across three comparatively-brief acts. Some undercasting among the younger men doesn't help either, not least when it comes to a bagatelle of a play that relies heavily on the very breeziness and charm that French Without Tears achieved without apparent effort.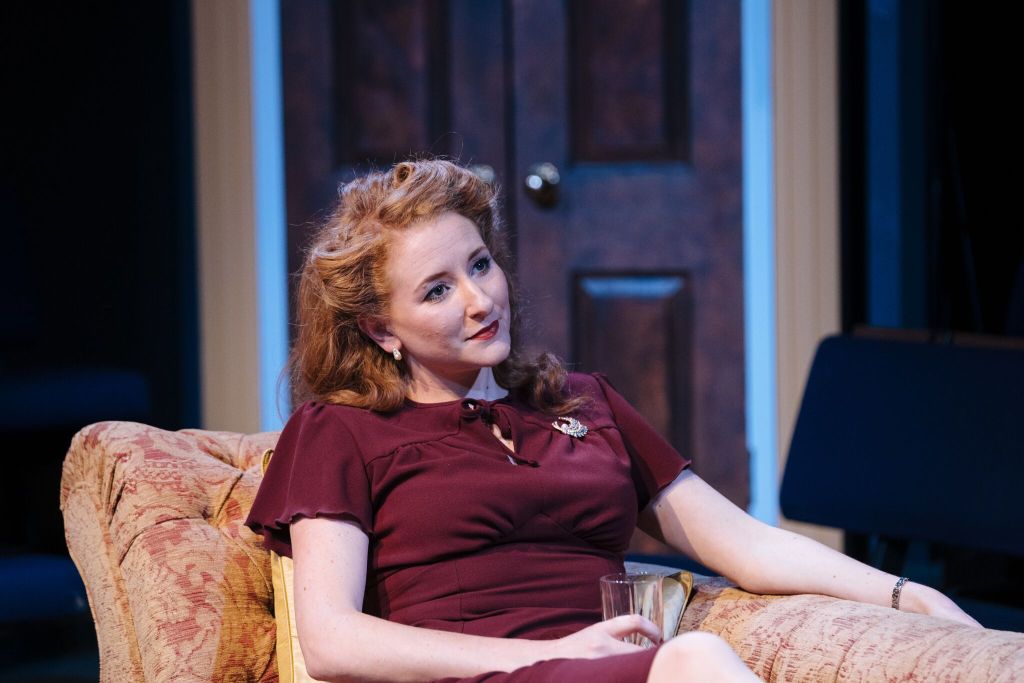 As so often with a gay playwright who had to write in code, Rattigan subsumes his own predilections within a narrative (here comic) that in his better-known works shifts focus toward indrawn tragedies that sear the soul. Suffice to say of a play about making hay, or so we glean from the title, that on more than one occasion two or even three men emerge from or head off to an (unseen) shared bed. Elsewhere, it's difficult given our subsequent appreciation of Rattigan not to raise a telling eyebrow at the machinations of a plot that, in between the utterances of "darling" and the like, contrives to send one young man off to Hyde Park – in fact, we're told, pretty much any park will do – in order to find another at 4 am.
The complication-heavy, faux-heterosexual caprice centres around the moneyed young Bobby (Philip Labey), an orphaned aristo who is worth truckloads of dosh and veers between the affections of two women who catch the eye of the veritable United Nations of suitors on view. The first of those is an eager-to-a-fault Ohioan, Joe (Julian Moore-Cook), who can't quite pronounce words like "Kensington" but says "darn" an awful lot. Scooped up from a drunken night out by the ever-accommodating Bobby, the Byron-quoting Joe finds an adversary of sorts in a French Lieutenant, Colbert (Julian Mifsúd), a fellow swain-in-waiting who cautions Bobby's putative fiancée, Elizabeth (a winning Sabrina Bartlett), to "turn back" lest she leave romantic ruin in her wake.
None of the three younger men is ideally cast: Moore-Cook could dial back the faintly ludicrous American heartiness, while Mifsúd, even within this venue's intimate contours, often sounds as if he is muttering to himself. Far better is the play's resident pragmatist and "trollop", Mabel Crum, Bobby's replacement bride (or maybe not), whom Orange Tree veteran Dorothea Myer-Bennett (pictured above) plays with a delicious awareness of a species of man "doomed", or so Bobby admits, to extinction.
Forever relegated to the upstairs kitchen – another offstage arena that figures heavily in the onstage chat -– Mabel seems wise to a landscape in which women are wooed one minute, talked about as if they were chattel the next. Even as one chafes at the 'Allo! 'Allo! humour of such unfortunate lines as "retournez au kitchen" (!) spoken by one of the older male swells, Mabel communicates an innate sense of self that carries all before it. Small wonder, come to think of it, that you exit the theatre wondering whether the play's two women might not in fact be better off without any of these men.