Best of 2019: TV |

reviews, news & interviews
Best of 2019: TV
Best of 2019: TV
The shows we liked and the ones we deplored over the past 12 months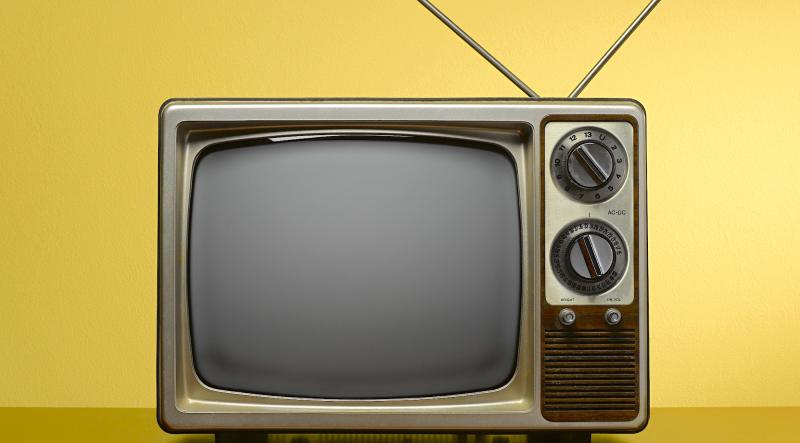 Television ain't what it used to be
As symbolic moments go, the arrival of Martin Scorsese's new gangster epic The Irishman on Netflix took some beating.
It exemplified the adage that "
TV
is the new cinema", and at the same time perhaps suggested a new and less digestible adage, something like "TV and cinema are now both parts of an ever-expanding entertainment continuum". Catchy, eh?
The inexorable spread of the global media giants is reflected in our artsdesk critics' choice of 2019's Best and Worst TV shows. While it's well known that Succession or Game of Thrones are HBO productions, it's less widely advertised that Gentleman Jack was a BBC/HBO collaboration (though the HBO website doesn't say much about the BBC part), or that Fleabag was originally developed by BBC Three and Amazon Studios. BBC Two's innovative Giri/Haji, the first bilingual Japanese-English show on British television, will be distributed globally on Netflix in the New Year. As far as UK viewers are concerned, The Widow was an ITV programme, but the rest of the world has been watching it on Amazon Prime. There are renewed murmurings about the future of the BBC licence fee, but it seems the Corporation has already got the message about collaborations and partnerships. Look on the bright side – perhaps we're still only in the foothills of the new golden age of TV.
HITS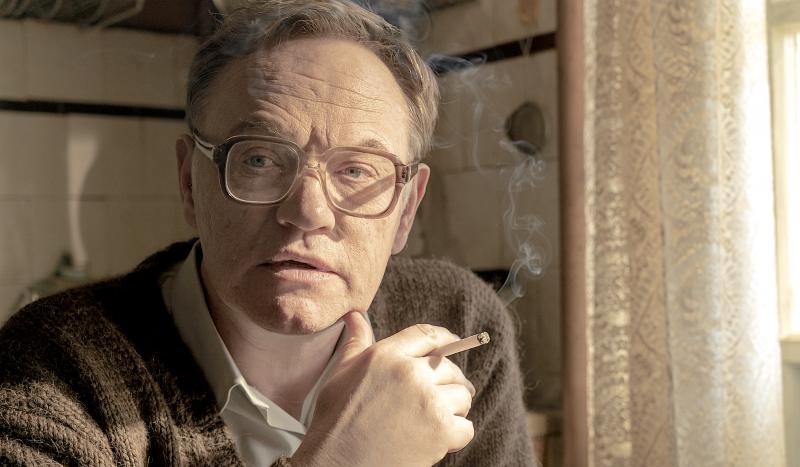 Chernobyl, Sky Atlantic
The ultimate plaudits for Craig Mazin's exceptional Chernobyl came from the most unexpected places – and they certainly turned out Janus-like: full criticism from Russian officialdom (right up to Kremlin level), alongside absolute respect from Russian viewers (the lucky ones who caught it on subscription TV: it won't be appearing on a local channel in any foreseeable future). There was little faulting the HBO series for attention to detail (bar, apparently, a modern storm window you had to zoom in on to notice), and no over-praising a superb cast, especially Jared Harris and Stellan Skarsgard, while the melding of characters from the Svetlana Alexievich source into the Emily Watson character worked a treat. That last episode is still stirring debate among Russia's chattering classes about where the nation's troubled Nineties transition to democracy started to go wrong. Tom Birchenough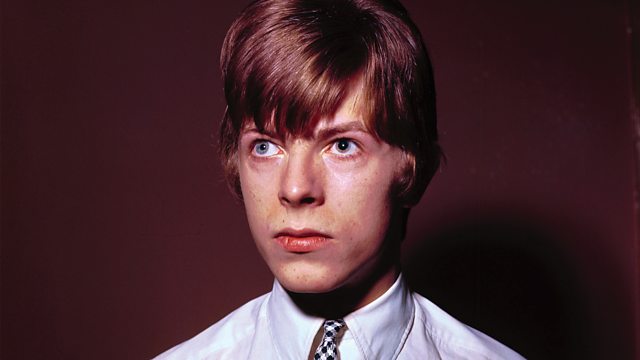 David Bowie: Finding Fame, BBC Two
In completing a trilogy of feature-length biodocs, Francis Whately explored Bowie's long evolutionary struggle to bust out of suburbia. His vehicles of egress included a parade of splendidly naff bands which he hopped on and off like old Routemaster buses. The video evidence, of a London boy faking various looks, was joyous: the Anthony Newley phase, the laughing gnome moment, the famous flirtation with mime ("he was a load of shit," confided his instructor Lindsay Kemp)
The earthy memories of the blokey musos Bowie ran with in those years were fun. But women held the deeper secrets. What a coup to wrench memories from Hermione Farthingale, the tall shy dancer who so broke Bowie's heart that he was still sending coded message to her when he emerged from a decade of silence in 2013. The great man hovered as a disembodied voice, endlessly fascinated by his own journey but quick to self-mockery. "Why am I doing these things anyway?" he wondered after yet another flop. "I realised it was because I wanted to be well-known." This was the richly riveting account of how he achieved lift-off in the end. Jasper Rees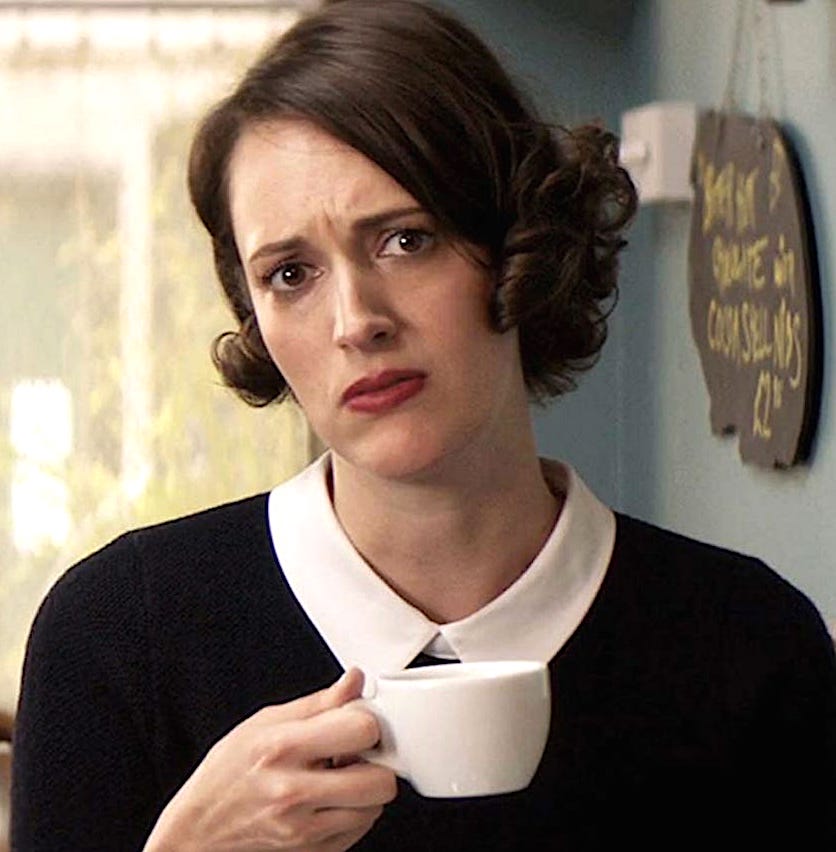 Fleabag, BBC One
The "difficult second album" turned out to be nothing of the sort for Phoebe Waller-Bridge as she triumphed with the much anticipated second series. While developing the established characters' lives she also introduced The Priest (played beautifully by Andrew Scott), as she delved deeper into Fleabag's highly entertaining sex life and her oddball family. The opening scene, set during a family celebration that went very wrong, mixed brilliant comedy with shockingly direct emotion. And not since the original House of Cards has breaking the fourth wall been done so well on TV – "Where did you just go?" was a thrilling, deliciously unexpected twist. This was writing, direction (by Harry Bradbeer) and acting of the highest order, and Waller-Bridge left us – like her character Fleabag – bereft, unsated and wanting to scratch this itch again. Veronica Lee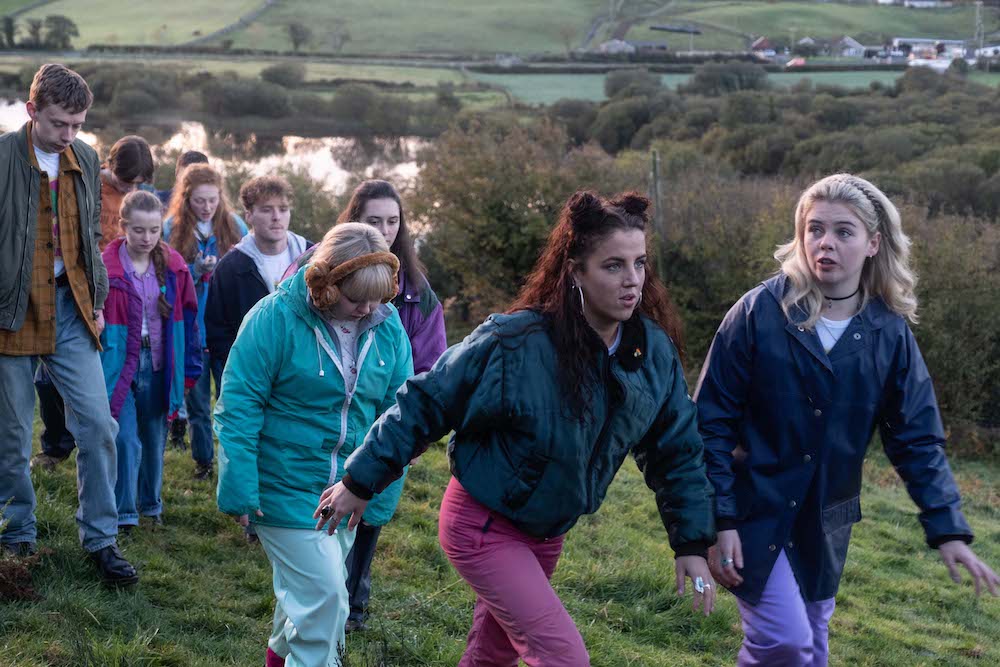 Derry Girls, Channel 4
Lisa McGee, creator of the Channel 4 comedy Derry Girls, took us back to school this year. Derry Girls' second series followed in the footsteps of the first: it was a comedy about growing up during the Troubles, but mostly, just about growing up. This show has an uncommonly solemn setting and an uncommonly cheering result. Bomb threats were backdrop while the Derry Girls displayed the scheme-filled glee of teenage life. They obsessed about sex, religion and scones, all through a smart script and an exceptionally likeable cast. With this series, McGee has produced cringe comedy at its finest — there are glimmers of Peep Show and The Inbetweeners, but with more candour, more glee and (mercifully) more women. Derry Girls is irreverent as hell, but full of heart. Jill Chuah Masters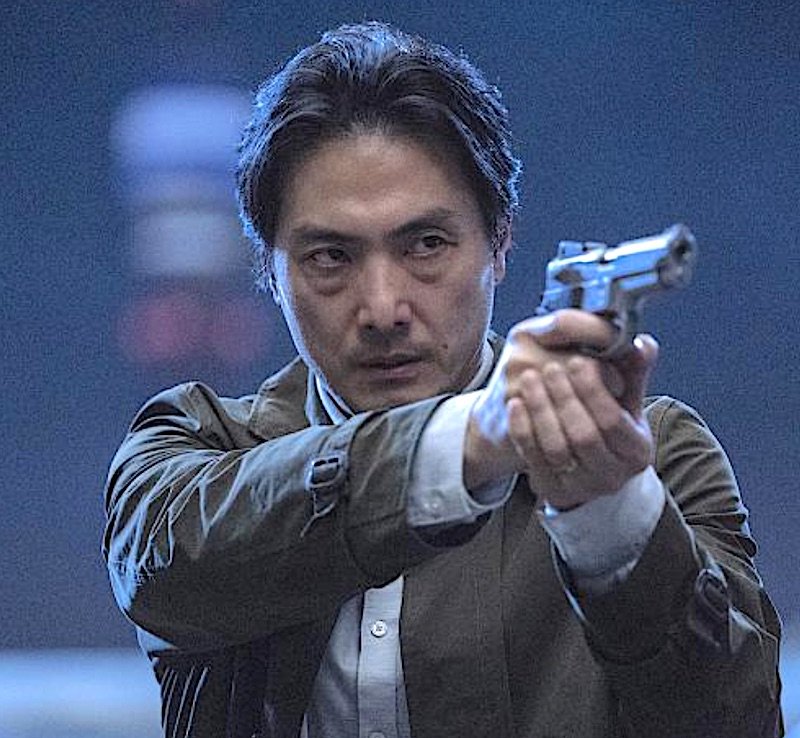 Giri/Haji, BBC Two
Thanks to the streaming and on-demand revolution, there's now so much of everything that making something truly original is a minor miracle. While it's possible to point to numerous influences for Joe Barton's philosophical thriller Giri/Haji, the end result felt as though the kaleidoscope had been shaken and delivered a creation from a parallel universe, subtly different from our own. Its splicing of British and Japanese cultures and philosophies gave its entwining narratives a dream-time aura, and its themes of loyalty, love, violence and repentance were enough to make Zen masters of us all. The magical dance sequence in the final episode was possibly the single most arresting TV moment of the year. Adam Sweeting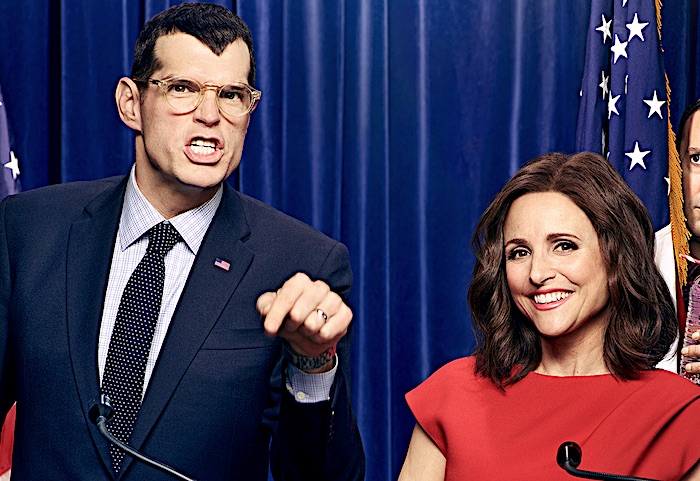 Veep, Sky Atlantic
Changing showrunner is always a risk, especially when said showrunner is a one-off genius like Armando Iannuci. Like The Thick of It before it, Veep started as deadpan comedy on the futility of power. However, under the pen of David Mandel, it slowly transformed into a larger than life satire on American political corruption. In the final season, we witnessed former president Selina Meyer on the campaign trail, desperate to regain the seat she held so briefly. Piece by piece, she traded any remaining morals just to stay ahead in the polls. In a stunning finale, Julia Louise-Dreyfus and Tony Hale put on a tragicomic masterclass as Selina finally sold out the one person in the world who actually loved her. A very different show to how it started, but we now live in a very different world. Owen Richards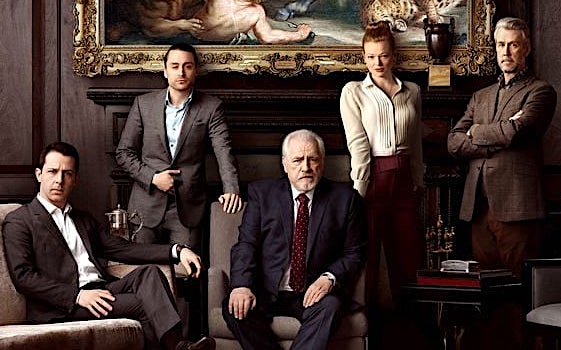 Succession, Sky Atlantic
Brimful of malevolence and wit, Succession's second series was even better than its first. Each episode of Jesse Armstrong's stupendously entertaining story of a dysfunctional media dynasty, with the ageing Logan Roy (Brian Cox at his finest) as a patriarch who relishes pitting his children against each other over that little matter of – yes – succession, is a tightly written marvel. Will talented, one-time leftie daughter Shiv (Sarah Snook) take the reins at Waystar Royco, as Logan promised? Or will bad boy Roman (Kieran Culkin) unexpectedly come good? At the last moment Kendall, (Jeremy Strong) apparently a broken man, gets the required killer instinct. But nothing is simple when it comes to the Roys. Let's see how Kendall copes in series three. Markie Robson-Scott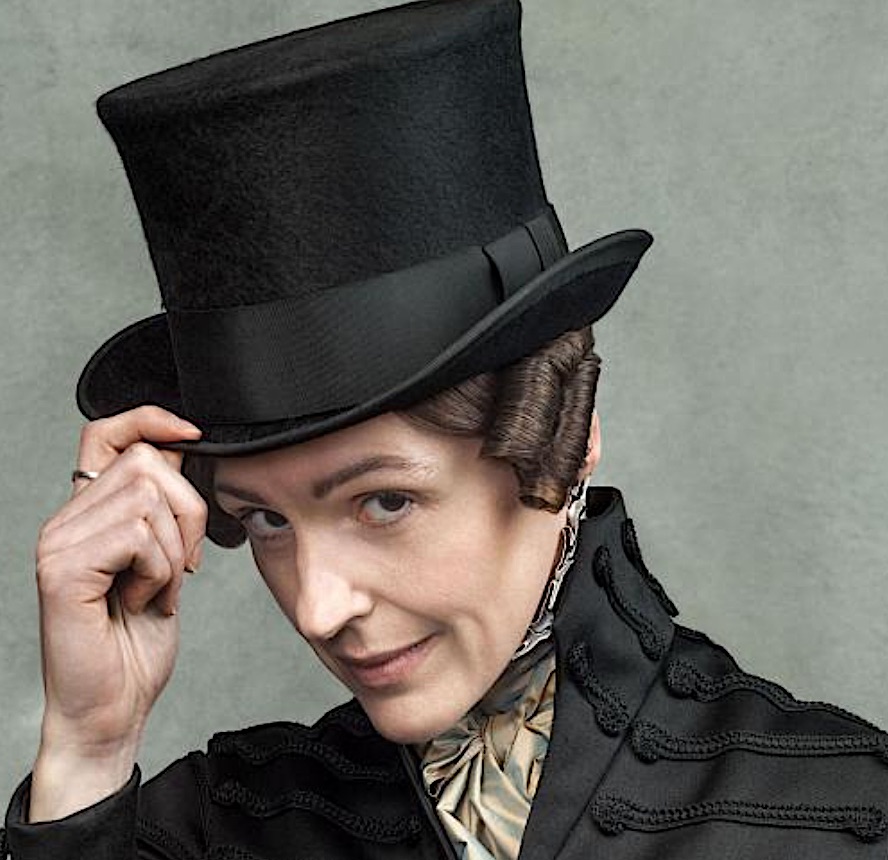 Gentleman Jack, BBC One

Gorgeously-filmed heritage TV with a loving lesbian relationship turning into a marriage at its core? How could everybody not love Sally Wainwright's dramatisation of the remarkable Anne Lister's diaries, or Suranne Jones's brisk heroine with the vulnerable heart and the melting eyes – a lesson in how to create instant sympathy in a role. Sophie Rundle had the harder task of charting lover Ann Walker's metamorphosis as she takes oh so long to break out of convention and fearfulness; she did it beautifully. With amusing warmth brimming over, too, from Gemma Jones, Timothy West and Gemma Whelan, the sense of comfort in an unexpected context was complete. Roll on the married couple's adventures round the world in the second series. David Nice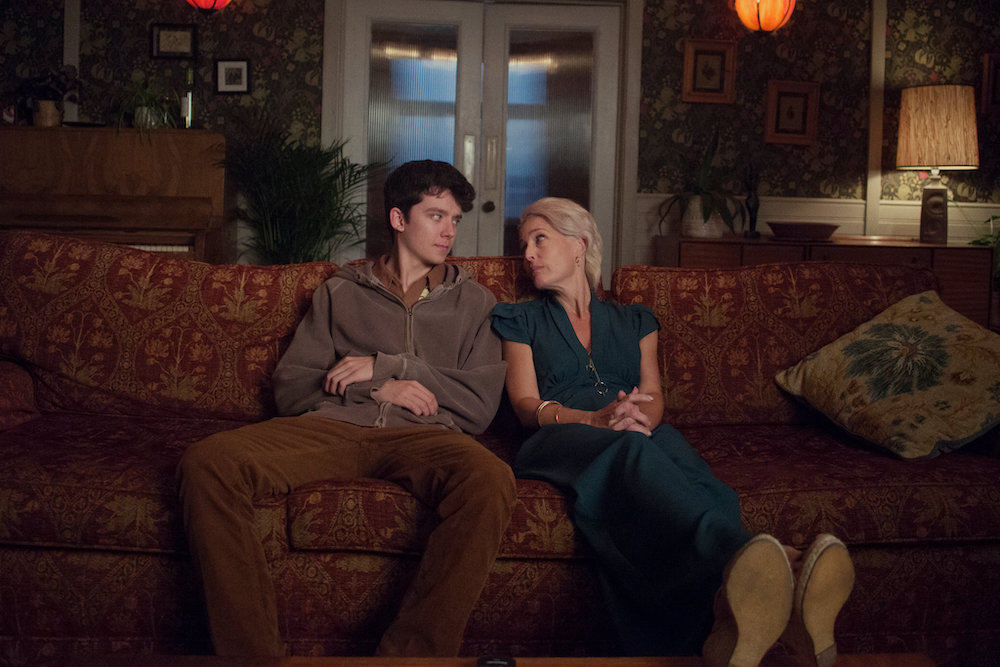 Sex Education, Netflix
For generations, teenagers have subsisted on sex-show extremes: mawkish celibacy or perilous lust. Netflix's Sex Education was a frank, fresh departure: a sex-positive comedy for the Snapchat generation. It starred Asa Butterfield as Otis, a gawky teenager who detests that his mum (Gillian Anderson) is a sex therapist. Then he becomes one too. Laurie Nunn, the show's creator, has tweaked the usual teen show formula. All bets are off between strict fathers and gay sons, bullies and misfits, men and women. Sex Education is unafraid of TV's classically unsexy themes: consent, abortion, female masturbation. It shows them warts and all. And it is genuinely joyful.
The show has had its critics. But what many miss is that Sex Education is a show for young people — it's the education we needed in high school, and more critically, the one we might have listened to. Jill Chuah Masters
MISSES
Alternative Election Night, Channel 4
On election night political nerds want news and analysis, non-nerds want entertainment. Sadly this melange of the two provided little of either. It was a chaotic mess. Krishnan Guru-Murthy was at his most brusque, desperately trying to corral a roster of comics and politicos sitting at his enormous desk. Co-presenting was comic Katherine Ryan, looking uncomfortable while reading jokes (of sorts) from the autocue, while Rylan Clark-Neal was there for no discernible purpose, as were the studio audience.
Several crucial moments were missed for pre-prepared "comedy" that ignored the actual results coming in. Among many lowpoints, the nadir was reached with Clark-Neal's riveting analysis of what was happening in Scotland. "I don't want Scotland to leave the Union. I know this sounds ridiculous, but I'm a big Spice Girls fan and that Geri dress is iconic." Dire. Veronica Lee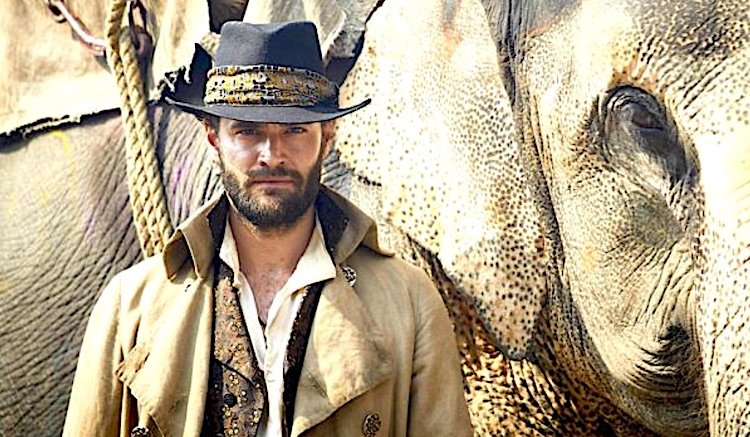 Beecham House, ITV
Initial hopes were high for Beecham House, not least because it was created by Gurinda Chadha, whose credits include Bend It Like Beckham and Bride and Prejudice. Exasperatingly, this tale of pre-British-Raj India at the end of the 18th Century was memorable only for its ossified non-drama, ostentatiously fake-looking décor and funny-coloured lighting. Neither its star John Bateman (playing former East India Company man Tom Beecham) nor a supporting cast including Grégory Fitoussi, Marc Warren and Roshan Seth could breathe life into a bafflingly inert group of characters. After series one ended, even the actors didn't sound too keen on making another one. Adam Sweeting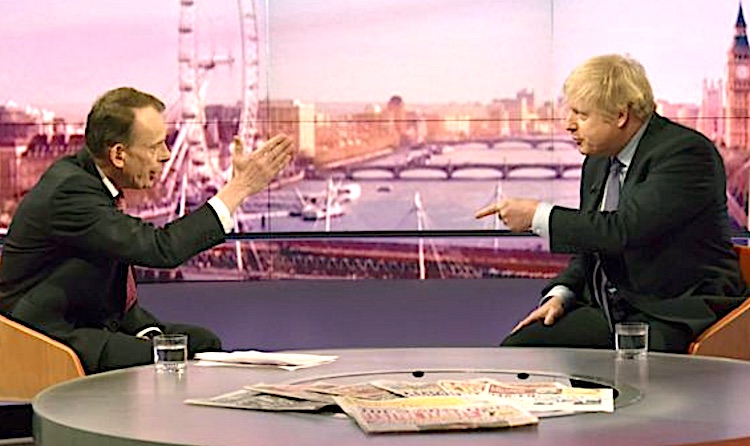 Boris on the Box

Though I don't stick with terrible telly, there was a definite low in the two election appearances I saw from Boris Johnson, aka Diana Ditch (thank you, Mark Gatiss). Or rather didn't see, because it was a case of lasting seconds into his talkover farce with Andrew Marr, in which nothing of any value was said. Well, what do you know? Pushing forward and shouting over folk with asinine slogans won the vote. Happy 2020. David Nice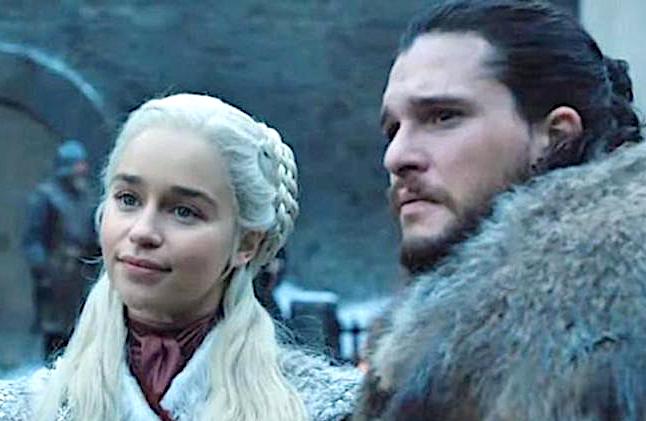 Game of Thrones Season Eight, Sky Atlantic
And so ended the biggest TV phenomenom of the decade, proving one thing above all: David Benioff and D B Weiss are brilliant adapters, but woeful original writers. No longer using the novels as a crutch, and desperate to tie up every lose end in six episodes, GoT S8 forgot every thing that made the show such a success. Internal logic was thrown out of the window, character arcs twisted on a dime, and the ending was simultaneously boring yet completely mad.
The anger that followed might have been hyperbolic (there was no chance of remaking the season, no matter how many petitions were signed), but there's no denying that this was just poor television. Season Eight ties with Cats as the most high-budget, source-material-destroying, unintentionally hilarious disasterpiece of 2019. Owen Richards
Giri/Haji, BBC Two
Lavished with praise by some, I'm afraid I found this one complete toshi. Joe Barton may have moved the action of his Giri/Haji between Tokyo and London, but its mood was in a place all its own, some sort of hybrid territory between feel-good Armistead Maupin and buffonade police drama. There was strong competition for the series' most annoying character, Kelly Macdonald's permanently lachrymose Sarah up against stroppy Rodney (Will Sharpe) and yawny Yuto (Yosuke Kubozuka). Just when you'd agreed that Rodney was the shoo-in there, you remembered Charlie Creed-Miles's bicultural crime boss, and the full ridiculousness of the set-up hit home. Does the Tokyo flight have a special yakuza desk where they check in the guns? That late rooftop dance sequence was nice, though. Tom Birchenough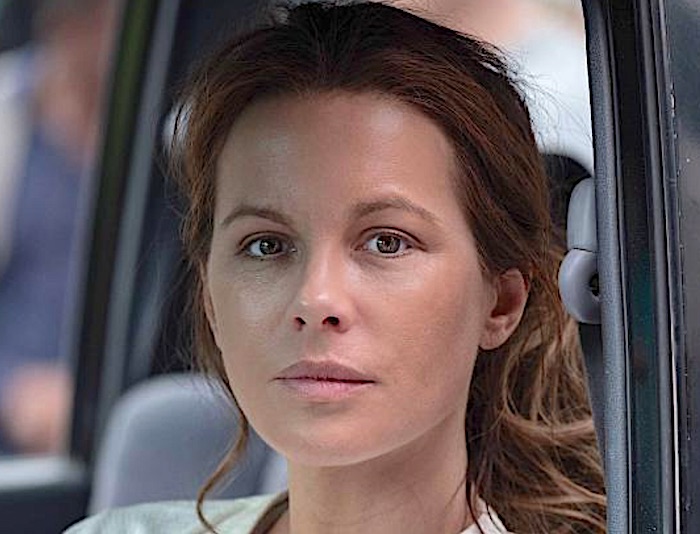 The Widow, ITV
This eight-episode drama from the Williams brothers (The Missing, Baptiste) never got off the ground in spite of a good cast, a lush African setting and a vaguely interesting plot about a plane crash and a missing person. Kate Beckinsale, making a rare and ill-advised TV appearance, is the widow in question, looking elegantly dishevelled in the Congolese dust as she searches for her husband (Matthew Le Nevez). The dialogue is bad, clichés hang heavy in the air, and subplots don't run smoothly. For a moment, it looks as if the blind Ariel (Olafur Darri Olafsson, the detective in Trapped) might lighten the load, but neither he nor Charles Dance can add gravitas to this hollow series. Markie Robson-Scott
Warren, BBC One
Warren, which featured a misanthropic and miserly driving instructor played by Martin Clunes, was at once underwritten and, worse, overwritten. It nervously signposted where the laughs are, and had the dismal tic of pointing a large comedy mitt at people and places that we were urged to regard as inherently amusing. The dialogue has been prepped in a vintage cement mixer.
It would have passed muster in the Seventies. But in the era of Fleabag and the superior motoring comedy Peter Kay's Car Share, it wasn't good enough. The snappy edits and lack of a laugh track were the production equivalent of dad dancing, but the disguise was transparent. A savvier script would have something deeper to say about midlife rage. Jasper Rees
The Accident, Channel 4
Jack Thorne's latest four-parter, Channel 4's The Accident, was not the worst program of the year. It was the most underwhelming. Given its veteran screenwriter and formidable lead (Sarah Lancashire), this was a peculiar anticlimax. The Accident's pilot was full of gritty promise. With condolences in one hand and a scalpel in the other, Thorne examined the aftermath of a fatal accident in a close-knit community. But the drama soon disintegrated. Characters became unconvincing or irrelevant. Questions were raised and set aside — most hung in the air like a bad smell.
No one claimed that The Accident would give us closure about real-world tragedies. But this show, blinkered by its own ambitions, delivered something shallow. It tried to honour the bravery of loss-stricken communities, but it failed doubly: it was weak in its depth and premature in its celebration. Jill Chuah Masters