The Rake's Progress, Complicité online review - well-projected journey from pastoral to madhouse |

reviews, news & interviews
The Rake's Progress, Complicité online review - well-projected journey from pastoral to madhouse
The Rake's Progress, Complicité online review - well-projected journey from pastoral to madhouse
Big, bold approach to time-travelling Stravinsky misses out on nuance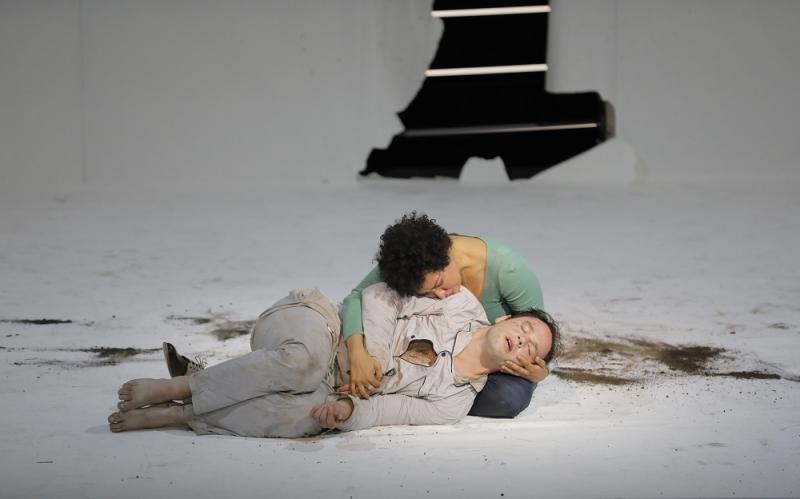 Julia Bullock's Anne and Paul Appleby's Tom in the final scene
One way to look at Stravinsky's celebrated collaboration with W H Auden and Chester Kallman is as a numbers opera in nine pictures, four of them indebted to Hogarth's series of paintings/prints.
So it's not surprising that visual flair has marked out three significant productions: John Cox's for Glyndebourne, "starring" David Hockney's cross-hatched homage to Hogarth in 1975 and still going strong; Robert Lepage's 1940s Hollywood tale in 2007; and, a decade later, this, Simon McBurney's contemporary version first seen in Aix-en-Provence (but not so far in the UK, hence our gratitude to
Complicité
for making this and its
Magic Flute
freely available on its website
).
The problem is always establishing cohesion along Tom Rakewell's journey from pastoral idyll to madhouse. The Hockney version had it, but at the cost of scene-changing breaks between scenes, which need to flow into one another; Complicité offers predictable fluidity, but with a loss of narrative thrust which leaves the tenor hero and what Auden decided should be his dark side as well as devil, Nick Shadow (geddit?) less fully-realised than they could be.
Interestingly, Complicité co-founder Annabel Arden's production for English National Opera had stronger, more disturbing things to say about the relationship. The flaw with this Shadow is that he's always the slick businessman, dapper of movement, sardonic but not creepy. His delayed entrance is bold, tearing through a paper wall. But in the climactic graveyard scene where he proposes a card game for Tom's soul, McBurney wants it both ways, having Shadow like a house-party magician show the audience his cards in the recitatives before stepping back into the rectangular box of an acting-space to be less than threatening. Bass-baritone Kyle Ketelsen is a vivid singer-actor, but there's never really a sense of threat. Nor quite a sense of fear from Paul Appleby as Tom, always on top of the diverse tenorial challenges the role presents, and a strong performer, too.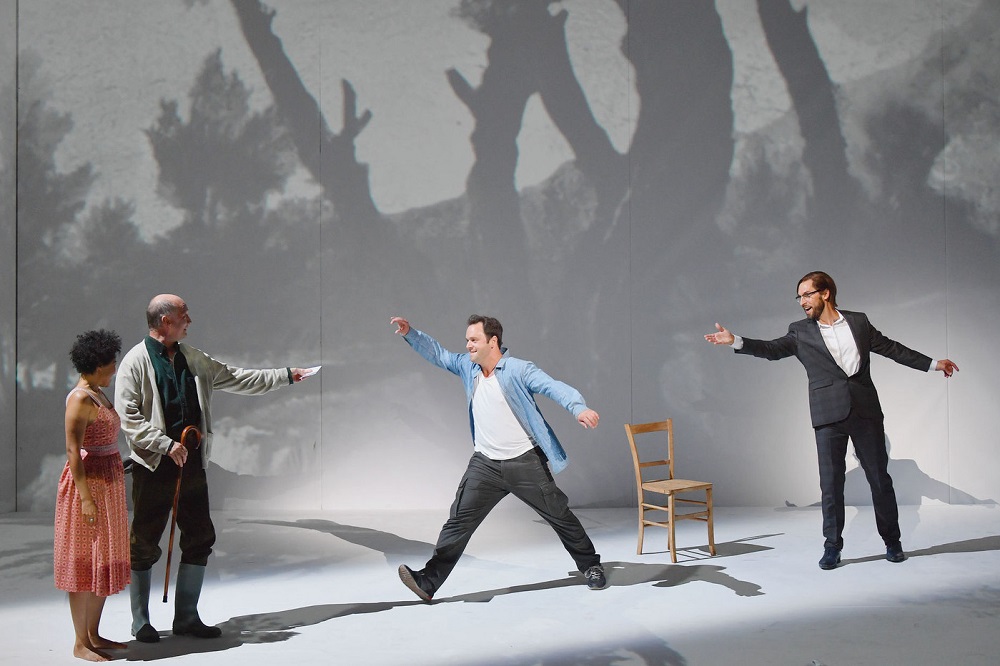 That if anything he and the compelling, truthful Julia Bullock are too strong vocally also means the final scene in Bedlam – chorus of mad folk here in Tom's head only – is less moving than it can be with voices of limpid beauty. Bullock's Anne Trulove (pictured above with David Pittsinger's Father Trulove, Appleby and Ketelsen in the first scene, vividly energetic from the start) is most "outside the box" - designer Michael Levine's space in "quotation marks", apt for Will Duke's quickly morphing projections - and is first seen with flowers for the funeral in a clash with the vivid Monteverdiesque London fanfares of the Prelude. It's always good to see the character portrayed as more than just the good girl we get from a lighter lyric sopranos, but musically some of the subleties get lost.
There are, of course, none with Baba the Turk, bearded lady of St Giles' Fair, whom Tom marries in a jaded exercise of freedom from "appetite and conscience". The role is now more often sung by a counter-tenor than the advertised mezzo, and it works, especially when the voice is as strong as Andrew Watts' (pictured below on the screens) and the reference media-friendly Conchita Wurst. Somehow, though, the comedy is less sharp than it can be, often swamped by the chorus and actors doing stuff around what ought to be the centre of attention.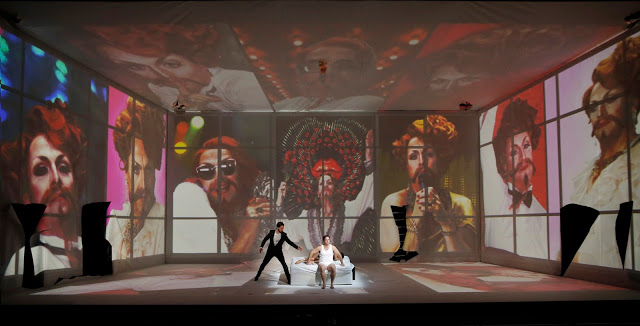 These choruses are tricky, too, and need to be in close co-ordination with the conductor; not so either at the start of what eventually becomes a penthouse orgy nor as the singers move through the audience while news of stock-market crash fades to sale of Baba's treasures. The biggest problem is the heavy conducting of Eivind Gullberg Jensen, a last-minute replacement for Daniel Harding, who would almost certainly have kept it fleet and chameleonic. As with Mozart, Stravinsky's main model – though he travels the centuries in heartfelt homage – pace is all, and despite striking contributions especially from the oboes, bassoons and horns of the Orchestra de Paris, this Rake never flies. It could yet do so in a reincarnation; the production is due to hit Moscow, and we might yet see it reborn in London.