The Deceived, Channel 5 review - who's fooling who? |

reviews, news & interviews
The Deceived, Channel 5 review - who's fooling who?
The Deceived, Channel 5 review - who's fooling who?
Confused drama can't decide whether it's a thriller or a ghost story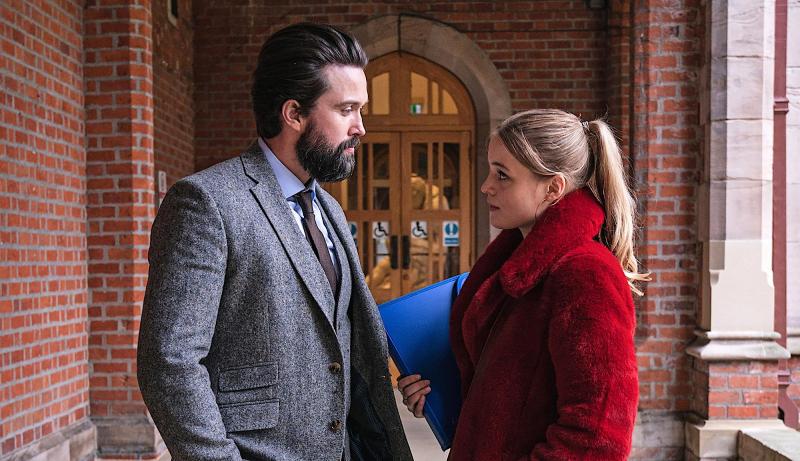 When Michael (Emmett J Scanlan) met Ophelia (Emily Reid)
Last night I dreamt I went to Manderley again, except somebody had renamed it The House at Knockdara. This was the title of the first novel by Michael Callaghan, Cambridge literature don, aspiring writer and serial seducer of his female students. Played here by Emmett J Scanlan, in young-fogey tweeds and Ernest Hemingway beard, Callaghan had "F for Fake" running all the way through him.
Running over four consecutive nights this week, The Deceived sounded promising on paper, not least because it was written by Derry Girls creator Lisa McGee and her husband Tobias Beer, but is proving to be less than the sum of its parts. It's a story of treachery and deceit wrapped in the trappings of a ghost story, but can never convince itself to fully become either.
Though he's married to the successful and charismatic author Roisin Mulvery (Catherine Walker, pictured left), Callaghan has been unable to control his lustful urges, and has embarked on a grand passion with his student Ophelia Marsh (Emily Belgravia Reid). The implication is that he feels threatened by Roisin's success, and lets his libido run riot as a form of compensation. The notion is rammed home at a party for his wife, where a publisher asks him to send him a copy of his own work, forgetting that Michael had already sent it to him months ago. This doesn't do a lot for Michael's ego.
But there's an abrupt change of tone and atmosphere when Michael mysteriously disappears to his ancestral family home at Knockdara in Donegal, his absence coinciding with the shocking death of his wife in a fire. The house is a majestic old building set in fairytale countryside, but comes with a trail of superstitious baggage and things going bump in the night. Cloda, the village clairvoyant, lets it be known that the original builder of the house "shook hands with the devil", while Michael's father Hugh (Ian McElhinney) tries to chill the bones of the house-guests with a story from his childhood, in which he befriended a young girl who he later discovered had died long before he supposedly met her.
Ophelia, now pregnant with Michael's baby, pursues him to Knockdara, implausibly staying a few doors down from where Roisin has just died so gruesomely. She's also under the same roof as the dead woman's mother, Mary (Eleanor Methven), who seems strangely unperturbed by the arrival of her son-in-law's pregnant girlfriend so soon after her own daughter's death. The scene when Ophelia descended the staircase wearing one of Roisin's frocks was a barely disguised steal from Daphne du Maurier's Rebecca (as, you might argue, is the theme of the young lover overshadowed by the spectre of a dead wife).
A bit more wholesale theft from other literary classics might have been a wise move, because as it stands The Deceived looks as though it's wandering about scratching its head, wondering what comes next. Who has been deceived by whom will be revealed in Thursday night's finale, but it's the viewers who may feel they've been deceived into expecting a stylish and chilling thriller which has yet to materialise.
The final instalment of The Deceived is on Channel 5 at 9pm, Thursday 6 August