The Crown, Season 4, Netflix review - royalty rocked by personal and political turbulence |

reviews, news & interviews
The Crown, Season 4, Netflix review - royalty rocked by personal and political turbulence
The Crown, Season 4, Netflix review - royalty rocked by personal and political turbulence
Princess Diana and Margaret Thatcher steal the limelight
Her Maj (Olivia Colman) takes the salute
Pre-release excitement about the fourth coming of The Crown (Netflix) has centred on Emma Corrin's portrayal of Princess Diana, still big box-office 23 years after her death.
There's no denying that Corrin has risen heroically to the challenge of playing a character who has assumed mythic proportions, skilfully evoking Diana's way of speaking as well as catching her coy, doe-eyed expressions and physical gestures. It's perhaps no coincidence that Earl Spencer has chosen the run-up to Diana's new TV incarnation in which to launch his assault on the BBC regarding Martin Bashir's notorious 1995
Panorama
interview with his sister.
The shocking murder of Louis Mountbatten by an IRA bomb in the opening episode notwithstanding, it's the calamitous progress of the marriage of Charles and Diana which provides much of the dramatic impetus for this new series, as it traces its trajectory from the day when the skittish teenaged Diana "accidentally" met the Prince when he was visiting her older sister, through the royal family's decision that Charles should marry Diana and be quick about it, to the disintegration of their union on the twin rocks of Charles's obsession with Camilla and Diana's effortless talent for upstaging Charles everywhere they went. We see her turning a potentially catastrophic tour of Australia, which had just elected the stridently republican prime minister Bob Hawke, into a fairytale-like popular triumph, while her solo visit to New York in 1989 (with Manchester standing in here for Brooklyn) laid the foundations for her spectacular solo career in the Land of the Free.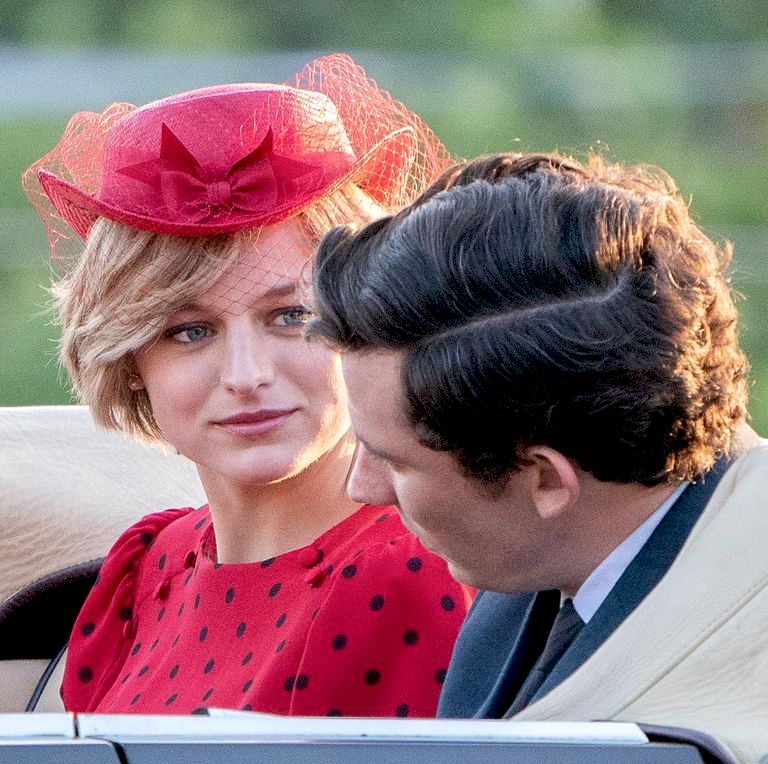 Yet dazzling as all this is – though perhaps not in the case of Charles (Josh O'Connor, pictured left with Corrin), who is unsparingly portrayed as petulant, weak, vindictive and self-centred – it's the arrival of Margaret Thatcher in writer Peter Morgan's sights that gives the series real bite. One of Morgan's favourite devices is twinning characters or viewpoints, for instance the recurring example of the dutiful Queen's relationship with her frustrated and hard-drinking sister Margaret. The Charles and Diana pairing is contrasted with Thatcher's prickly yet grudgingly respectful relationship with the Queen, with the sovereign deploring the PM's apparent lack of compassion yet bound to respect her force of personality and capacity for commanding the all-male grandees of the Tory party. "I've found women in general tend not to be suited to high office," Thatcher opines. "They become too emotional." "I don't think you'll have that trouble with me," Olivia Colman's Queen retorts tartly.
Morgan recognises Thatcher as a revolutionary iconoclast, driving a bulldozer though the decrepit dead wood of her cabinet ("unimaginative, cautious and wet" she snorts). Not too subtly, Morgan contrasts the evisceration of her political colleagues with the royal culling of a wounded deer (the royals' fondness for slaughtering animals becomes actively repugnant in this series). But the lifestyles of Thatcher the workaholic and devoutly religious grocer's daughter and the incomprehensible hereditary antics of the royal family are counterpointed to sometimes hilarious effect, especially in episode 2, when Denis and Margaret Thatcher are invited to join the Royals at Balmoral.
In Alan Bennett-ish scenes, the Thatchers arrive wholly unprepared for what's in store (though this must surely be one of Morgan's more absurd flights of fancy), prompting the spectacle of the Prime Minister trying to stalk deer across boggy mountainsides wearing a formal blue dress and court shoes. It's faux pas city as Denis (a very wry Stephen Boxer) gauchely tries to tip the help and the Thatchers descend prematurely in dinner dress at 6pm, prompting the scorn of their hosts. In the evening, Mrs T tries gamely to join in the family's idiotic parlour games, forced to utter gibberish like "calling number 10 ibble-dibble with six dibble-ibbles". Denis's description of the royals as "boorish, snobbish and rude" seems heroically restrained.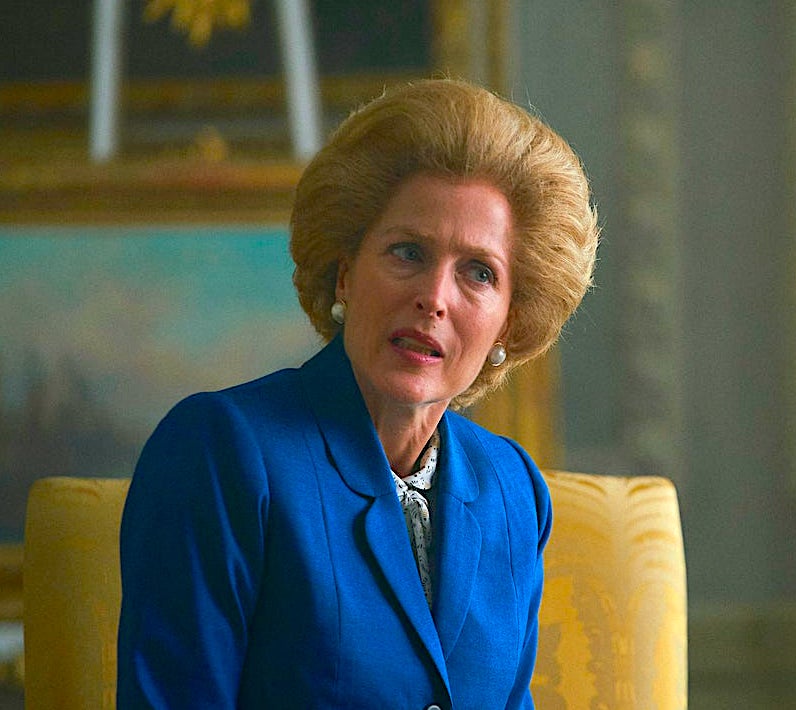 Many actresses have essayed Mrs Thatcher, but her biographer Charles Moore is surely correct in his assertion that Gillian Anderson's performance here is the most convincing yet. Anderson (pictured right) has nailed every fine detail, from the lopsided yet menacing walk to the steely, trance-like "I will not be interrupted" voice to the lip-biting tic and the power-hair. Morgan also manages to smuggle some pathos into his characterisation, when Thatcher is ousted from power and especially when her son Mark is feared dead on the Paris-Dakar Rally. This gives Morgan the opportunity for a riff on mothers-and-sons. Thatcher frankly declares Mark to be her favourite child, while a bantering Prince Philip (Tobias Menzies, continuing his brilliant form from series 3) teases the flustered Queen into admitting that Andrew is her own favourite.
It may be the way The Crown is edging closer to the present day that prompts some missteps as the series wears on, with the proximity of real events breaking through Morgan's fictional sleights of hand. A whole episode is unconvincingly devoted to the strange episode of unemployed painter and decorator Michael Fagan breaking into the Queen's bedroom at Buckingham Palace, with Morgan trying to turn it into a kind of Play for Today about social deprivation in the era of Thatcherite spending cuts. Episode 7 addresses the scandal of the Queen's cousins Nerissa and Katherine Bowes-Lyon, hidden away for decades in a Surrey asylum. It's a horrific story, but the use of what seem to be real hospital patients amid The Crown's fictional framework strikes a jarring note. How they approach series 5 and 6 will be intriguing.
Season 4 of The Crown is available on Netflix from 15 November