Reissue CDs Weekly: Screamers - Demo Hollywood 1977 |

reviews, news & interviews
Reissue CDs Weekly: Screamers - Demo Hollywood 1977
Reissue CDs Weekly: Screamers - Demo Hollywood 1977
Important first-ever official release from the Los Angeles art-punks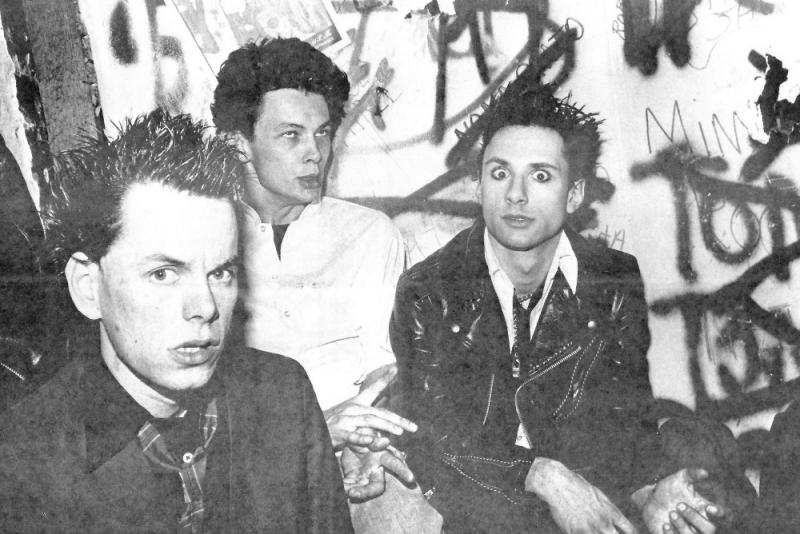 Screamers: from left - Tomata DuPlenty, KK Barrett and Tommy Gear
In its first issue of 1979, Melody Maker included an article by Jon Savage on a Los Angeles band named Screamers. "They're ambitious, talented and they want it all NOW," he wrote.
"And they'd sell their grannies (if they have any left) to get it." He noted their "astute combination of the right proportion of the familiar and the novel, highly, saleable. They're really quite concerned about that particular aspect."
Asked about record company interest, keyboard player Tommy Gear said "Yes, many offers for off-beat kind of things, we don't feel compelled…I mean, why should we? What's having a record? If I had a couple of thousand I could go out and make a record, what's that? It's nothing. It's the power of the record that's meaningful, not the piece of plastic." In the end, Screamers issued no records. Not one.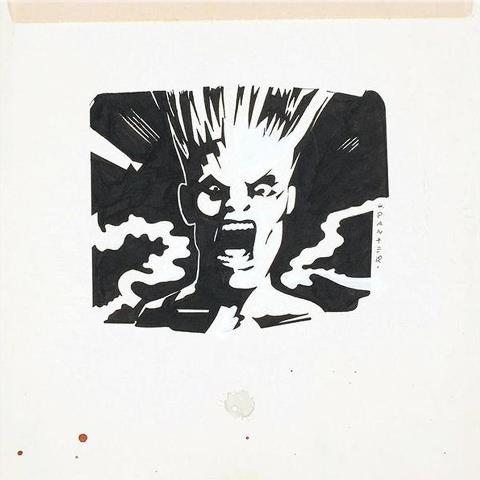 Hence a scrappy afterlife centred on cassettes of demos and live shows, scrutiny of the masses of photos taken, bootleg records and the rare inclusion of the odd track on legal compilations (notably the 2010 comp Jon Savage Presents Black Hole – Californian Punk 1977–80). Screamers were caught on video, and a fair amount of that crops up on YouTube. All of it is extraordinary. Devo were fans, and it's easy to see why. Gerald Casale said that when he saw Screamers, his reaction was "Why didn't we think of that."
But no records. Screamers were 1977-era US punks integral to the emergence of a scene, yet they remained out of reach, vaporous like silent footage of Max Shreck. Indeed, a black hole. The arrival of Demo Hollywood 1977 partially fills the void. It collects five tracks recorded on 7 July 1977 on a 4-track reel-to-reel which had circulated on cassette after Rodney Bingenheimer played them on KROQ. But here's Screamers in proper sound quality, direct from the master. This is an important release. Fittingly, Jon Savage has written the essay in the package. In August 1978, before his MM article, he was in a San Francisco studio taking in one of their video sessions. The next month, in another interview, the band's drummer KK Barrett told him "we're going to circumvent this radio problem altogether, and totally corner the market on videocassettes."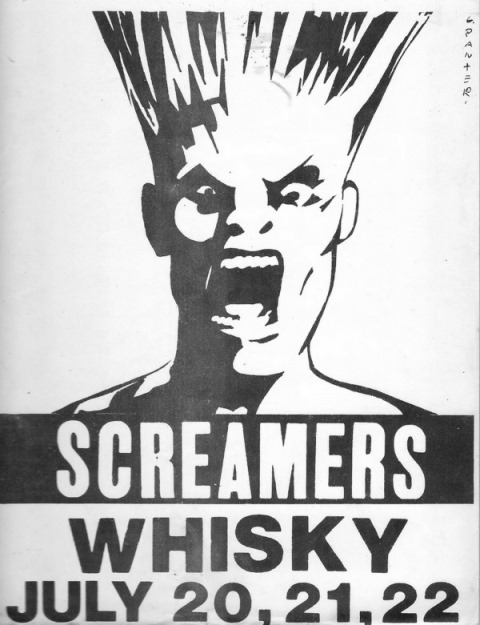 Ambitious. But imprudent. There was little market for videocassettes, and it wasn't about punk bands. Records were the medium to carry the message. Now, in his essay, Savage says "they should have whacked out a single or an EP and moved on." Thanks to seemingly holding out for a major label contract, their moment came and went. An all-the more bizarre a circumstance considering that an early band member was David Brown, the founder of the prime LA punk label Dangerhouse. Screamers had opportunity under their nose. And when Gary Panter designed their screaming head logo they had instantly recognisable branding, another angle which could have been built from (as seen above on the sleeve of Demo Hollywood 1977 and left in a concert poster).
What they had is made clear by Demo Hollywood 1977. These five tracks have the attack of punk. There's speed too. The line-up was keyboard, synthesiser, drums and vocalist. This was aggro-inclined art rock with a performance-art schooled frontman. Hence the Devo thumbs up. The mission was, as Savage puts it, to "take the spirit and the look of punk – the pseudo-psychotic aggression, the spiky hair, vacant stares and barely concealed sadomasochism – and match it to a different configuration than the typical '60s rock template." An unsurprising approach as the band member's pasts included time in drag while in the Seattle performance art group Ze Whiz Kids. Earlier, singer Tomata DuPlenty had been in Spit, a Coquettes-ish outfit. When they played New York in 1974, the support act was The Ramones. After a move from Seattle to Los Angeles in late 1976 as the copyright-infringing Tupperwares, the name Screamers was adopted. They tagged themselves "Nouveau Vague."
They were instantly hot. Los Angeles had its first punk as-such band in The Weirdos, but Screamers were edgier and exuded the malodorous aroma of real transgression. Although they hadn't yet played live, Slash magazine featured them in its May 1977 first issue – "Their songs won't hit the charts for a few months but they ARE the future" frothed the text. There was also a double-page photo spread. Their first show, on 28 May 1977, was for Slash. DuPlenty was 29 that day. Considering their live debut, Hollywood Press said "Screamers had tremendous potential and truly epitomized everything associated with punk rock." They were integral to what was going on: when The Dammed came to LA in April 1977, they stayed at Screamers' house. In August 1977, they were the first of the new Los Angeles bands to play San Francisco. That month, they played – privately – for Iggy Pop at his home. (pictured right, a 2014 bootleg release of a set of 1978 demo recordings).
The boosterism continued. And they were a live draw. In April 1978, they sold out a three-night run at LA's Whisky. They got to Montréal in November 1978. There was four-day run at New York's Hurrah in August 1979. But they ran out of steam and their final shows were at LA's Palace of Variety in November 1981. A preview noted "The Screamers, as described by remaining members DuPlenty and KK, is comprised of up to 35 people, [in a] production that will be unveiled at the Whisky Thursday to Saturday. The new personnel includes writers, composers, stage directors, video technicians, actors, dancers, set designers and musicians." Sounds a bit like what Public Image Ltd had been up to. Yet that was it – Screamers were over.
During their lifespan, there were other demo sessions, professional live recordings, what was captured on video and many photo sessions. Demo Hollywood 1977 plugs a major gap in the understanding of the how the LA punk scene dovetailed with art-rock and performance art. But it whets the appetite. Does anyone have the time or energy to track and trace everything, to bring it all together in a complete Screamers package? The world waits.
Next week: Dungen II – the reappearance of the Swedish psych-nauts second album, originally issued as Stadsvandringar and Dungen 2