Bloodstock Festival 2021 review - UK metalheads descend on Derbyshire and bring the noise |

reviews, news & interviews
Bloodstock Festival 2021 review - UK metalheads descend on Derbyshire and bring the noise
Bloodstock Festival 2021 review - UK metalheads descend on Derbyshire and bring the noise
The heavy metal community takes on Covid and wins
Wednesday, 18 August 2021
Kreator leading worship at the Church of Metal
Here we are, deep in the second summer of Covid-19 and the UK music festival industry is still giving the impression of being on life support. Yet again, there's been no Glastonbury, no Womad and not even the return of the Supersonic Festival.
Somehow though, the
heavy metal
community have managed to keep things going. In June, there was a reduced capacity Download Festival to keep 10,000 metalheads happy. Then last weekend, a full-flavour
Bloodstock
returned to Catton Hall in Derbyshire with all guns blazing.
That said, the Bloodstock and Download Festivals are not as similar as the non-metalhead might imagine. Download is larger (with a capacity of 111,000 in a normal year) and has a broader remit, that might easily include both the Hives and Venom on the same line-up. Bloodstock is more for the metal purist, with a smaller capacity of about 15,000. In fact, it might reasonably be described as the UK's only boutique heavy metal festival.
Not being ones to be scared off by some serious rocking, even though we are relative dilettantes within the metal world, theartsdesk went to the East Midlands to check things out now that Covid seems to be finally receding in its impact and ability to kill the live music sector stone dead.
Friday
Even though the gates of Bloodstock opened on Wednesday, theartsdesk was unable to turn up until Friday afternoon. However, after an initial, somewhat comical inability to find the main place to buy beer (inevitably called Lemmy's Bar), we finally found ourselves in an English field, facing a stage with a band playing music for the first time in two years. The Wildhearts may not have necessarily been my first choice to break the drought, but their pop-punk tunes under a blue sky, with plenty of sunshine, was the perfect tonic. Surrounded by an army of friendly metalheads, all dressed in black, and of all ages, shapes and sizes (and many with Cannibal Corpse or Cradle of Filth logos plastered over their chests or on patches on their denim waistcoats), it felt like things really were turning around.
Somewhat more to my tastes was Skindred (pictured below by Steve Dempsey), whose set was fortified by a shot of strawberry vodka from a friendly passer-by. "Pressure" included a burst of AC/DC's "Back in Black" and "Kill the Power" got the crowd seriously involved, but it was the mighty "That's my Jam" that really encouraged that warm feeling that festivals had truly returned. The main headliner on Friday was Devlin Townsend, but we didn't think he'd be to our taste, so we ducked out until Napalm Death's appearance at the covered Sophie Lancaster Stage later on. Needless to say, Barney and his crew were as impressive as ever. "Smash a Single Digit" almost blew the tent off the stage, "When All Is Said and Done" got the audience moving around, and the Dead Kennedys' "Nazi Punks Fuck Off" remained as potent and relevant as ever.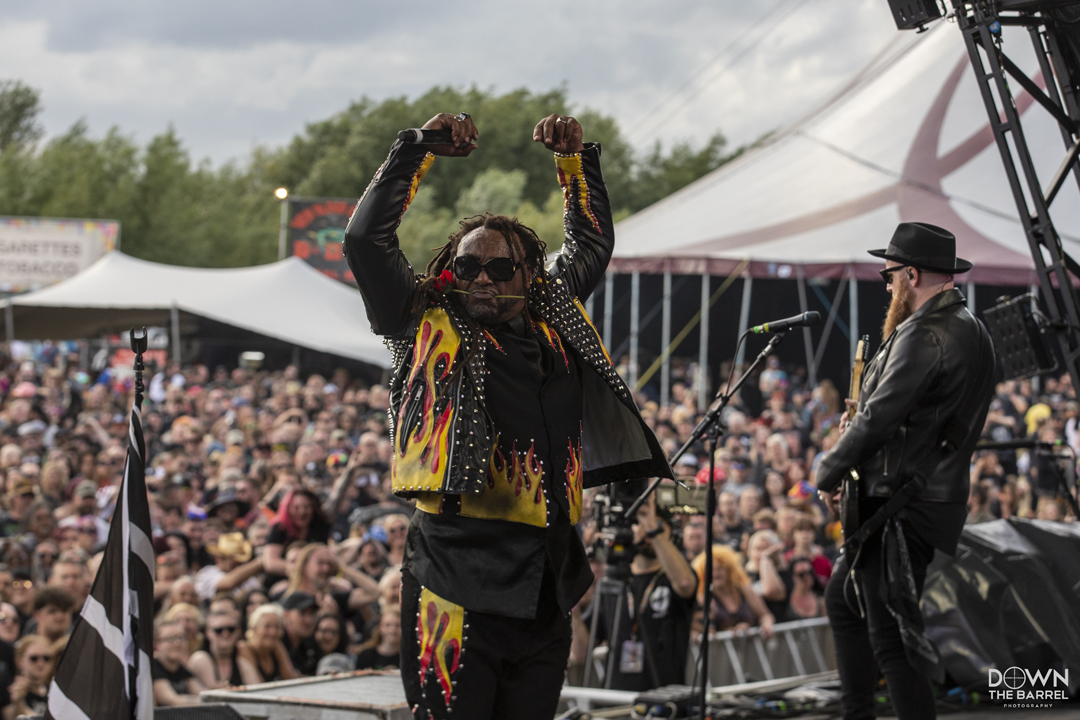 Saturday
Saturday began relatively early, as seems to be the way at metal festivals, due to a lack of events after midnight. So we decided to take in Netherhall and (on recommendation) Conjurer. While both made enough noise to wake the dead, they both included rather more prog rock in their sound for our tastes, but this didn't stop much raising of the Devil's horns from the audience. Similarly, Paradise Lost were a bit of a disappointment, looking like an IT team living out their rock'n'roll fantasies. Again, this didn't stop a few in the crowd singing along with every line and emoting furiously with their hands, arms and what have you. Sadly, their set did feel as if it was going to tip into Bon Jovi territory at any moment. But, in the event, that was fortunately not to be the case.
The peak of Saturday, however, was the final two acts of the day: Kreator and Phil Campbell and the Bastard Sons. German thrash metallers Kreator topped the main stage and laid down a fierce (if quieter than expected) set, which included such highlights as "Violent Revolution", "Satan is Real" and "Flag of Hate". Vocalist Miland Petrozza was clearly over the moon to be back on stage again and spent much time extolling the power of heavy metal and how it had bettered Covid. There was also plenty of mosh pit action with circle pits springing out of nowhere, and a charge of the two sides of the crowd into each other. As their set headed towards its conclusion, Petrozza proclaimed in his over-dramatic squawking voice, "Get ready to kill each other one last time!" and the band launched into their final number, "Pleasure to Kill". Fortunately, everyone managed to get out alive.
Phil Campbell and the Bastard Sons, on the other hand, brought a performance of greasy biker rock that was totally fitting for Saturday evening. The last living Motörhead guitarist delivered not only original songs, such as "Son of a Gun" and the bluesy "Dark Days", but also plenty from his time as Lemmy's sideman, from "Born to Raise Hell" to "Ace of Spades" and "Killed by Death". The band even gave Hawkwind's "Silver Machine" a go in tribute to Phil's former employer.
Sunday
The last day of the weekend was Heritage Day at Bloodstock, with prime performances from Orange Goblin and, somewhat unexpectedly, Saxon. It wasn't just the old lags on show though, as Grave Lines brought some more prog metal to the party, along with a sprinkling of gothic country sounds, and Gloryhammer laid down their symphonic power metal. Unfortunately, it was also the day that the smell of the toilets in the main arena decided to make itself known, even if you weren't standing anywhere nearby.
In addition, not all of the heritage acts on the final day lived up to expectations, and Diamond Head spent their time playing the kind of plodding rock that suggested the genre needed to make serious changes in the late '70s, rather than the proto-thrash that I was expecting. Similarly, headliners Judas Priest were also disappointing with Rob Halford looking like a leather-clad Uncle Albert from Only Fools and Horses and failing to really connect with the audience, while their explosive songs seemed to lack any real heart.
Stoner metalheads, Orange Goblin, however, played a blinding set of dark biker rock with more than a splash of both Black Sabbath and Motörhead deep in its DNA. Set up in front of a wall of Marshall speakers, the band, fronted by the giant Ben Ward, crashed through "Sons of Satan", "Some You Win, Some You Lose", "They Come Back" and "Red Tide Rising". It was fiery stuff that again had circle pits springing up throughout the crowd as bodies bashed against each other, but everyone had a smile on their face.
Saxon had the good fortune to be introduced by the mighty Brian Blessed (in his own inimitable way) with a "God for Saxon, England and Saint George", which had the band bounding onto the main stage and ploughing through "Motorcyle Man". However, as they hit those first notes, the British weather started misbehaving. Fortunately, the rain was light, not too long lasting and certainly no match for Barnsley's hard rock veterans. Biff Byford's voice remains in good shape after all these years and "Denim and Leather", "Strangers in the Night" and their tribute to Motörhead, "They Played Rock'n'Roll", had plenty of punters getting down and getting with it. "Wheels of Steel" even led to a bit of wheelchair crowd-surfing.
Just as theartsdesk team was discussing the relative lack of musical variety at Bloodstock, Evil Scarecrow (pictured left by Katja Ogrin) arrived to close the whole affair from the Sophie Lancaster Stage. Throwing together a sci-fi aesthetic with skull-crushing rock and a truck load of stage props, Evil Scarecrow's Rocky Horror Picture Show schtick was just as arch as the film, with gallons of dry ice, six-foot flames, battling unicorns, severed heads, robot dancing and synchronised head banging. It was also quite the way to wind up this return to open air live heavy music.
We finally found ourselves in an English field, facing a stage with a band playing music for the first time in two years
rating
Share this article