Milk and Gall, Theatre 503 review - motherhood in the age of Trump |

reviews, news & interviews
Milk and Gall, Theatre 503 review - motherhood in the age of Trump
Milk and Gall, Theatre 503 review - motherhood in the age of Trump
No-holds-barred comedy lays bare the unsentimental side of parenting
Thursday, 11 November 2021
The parent trap: Matt Whitchurch and MyAnna Buring in 'Milk and Gall'
Tuesday, 8 November 2016. Vera is in a New York hospital room giving birth to a son. On anxiously checked phones, the votes are piling up for Hillary, but the states are piling up for Trump. Vera's world will never be the same again.
Mathilde Dratwa's new play, Milk and Gall (directed by Lisa Spirling, Theatre 503's Artistic Director), takes a searingly unsentimental look at 21st century parenting in the big city, mining plenty of laughs along the way. Speaking from experience, I can vouch that it's all true – except, perhaps, that the reality is even worse!
In her mid-thirties, Vera (MyAnna Buring), has a career, a social life and political interests, all run from a tidy little apartment she shares with her husband, the reliable, if somewhat unthinking, Michael (Matt Whitchurch). She may not actually subscribe to The New Yorker, but we get the feeling that she'll occasionally read it. Like many such couples, they are excited about their baby until they realise that the disruption to their lives is not like a tap that can be turned off when the sink gets too full. It's more akin in fact to a gushing leak that requires non-stop baling of water to avoid everyone drowning.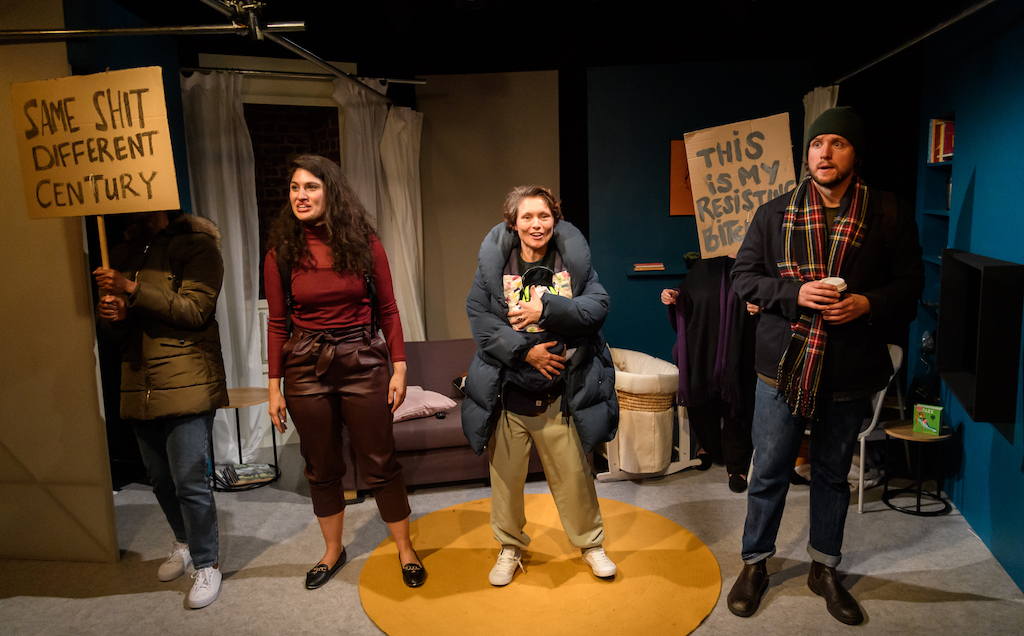 Vera takes some time to learn this shocking lesson. Vehemently anti-Trump, she takes the baby on a protest march (pictured above), but, despite the photogenic mothers with the babes-in-arms that television news always picks out for coverage, she finds it not such a good idea. She also falls out with friends and family, partly because Vera the Mother is a different person from Vera the Wife, Daughter, BFF etc and partly because she is stressed out by trying to maintain those old identities while taking on this all-consuming new one. She is also compelled to embrace the role of primary carer – not because her husband demands it or because she relishes the 24/7 job, but because it's even more difficult to arrange responsibilities in any other way.
Yes, this play will remind many in the audience of the details often lost in the fog of fatigue that blanks those early years from one's mind and replaces them with the smiling photos and videos that were very much the exception rather than the rule. For every charming shaky clip of first steps or snaps of birthday parties exist hundreds of end-of-tether moments mercifully unrecorded and lost to posterity.
Buring gives us a fully rounded Vera doing some of her best work with Sherine Chalhie as Amira, her oldest friend. The women drift apart as Vera's priorities shrink to her baby's needs and Amira fails to comprehend that small, unknowable world. A telling moment illustrates how a baby's complete absence of a superego can infect a parent, Vera's irresistible compulsion to unload her own stress on Amira with a self-pitying lament overcoming any perspective or self-restraint she might retain were she not so consumed and exhausted by motherhood.
Jenny Galloway gets most of the laughs playing both grandmothers and showing how one really can't win. As Vera's mother, she's too hands-off, not much of a help, disapproving and disengaged; as Michael's mother, she's too hands-on, all cooing and baby talk that, infuriating as it is, actually works, much to Vera's disgust. She also delivers a very funny late cameo, but no spoilers!
The ensemble cast is completed by Tracy-Anne Green lending a few working class home truths to the middle class lives we see as a nanny with four kids of her own back home. She also dons a cocktail dress in the role of Alexa, the immaculate personification of Amazon's patronising adviser.
As a comedy, there's probably room for more laughs; as a political response to Trump, the satire and anger feels a little tacked on. But as an illustration of the painful adjustments, psychological and physical, parenthood brings to grounded, privileged and educated couples, Dratwa (a New York-based mother herself), has captured this slice of life with wit and compassion. If the coda is a slight cop-out, it's a forgivable one, because we do all get through in the end, as we did with Trump – though, in both cases, we're not sure exactly how.