Macbeth, Royal Opera review - bloody, bold, and resolute
Macbeth, Royal Opera review - bloody, bold, and resolute
A strong ensemble for Verdi's tragedy, but Simon Keenlyside dominates
Wednesday, 17 November 2021
Simon Keenlyside, Anna Pirozzi, David Junghoon Kim, Act II, scene 3
Phyllida Lloyd's production of Macbeth has been in rep at the Royal Opera since 2002, and it is a solid performer. The setting is slick and vaguely period, with lots of iron weaponry, smart, pony-tailed warriors, but not a kilt in sight.
The set (designer Anthony Ward) is a foreshortened metallic box, from which the back often rises to reveal a stormy sky (for the witches) or to introduce large scale props. The most memorable of these is a gilded cubic cage for the throne of
Scotland
, a symbol for the how power imprisons. There are a few other symbolic ideas throw in along the way, but Lloyd sensibly restricts the visuals to these few bold images that rarely confuse of conflict with the narrative.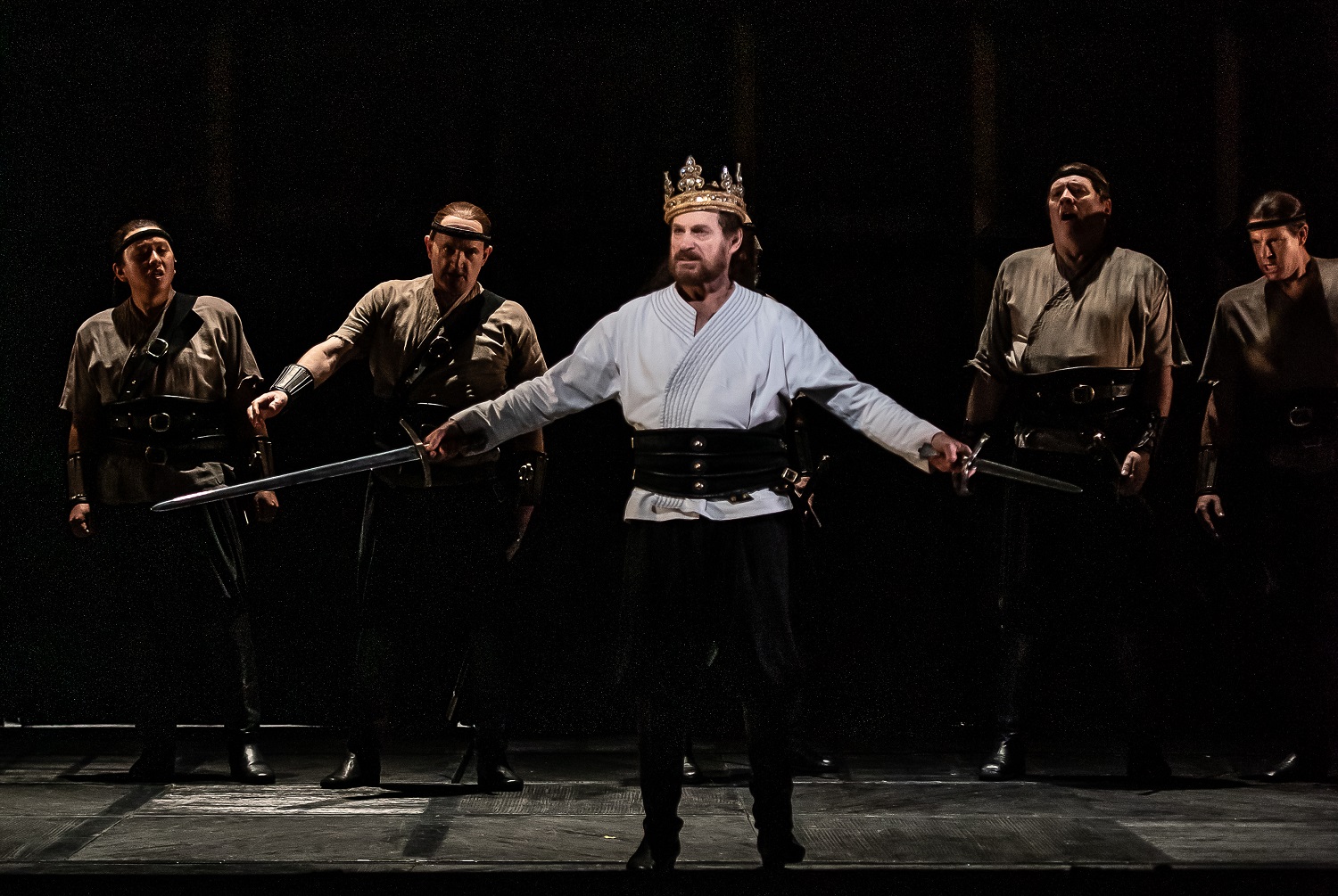 The other big idea here is the witches. Verdi expands
Shakespeare's three witches
to a whole choir. Lloyd extends that idea further by having the witches behind the scenes at all times, delivering letters, moving scenery, even concealing Banquo's son at the crucial moment. Visually, they are stunning, black clad with thick eyebrows and crimson turbans. That makes for an imposing opening scene. There is no cauldron, no props at all, as the stage is completely filled with witches. Conductor Daniele Rustioni gets things off to a brisk start, with a propulsive but cleanly defined overture. But he pushes the chorus too hard in this opening scene, and the result is messy. Fortunately, Rustioni turns out to be a more sympathetic ensemble conductor than this first scene suggests, and he gets better results from the chorus later on.
Enter Macbeth and Banquo. Simon Keenlyside (pictured above) has been associated with this production since 2012, and his return is reason enough to revive it. His voice has clearly matured. It has lost some bloom and colour, but none of the power and focus that make him ideal for the role of Macbeth. Günther Groissböck is just as good as Banquo. His voice is richer and rounder, it just sounds more Italian. His "Come dal ciel precipita" in act II was a musical highlight. What a shame he is murdered straight after, and we don't hear him again (his later ghostly apparitions are all mute). Verdi goes to great lengths to give Lady Macbeth a dramatic entrance in act I, scene 2. It is a scene of rage, murder, vengeance – all motivated by Lady Macbeth herself. Anna Pirozzi sings the role with impressive technical assurance, especially in the higher register, but she doesn't dominate the stage the way the part demands. Pirozzi has a clear, focussed tone, with tight, controlled vibrato. Verdi asks the impossible, of course – he wants everything – and Pirozzi has more to offer in the duet numbers later on, but she wasn't imposing enough here.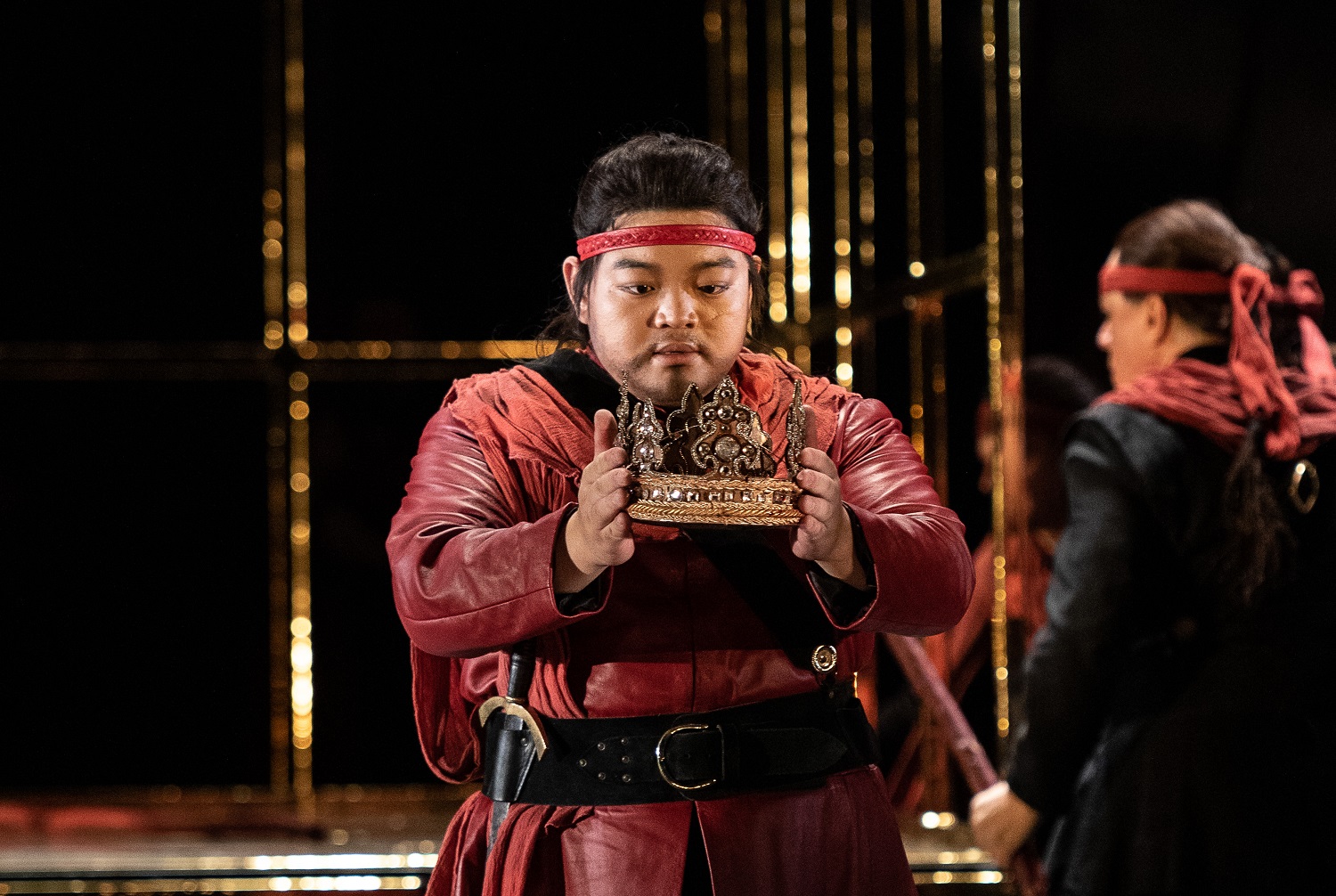 The banquet scene is a lot of fun. The Macbeths wear gold chainmail, which is suitably garish, but very noisy. The appearances and disappearances of Banquo's ghost are all done with crowds gathering around him to conceal the sleight of hand – an old-fashioned trick, but it works.
Visually, the second half is even more impressive. We return to the witches, a group of whom are now representing the contents of the boiling cauldron in fluid dance. The appearance of the three apparitions is again done with crowd effects, and very effectively. A musical highlight, as usual, is the refugee chorus, "Patria oppresa!" The chorus was on fine form here, and so too was the orchestra, subtly supporting the harmonies and adding a wistful veneer from the upper strings. Some impressive new voices are also added in these closing scenes. The small but demanding role of Macduff was taken by the young tenor David Junghoon Kim (pictured above). He has excellent projection, and a fine upper register. Lady Macbeth's mad scene is framed by dialogue between her lady-in-waiting and doctor, both beautifully sung by April Koyejo-Audiger and Blaise Malaba. Pirozzi was more elegant and lyrical here, but still lacked dramatic conviction.
The final scene is another impressive spectacle, involving warring armies and witches, all set around that gilded throne cage. The chorus again come into their own, and with the deaths of every major character, it is down to those impressive comprimario to round the story off. Macbeth is an opera that can show off the strengths of a good ensemble, and orchestra, chorus and cast were all on good form – but the evening belonged to Keenlyside, whose performance elevated both the music and the drama.
Macbeth at the Royal Opera House 19-30 November. The production will be streamed live on 26 November
Keenlyside's voice has matured, but still has the power and focus that make him ideal for the role
rating
Explore topics
Share this article