Benedetta review - lesbian nuns' sex and faith collide |

reviews, news & interviews
Benedetta review - lesbian nuns' sex and faith collide
Benedetta review - lesbian nuns' sex and faith collide
Paul Verhoeven's quaintly provocative, vivid account of Renaissance convent lust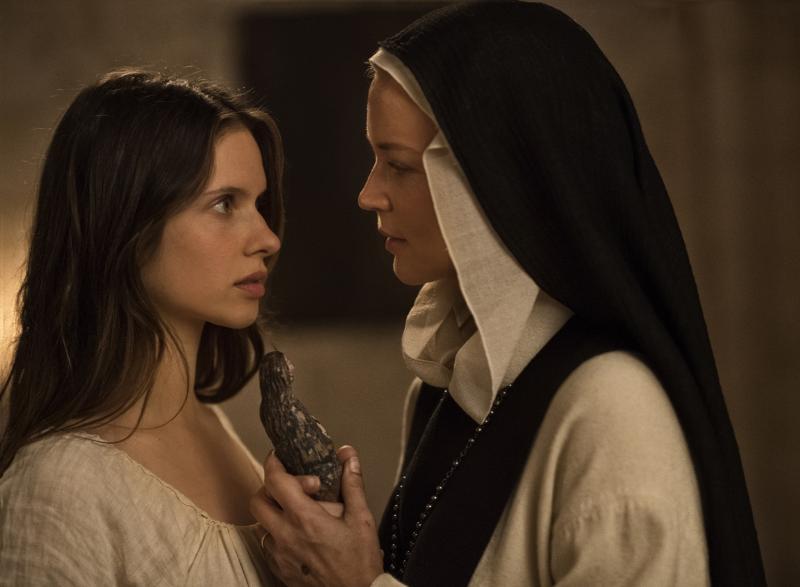 Sister act: Bartolomea (Daphné Patakia) and Benedetta (Virginie Efira)
Paul Verhoeven's latest provocation is an old-fashioned but vigorous 17th century lesbian nun shocker, based on eye-poppingly explicit testimonies at the Christian church's sole lesbian trial. It's his most sustained examination of faith and sex, a theme going back to the repressive Calvinist father and sexually anarchic teens of his wild Dutch hit, Spetters (1980).
Benedetta (Virginie Efira) has been imbued with a sense of religious destiny since childhood. Accepted into a Tuscan convent under stern but worldly Abbess Felicia (Charlotte Rampling), confusing, erotically charged dreams of Jesus are worsened when new peasant nun Bartolomea (Daphné Patakia, pictured below) makes her feelings for Benedetta friskily clear; the Virgin Mary statuette she whittles into a dildo symbolises their blasphemous entanglement. Benedetta is soon sporting perhaps self-inflicted stigmata. The Abbess and church authorities see political advantage in a local saint, till Benedetta stages a convent coup, forcing a showdown which puts her sapphic crime on trial.
Verhoeven has landed surprisingly safely in the #MeToo era, his sexually confident female leads compensating for his adoration of their tits and asses. The Dutch resistance war epic Black Book (2006) and perverse French rape melodrama Elle (2016) showed renewed confidence in his transgressive and dramatic instincts, Elle in particular magisterially pushing buttons, as Isabelle Huppert's antiheroine pursued an affair with her rapist.
Benedetta's female nudity is very Seventies, in its lingering male gaze and its cheerfulness. Benedetta and Bartolomea's first big sex scene is clumsy, chatty and enjoyable. It combines the liberated, natural lustiness of his early Dutch films with the hysterically performative bonking of Basic Instinct and Showgirls, the latter due to Verhoeven's holler for louder Efira orgasms. Though he pushes the explicitness far past Sharon Stone's notorious flash, Benedetta can feel quaint, like nunsploitation of yesteryear, gotten round to a bit too late.
This is also a film in which Benedetta dreams of her breast being slashed by a rapacious soldier, and Bartolomea is stretched nude on a rack for (unseen) vaginal torture. Verhoeven's Hollywood debut, Flesh+Blood (1985), subjected Jennifer Jason Leigh to worse in its muddily unvarnished medieval saga, and Kevin Bacon's character's abuse of invisibility to rape was the most Verhoeven touch in his US swansong, Hollow Man (2000). Sympathy for his violated but indomitable women still rises above mere misogynist exploitation.
Plague stalks this Italy, and a comet streaks the sky red, Kubrick's candlelit Barry Lyndon the model for Verhoeven and DP Jeanne Lapoirie's pulsing, painterly tableaus. The trial of a potential female martyr recalls Dreyer's austere masterpiece The Passion Of Joan Of Arc (1928); the sexual hypocrisy and riotous climax suggests Ken Russell's frenzied, raging The Devils (1972). The Jesus dream sequences are high camp, though, Verhoeven not really exploring a figure who fascinates him. Benedetta's erotic crises of faith do carry some weight, logically pursued by the script. "The ways of the Lord are often terrifying," a priest tells her, combining with the idea that revelation requires suffering to construct her own shaky theology. Gaining strength from slippery doubleness, she's a canny charlatan serving a faithful visionary, carving her own stigmata on Christ's behalf, becoming the "madman who spouts nonsense to serve His ends" drily imagined by the Abbess.
Efira gives Benedetta a nervy, protean potency, possessed by the word of God when cornered, and sparring with male authorities even when tethered to a smouldering stake. She's no easily persecuted witch, but a self-anointed saint, fighting back with her personal Jesus by her side.
Verhoeven's book Christ: The Man is interested in him as a rebel philosopher, not miracle-worker, and this is a film which respects Bernadette's faith but thinks it unfounded, contemplating serious ideas, but unable to reach for the supernal. Verhoeven is having fun, dutifully fulfilling the lurid expectations of a lesbian nun flick with his name on it. For a film with a Virgin Mary dildo released on Good Friday, though, he doesn't go far enough.