The Crown, Season 5, Netflix review - is the royal epic outstaying its welcome? |

reviews, news & interviews
The Crown, Season 5, Netflix review - is the royal epic outstaying its welcome?
The Crown, Season 5, Netflix review - is the royal epic outstaying its welcome?
Strong cast rehashes some familiar themes
Thursday, 10 November 2022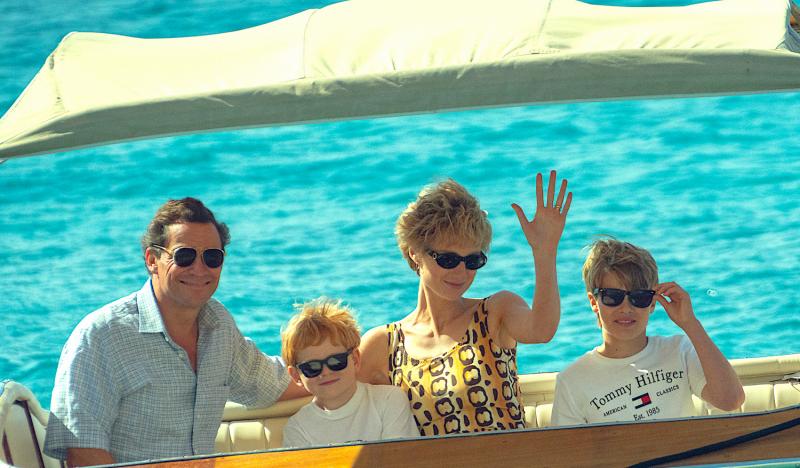 All at sea: Charles, Diana, Harry and Wills
Now into its fifth season, Netflix's royal pageant is entering that danger zone where once-majestic TV series suddenly find they're running out of steam. Perhaps Harry and Meghan's publicity-hogging shenanigans and the real-life loss of the Queen and Prince Philip have somewhat overshadowed Netflix's quasi-fictional drama. Perhaps everybody has become sick to death of rehashed versions of the life of Princess Diana.
Whatever the reasons, The Crown now feels slightly jaded, re-running familiar themes and recycling whiffs of various historic scandals with yet another different cast. As ever, there are plenty of class acts on show (though any self-respecting thesp who hasn't yet felt The Crown's tap on the shoulder must be feeling a bit desperate by now). Jonathan Pryce steps up to the plate with his portrayal of an abrasive, decisive Prince Philip, the epitome of the "be reasonable, do it my way" school of thought. Imelda Staunton brings stoicism and resoluteness to Elizabeth II, though she must have got fed up with having to wear an expression of pained disappointment for long periods as she absorbed yet more bad news about Charles, Diana, the outrageous media, the blazing wreckage of Windsor Castle or Philip's dalliance – platonic, or er….? – with Penny Knatchbull (statuesquely impersonated by Natascha McElhone).

There's strong support, too, from Claudia Harrison's Princess Anne (pictured above enduring parental repast), Lesley Manville's caustic Princess Margaret and a persuasive Camilla by Olivia Williams. Once again much of the action circles around Chuck and Di. The increasingly ubiquitous Dominic West has skilfully absorbed some Charles-like mannerisms without allowing them to lurch into caricature, though West also makes the impatient heir to the throne resemble a tweedy, ageing lothario, with added bouts of petulance.
The big disappointment this time around is Elizabeth Debicki's Diana. It's a performance assembled from tallness, thinness and a piteous expression of why-is-everyone-so-horrible-to-me?-ness, and not much else. The real Diana was more mercurial and altogether more fascinating – hence her enduring global celebrity – but this is a gluten-free, low-calorie version.
This new series has been receiving a few brickbats for taking some dramatic licence with the truth, though it's hardly for the first time. It was Debicki who said in an interview that The Crown "is clearly fictional, I feel like audiences know that, because there are actors playing parts." Except if you're playing a real-life individual amid a re-enactment of events that happened in living memory, it can be quite difficult to spot the join between what screenwriter Peter Morgan has made up and what actually occurred. He hasn't hesitated to wring maximum lubricious mileage out of, for instance, Charles's notorious and factual "tampon-gate" phone conversation with Camilla Parker-Bowles, so viewers may feel that scenes where Charles tried to enlist Prime Minister John Major (pictured below) to back his plan to persuade the Queen to abdicate are equally founded in verifiable fact (Major himself hotly denies it). The episode where the Queen wants the government to fund the replacement of the crumbling Royal Yacht – "a World War Two cruiser with soft furnishings" as Prince Philip describes it – also seems to be of dubious provenance.
The difference this time is that the events portrayed feel close to the present, so the sense of broad historical sweep reaching back into a very different era that made the early seasons so compelling has been supplanted by what feels like a rehashing of familiar stories from TV and the tabloids. That's especially true of the depiction of Martin Bashir's interview with Diana for Panorama and its calamitous fallout, only a year or so after the whole affair was exhaustively exhumed in the damning Dyson Report.
Surprises include the way John Major (Jonny Lee Miller) gets a remarkably favourable ride, being portrayed as a wise and judicious negotiator whose counsel is sought by the Queen and who is entrusted with acting as honest broker during negotiations for Charles and Diana's divorce. He's more like Sir Thomas More than the famously grey and nondescript Prime Minister. Meanwhile, although the private life of the future Charles III is a How Not To guide to parenting and marriage, Morgan gives Charles plenty of room to expatiate on his plans for a leaner, more modern monarchy that's in tune with the times. We shall see.
The Crown Season 5 is streaming now on Netflix