4/4, Royal Opera review – desire, loss and lunacy in four surprising acts |

reviews, news & interviews
4/4, Royal Opera review – desire, loss and lunacy in four surprising acts
4/4, Royal Opera review – desire, loss and lunacy in four surprising acts
Allan Clayton and Richard Jones are kings of bedlam, but the rest has high style too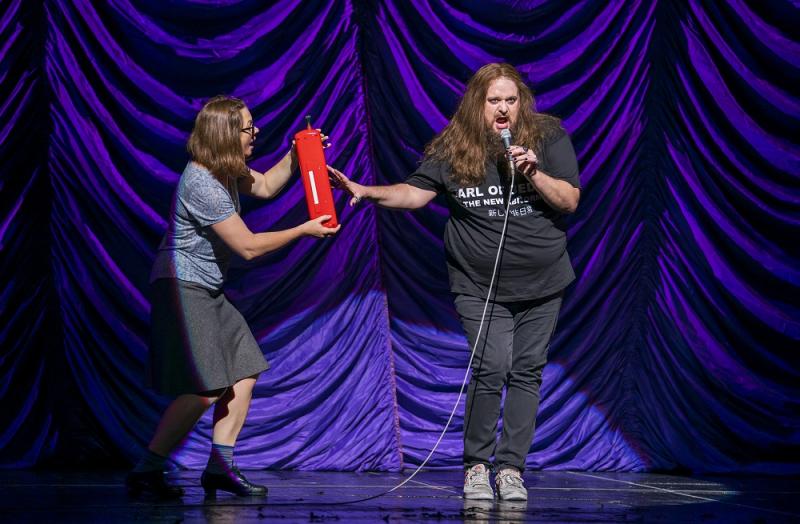 Dawn Woolongong assists Allan Clayton's performance art in 'Frankenstein!!'
Think you've seen enough of monologues and duets over the past few months? Watch this and reel.
Four British directors, four conductors with close ties to the
Royal Opera
and five singers based here, from South African and Spanish-born
sopranos
on the house's Jette Parker Young Artists Programme and a baritone with youth also very much on his side to a top tenor and mezzo, between them serve up stagings of cantatas and song cycles which work brilliantly as a whole. The curator (three cheers!) is Director of Opera Oliver Mears, while the flawless and evocative designs common to four are by Antony McDonald (sets and costumes) and Adam Silverman (lighting).
Close-ups on the livestreaming really do enrich the experience when you have singer-actors as consummate as Christine Rice and Allan Clayton (there was a substantial, socially distanced audience on Saturday night, with the orchestra back in the pit; theartsdesk was invited to the previous weekend's ballet gala, but not to this). In music-drama terms, Britten's Phaedra and HK Gruber's chamber of horrors and heroes Frankenstein!! are the most original, and ultimately the most haunting, of the four offerings, but you'd be advised not to miss anything.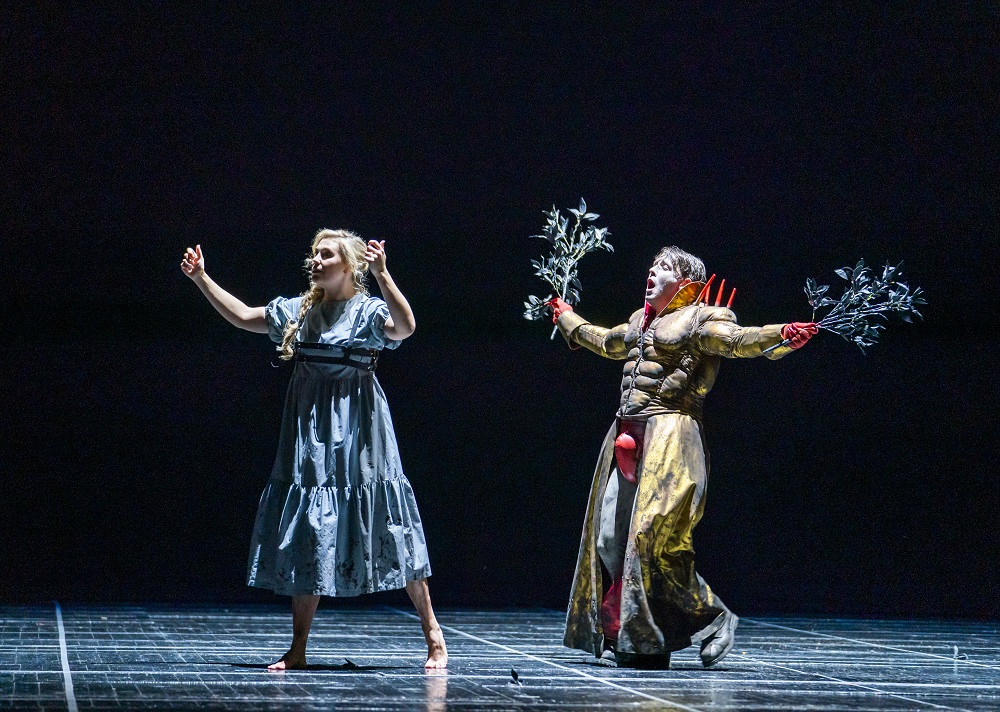 There's as much theatre in Handel's early Italian cantata Apollo e Dafne as in any of his operas, and Christian Curnyn is the best conductor to spring it to life. In a slightly crazed god's pursuit, hot from the lacerating work of dispatching the awful Python, of a chaste nymph devoted to the preservation of her honour, director Adele Thomas manages the tricky task of extracting intense physicality and one-to-one response from her singers, soprano Alexandra Lowe and baritone Jonathan McGovern (pictured above), while getting them to keep a tense distance.Youth is vibrant in both voices, intense in a duet-conflict where each keeps to a different pace and texture of music. McGovern, complete with giant kidneylike codpiece (it's scary; he isn't), gets the last plum, a lament for the girl transformed into a laurel, in a sparely beautiful final stage picture.
Loss is usually very much implied, if at all, in Barber's predominantly pastoral Knoxville: Summer of 1915, but it's there in poet James Agee's nostalgia for a protected family time before his father was killed in a car accident, and McDonald as director presents us with the seeming normality of a girl in a summer dress pushing a pram before disconcerting us with the toy figures she produces from it and an implication that home as well as people may have been forfeited here. The lyric soprano of Masabana Cecilia Rangwanasha, so impressive earlier this year (yes, before THAT) as Handel's Susanna, soars to perfection, and her diction is impeccable. Both the idyll and the threat are keenly projected from the players in the pit under another Jette Parker musician of promise, Patrick Milne.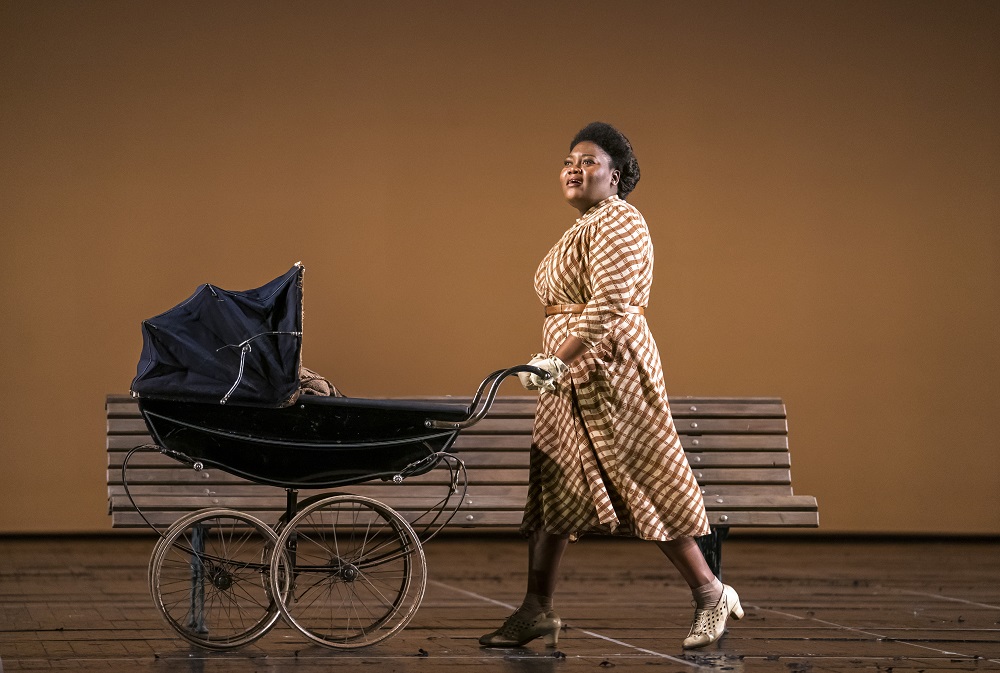 The tension crackles still more with Rice going to the edge for Deborah Warner as suicidal Queen Phaedra (pictured below), tormented by the tragedy that's already sprung from her desire for her stepson. The dreamscape is compelling, though some suggestion of disintegration within a regal setting, and in front of a ceremonial crowd, is sacrificed as a result. The minotaur and Hippolytus (beautiful Royal Ballet dancer Matthew Ball) both briefly come to life, but the isolation is total. Rice, fearless in full-toned climaxes, leaves us gobsmacked by the extent of Phaedra's tormented state, and the orchestra under Richard Hetherington tersely expresses both the agony and the peculiar ecstasy in Britten's late masterpiece – like Handel's cantata, an operatic action condensed into a very short space of time.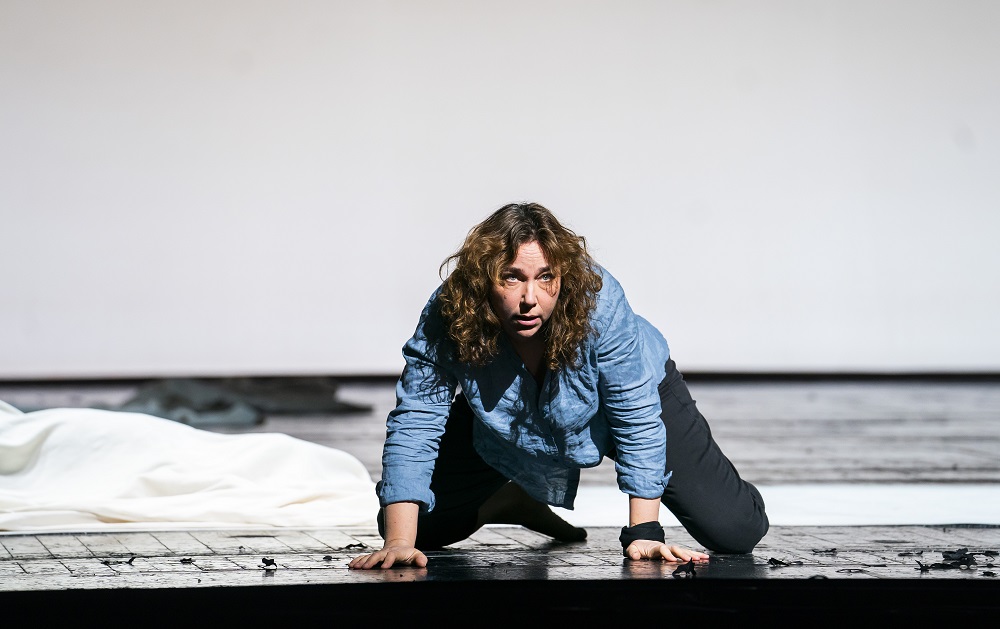 And then for the cabaret of wonders, and Clayton as you never saw or heard him before; indeed, I'd not have recognized him in Goth get-up, tossing his flowing black locks. And in his encyclopedic performance as he rattles through the childhood heroes (John Wayne, Superman, Batman and Robin) and monsters of poet H.C. Artmann's wacky fantasias as set by fellow Vienneser Gruber in Frankenstein!!, Clayton out-crazies Jones himself. But it's all very fine-tuned, or we'd quickly get bored.
When I saw consummate chansonnier Gruber, then 75, perform this delirious masterpiece himself in Stockholm, I didn't think there could be anything better. But this is it. The dance routines with assistant and "Test-Tube Lady" Dawn Woolongong, by Jones's brilliant regular choreographer Sarah Fahie, the props sometimes turning into musical instruments, like the fire-extinguisher melodica, which the versatile Herr Clayton plays along with paper and comb and Swanee whistle, the range of funny and scary voices, the way the performance artiste gives the nod and the microphone at times to the superb musicians under another Jette Parker conductor, Edmund Whitehead: it's all dizzying. I cried laughing, not for the first time in a Jones production. And in an oddly beautiful final tableau, the showman melts into the rest of the evening's cast, now masked. I really hope these shorts make it back into another context which we can all experience live.
Then for the final cabaret of wonders, and Clayton as you never saw or heard him before
rating
Explore topics
Share this article