Der fliegende Holländer, Longborough Festival review - stand and deliver on an empty stage |

reviews, news & interviews
Der fliegende Holländer, Longborough Festival review - stand and deliver on an empty stage
Der fliegende Holländer, Longborough Festival review - stand and deliver on an empty stage
Wagner's early brilliance dimmed by patchy singing and plodding direction
Kirstin Sharpin (Senta) picture-gazing, with Mary (Carolyn Dobbin) and the net-weavers
Brilliant and innovative though it is in many respects, The Flying Dutchman is by no means a straightforward piece to stage. It's an odd, sometimes uncomfortable mixture of the genre and the epic. At Sadler's Wells in the sixties they had a little ship and a big ship that hove into view, a fishing village, sailors with tankards and striped shirts, and girls at looms.
At Bayreuth in the eighties Harry Kupfer set the whole piece in a lunatic asylum, which solved all dramaturgical problems, if at some psychological cost.
Now, at Longborough, Thomas Guthrie and his designer, Ruth Paton, have neither ships nor mental home, no village (apart from a few model houses against the last act backcloth), a painted ocean (of sorts), a few girls making, or mending, nets, and above all no sign of the Dutchman's portrait, which one might think the one prop sine qua non, mentioned countless times, and the chief engine of the plot. Instead Senta sits during the overture looking at what might be his picture in a book; later Mary (Senta's old nurse, here recast as the girls' overseer) tears it up; later still Erik seems to produce another copy. We the audience never see it. Finally, there being no cliff to jump off, Senta stabs herself on the empty stage and the Dutchman reappears like Pinkerton, apparently redeemed simply because Wagner - in his serene D major - says he is.
In short, this is a blank staging, a tabula rasa, which throws all its weight on to the individual characters: Daland, the bluff, mercenary sea captain, his daughter Senta, the dreamy fantasist, Erik, the lovelorn hunter, and the Dutchman himself, Faust in sea boots. This might work if the staging itself were more responsive to the conflicts that already begin to show Wagner's genius for psychological theatre. But Guthrie is, let's say, inclined to be discreet in this respect.
One longs for a more fluid interaction between these unhappy personalitiesAs in his Marriage of Figaro here a couple of years ago, he favours the stand-and-deliver aria mode, face front, and no distracting movement. There are occasional exceptions, but the general effect is wooden, statuesque. One longs for a more fluid interaction between these unhappy personalities. Even the sailors in Wagner's astonishing last act chorus (something he later decried in Opera and Drama) simply face the audience and bounce up and down. They sing with vigour, if not exceptional refinement. But Wagner's deep dramatic polyphonies deserve something more.
I'm about to say, of course, that the music redeems all under the dependable Anthony Negus. But alas not, or at least not yet. Kirstin Sharpin is a radiant, fresh-voiced Senta, though a stodgy actress, and there is a personable, energetically sung Erik from Jonathan Stoughton, who craved indulgence for some illness or other but hardly showed it. William Wallace sings the Steersman's song solidly if not quite prettily, leaning on the proscenium arch.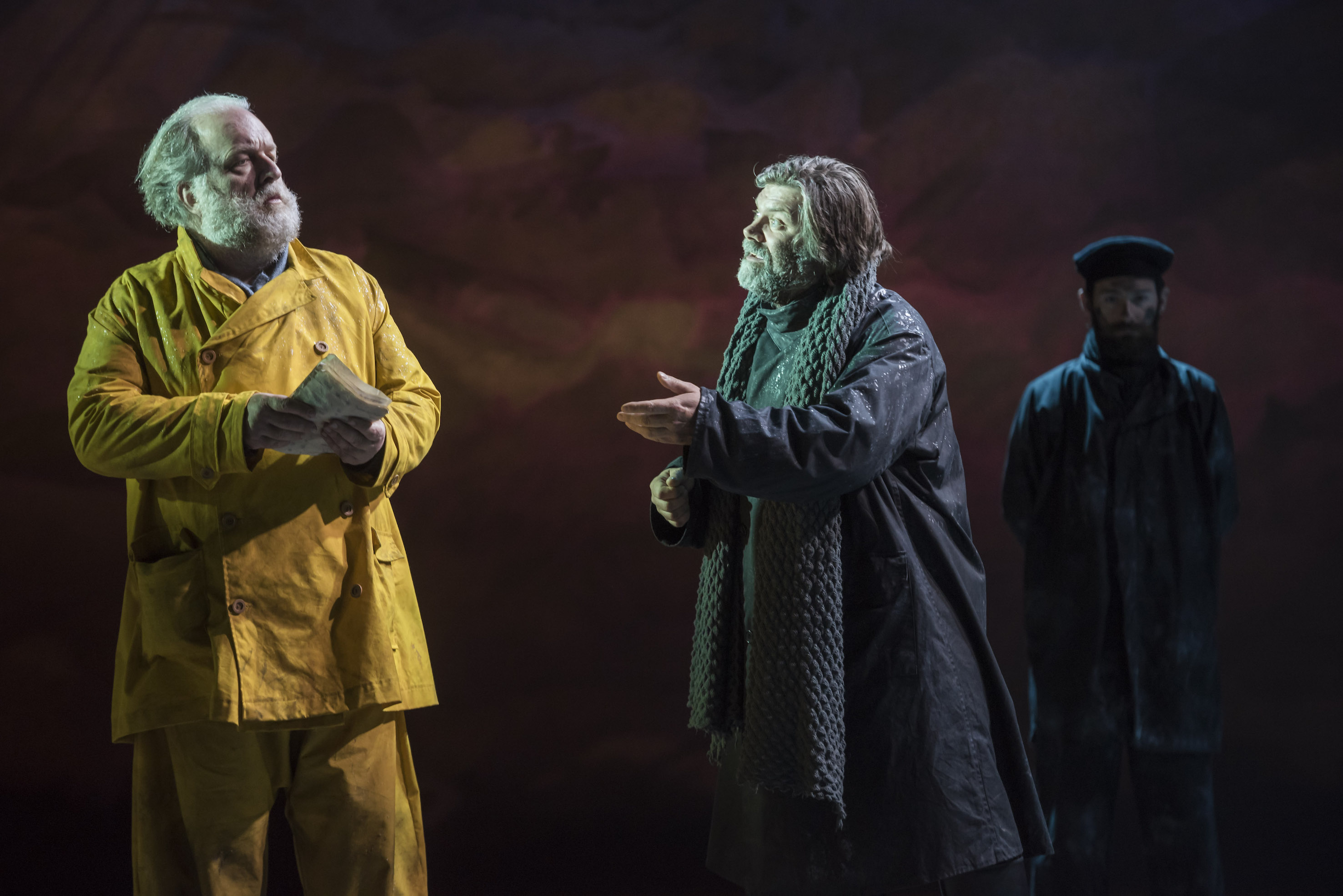 But the all-important bass singing leaves a good deal to be desired. Simon Thorpe (pictured above, right, with Richard Wiegold) is a versatile performer, but here, in what I take to be his first major Wagner role, he tends to force, with damaging effects on his intonation. Richard Wiegold has no need to force as Daland: his is a huge vibrant bass, marred though by coarse phrasing and occasionally rough production. Maybe this is his way of "being" Daland, but if so it does the music, in Wagner's old-fashioned lyrical vein, less than justice.
Negus's reading (the first two acts joined, as in the original score, the third act separate to allow a dinner interval) is on the slow side and a shade cautious. Problems of ensemble suggest under-preparation, most unusually for him, but after all he can't force the singers to watch and listen. Even the orchestral playing has its rough edges, especially in the woodwind writing, one of the score's important innovations. But these are one hopes teething troubles. If only the production could be got moving, its lack of specificity would matter less and the music would benefit.
A blank staging, a tabula rasa, which throws all its weight on to the individual characters
rating
Share this article