Die tote Stadt, Komische Oper Berlin, OperaVision review – when catharsis goes missing |

reviews, news & interviews
Die tote Stadt, Komische Oper Berlin, OperaVision review – when catharsis goes missing
Die tote Stadt, Komische Oper Berlin, OperaVision review – when catharsis goes missing
Robert Carsen's production of Korngold's impassioned opera doesn't ring all the bells
Sara Jakubiak as a relishable Marietta with the chorus
A word about grief. Many of us have learned a lot about it this past year; many knew about it before that. When someone we love dies, we grieve. This is normal. This is human. It is agony, but it's not actually a mental illness. Having Paul, the hero (or anti-hero) of Erich Wolfgang Korngold's Die tote Stadt be marched off stage by those in white coats at the end is therefore not only a directorial cop-out.
It also prevents this overwhelmingly emotional opera from doing what it does best: providing catharsis. Premiered in 1920 in a world shattered by the First World War and the Spanish Flu pandemic, it asks the question overtly: how far can we let our grief for the dead rule us before we have, somehow, to keep on living?
Opera directors sometimes shy away from this raw sincerity – probably for a perfectly good reason, which is that Paul, endlessly mourning his dead wife, Marie, then ends up strangling her living look-alike, Marietta, with a lock of Marie's hair. It's revealed to be a nightmare; he wakes up, learns its lesson and is able finally to recognise that it is time to let go and move on. In Georges Rodenbach's novella Bruges-la-Morte, on which the opera is based, it isn't a dream at all, but the whole book is dreamlike, hallucinatory, drawing on the Symbolist equivalence between the beautiful, pure, dead Marie and the beautiful, pure, dead city of Bruges (they hadn't yet built all those chocolate shops, of course).
The opera's libretto, written in Vienna by the youthful composer and his irascible music critic father, Julius Korngold, united under the pseudonym of "Paul Schott", is perhaps at worst a slightly heavy-handed response to the psychoanalytic vogue of the time and place. Still, the opera's runaway popularity in the 1920s does tell us something about the way it rang its audience's bells.
The score, too, is full of bells, which add to Korngold's atmospheric, technicolour soundscapes, conceived long before the words "Warner Brothers" ever entered his vocabulary. Much later, Korngold did write film music in Hollywood, a move which saved his and his family's lives from the Nazis; this opera helps to show why he was so tremendously good at it. In some of those films, however, the music was of an excellence and weight that overbalanced flimsy stories and Hayes-Commission-wrecked scripts. This is what happens, in reverse, when Die tote Stadt's high impact, high calorie music attracts a thin directorial and design response.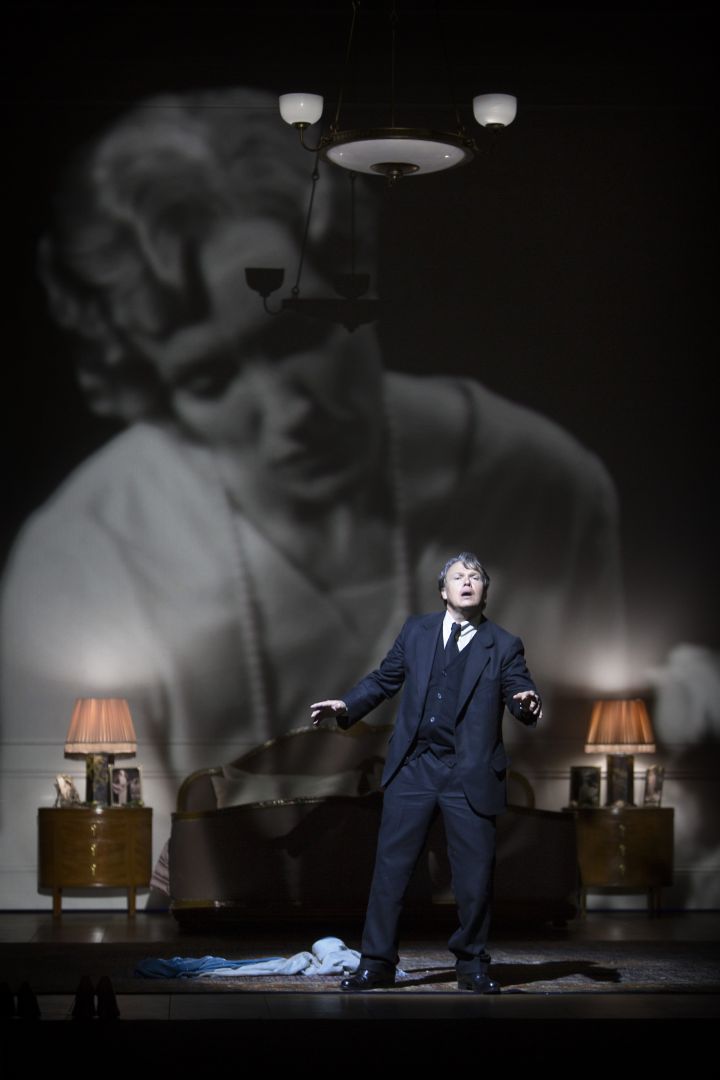 Robert Carsen's production for the Komische Oper, Berlin, now screening on Operavision.eu, has plenty of good ideas, but they are not always realised convincingly, and sometimes seem not wholly thought through. Above all, Die tote Stadt has a hinterland: the setting is part and parcel of the story (the clue is in the title). Originally it is not set in the 1920s, but much earlier, and the all-singing, all-dancing, rebellious and loose-living Marietta represents life versus death, the new versus the old, and is ready to drive a coach and horses through the stuffy hypocrisy and stultifying repression she finds in this fictional Bruges. Without building at least an equivalent to this dimension, the drama cannot help but lose a vital element.
The set revolves (sometimes literally) around a large bed in a cavernous room. Act I, set in the 1920s, is a literal enough response. The Komische Oper opts for the version in which Act I runs straight into Act II, but the cut loses some wonderful orchestral moments and is handled with little inventiveness and a bit of a jolt. The dream sequence, which occupies about two-thirds of the opera, responds to Marietta's theatrical friends and the exquisite showstopper for baritone, the "Pierrot Tanzlied", by putting everyone in suits, attempting little characterisation and throwing in a bit of chorus-line choreography, which at least is mildly colourful. Paul and Marietta's first showdown, the ultimate in operatic domestic rows, is mysteriously witnessed and applauded by the chorus; it has more to do in the vision of the religious procession in Act III, which is perhaps the production's most effective moment, making the link between Paul's idolising of the dead Marie and the statues of the Virgin Mary carried high above the crowd. Yet for the closing scene of Paul's awakening, he – and we – remain trapped in the dead worlds of Marie and Marietta, even though Marietta does return for her umbrella, here handily kept off stage, while poor old Paul finds his friend Frank and his housekeeper Brigitta donning those white coats...
There's one more thing Die tote Stadt needs: a soprano and a tenor who can step into the shoes of Maria Jeritza and Richard Tauber, for whom the roles of Marietta and Paul were conceived. Korngold, barely 20 when he began writing the opera, had already been working with Vienna's finest musicians for the better part of a decade, people who could play, sing and do absolutely anything, and he rose to the challenge. Sara Jakubiak meets him head on: an ideal Marietta, she makes the vocal writing sound effortless and can switch on from harsh charisma to soft-hearted sentiment in a twinkling. She was a top-notch heroine, too, in the Deutsche Oper's magnificent production of Korngold's even bigger opera, Das Wunder der Heliane – if you're a Korngold fan and haven't seen this yet, then beg, borrow or rent a DVD.
Paul is a big beast of a role, long, high, loud, yet also lyrical; here the tenor Aleš Briscein is somewhat less satisfactory, appearing somewhat uninvolved dramatically and vocally struggling for the high notes in Act I, although by the row in Act II everything is flowing a little more easily. Maria Fiselier glows through her brief appearances as Brigitta the housekeeper, and there's deep, satisfying tone from Günter Papendell as Fritz the Pierrot plus Paul's friend Frank. A few coordination problems creep in with the chorus, but on the whole Ainār Rubikis's conducting creates a suitably warm-hearted and malleable canvas and the orchestra rises creditably to the task, though without reaching quite the heady perfectionism of Kirill Petrenko and the Bavarian State Opera in the performance I attended just over a year ago, which would admittedly be hard to match.
The ideal Die tote Stadt has yet to materialise. The good news, though, is that opera houses have kept trying and this flawed masterpiece is back in "the repertoire" at long last. We will get there someday.