Jephtha, Royal Opera review - uncomfortable sacrifice oratorio not seismic enough |

reviews, news & interviews
Jephtha, Royal Opera review - uncomfortable sacrifice oratorio not seismic enough
Jephtha, Royal Opera review - uncomfortable sacrifice oratorio not seismic enough
Sobriety and darkness eclipse Handel's dramatic vividness, despite strong performances
Tuesday, 14 November 2023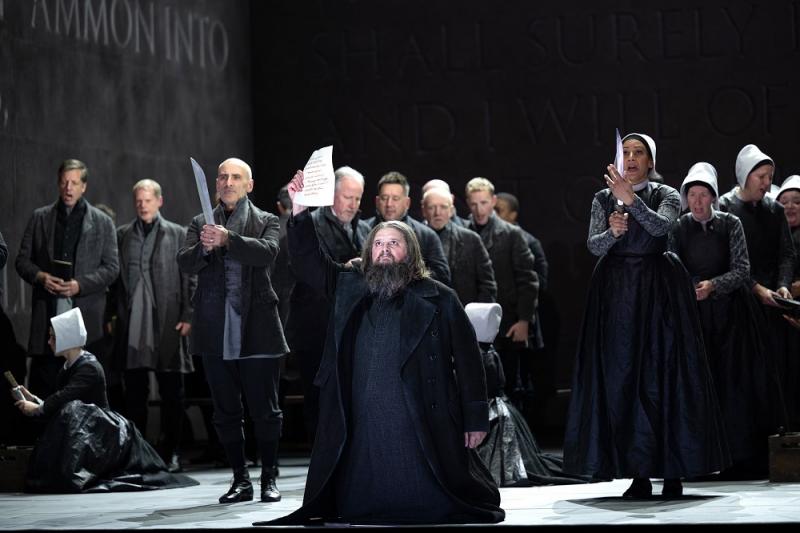 Zealot Jephtha makes a foolish vow
"Tell me," The West Wing's President Bartlet (Martin Sheen) asks of a right-wing TV host who uses the Bible to call homosexuality an abomination, "I'm interested in selling my youngest daughter into slavery as sanctioned in Exodus 21.7… What would a good price for her be?" He might also have cited Judges 11 and asked about sacrificing his daughter as thanks for victory over his enemies, the position of Israelite Jephtha having massacred the Ammonites.
Handel and his librettist Thomas Morell in their oratorio about Jephtha's rash promise are equivocal about the filicide, to say the least, and Royal Opera director Oliver Mears goes further in disapproving the commuted, angel-decreed sentence on daughter Iphis – modelled, since the Biblical girl has no name, on Greek Iphigenia – that she should spend the rest of her life as a votive virgin. Unfortunately his contemporary sensibility deprives this great final oratorio of its light as well as its prevailing darkness, only proving that despite the harrowing dramatic sequence at the heart of the masterpiece, it would be best left to the concert hall. Handel thrives on contrast, and if none of the brighter numbers are to be accepted at anything like face value, a dimension is lost.
Darkness prevails in Simon Lima Holdsworth's oppressive sets and Fabiana Piccioli's lighting, sobriety in Ilona Karas's costumes for the principal Israelites, all Puritans (partly to avoid an awkward situation at this disastrous point in history). The models are all admirable – Fan Ho's Approaching Shadow, Richard Serra, Blake's frontispiece for The Book of Los – but as in the team's Rigoletto, the stage pictures don't always cohere. The Ammonites' sybaritic existence brings a splash of skewed colour, but not for long, as they're all despatched at the start of Act Two (pictured above), their luxuries heaped on a bonfire of the vanities.
The five principal roles are all strongly taken, but variously undermined. We can't feel much sympathy for Allan Clayton's clarion fanatic, and though the dislocated "Open thy marble jaws, O tomb" is riveting, I wasn't moved. Alice Coote doesn't seem to know in which direction to settle as wife Storgé, despite an as ever impressive range of tones and colours.
Any joy in the love-games of Iphis and Hamor is bound to be overshadowed by knowledge of the fate in store, but it shouldn't be totally eclipsed as it is here, and the reading of Hamor's outwardly joyous return from battle as a blood-stained horror is too much of a cliché. Counter-tenor Cameron Shahbazi was under the note in much of Act One, though vocal cut did match physical presence in the crisis. Even stage animal Jennifer France seems overshadowed by the context, though her acting was always clear and, when necessary, dignified (Shahbazi and France pictured above before a crucial moment of decision in Mears's production). One hushed da capo did prove intensely moving. Brindley Sherratt's Zebul adds to the heart of darkness, but characterisation-wise also remains uncertain.
Conviction might have been carried through with more thrust from conductor Laurence Cummings, and co-ordination with the Royal Opera Chorus occasionally fell out of sync. With the total vividness of the previous week's concert performance of L'Allegro, Il Penseroso ed il Moderato still resonating, this tragedy felt much more sober than it should have done.
Though the dislocated 'Open thy marble jaws, O tomb' is riveting, I wasn't moved
rating
Explore topics
Share this article