L'elisir d'amore, Royal Opera |

reviews, news & interviews
L'elisir d'amore, Royal Opera
L'elisir d'amore, Royal Opera
Donizetti's potion fails to transform Alagna into a hero
Wednesday, 14 November 2012
Donizetti's love-farce becomes a dusty contemporary pastoral in Pelly's production
You can tell a lot about a performance of L'elisir d'amore from the two pizzicato string chords that so neatly take the sheen off the military pomp of the opening phrase. Played well, these subversive little asides can throb with all the wit and cheeky self-mockery that elevates this opera above the hundreds of Donizetti also-rans.
Played earnestly, as they were last night however, they heralded a rather limp performance – laboriously correct without ever finding (let alone seizing) that anarchic glee that riots through the score.
Laurent Pelly's production returns to the Royal Opera House for its second revival, and while its faded Italian charm is no match for the brasher comedy of ENO's American Dream, it's an attractive treatment that reworks Donizetti's love-farce into a dusty contemporary pastoral. Nemorino rattles up in a tractor, the lovers romp on a pyramid of hay bales, and travelling salesman Dulcamara is greeted by the barks of the local animal-life. Efficient rather than inspired though, only the sudden appearance of stars for "Una furtiva lagrima" generates a really memorable tableau.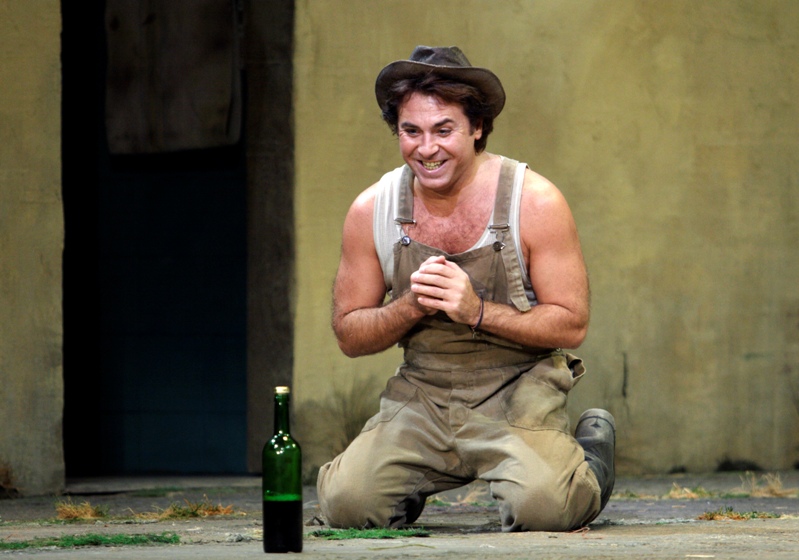 The real excitement of this revival (directed by Daniel Dooner) is Roberto Alagna's Nemorino (pictured right). Much has been made of this 20th anniversary of Alagna's first appearance in the role (back in 1992 at the Vienna State Opera), reminding us a little too keenly perhaps that Alagna's greatest rival in the role is himself at 30. Nudging 50 now, the tenor still has that certain "it" that is the combination of brute charisma and showmanship, but his beautifully rounded tone is rather harder-won these days. When his muscle memory helps him out (as it did in "Una furtive lagrima") he still finds resonant spaces towards the upper end of the voice, seemingly ringing rather than singing the phrases. But when he pushes too hard things get hoarse and wayward, and his days of reliable money-notes are surely numbered.
Alagna has a tendency to lean back into the arias which doesn't help, and in cahoots with Bruno Campanella's pit his "Quanto è bella, quanto è cara" bogged Donizetti's airy emotion down in a tempo with Wagnerian ambitions. Although things gathered pace in Act II, Campanella's direction never risked urgency or abandon, and tempo transitions caused no amount of anxiety both onstage among the singers and out in the auditorium. Hopefully this will settle during the run, but just as some unaccompanied works just won't stick in a particular key, so perhaps Donizetti's opera will never feel fully organic at these speeds.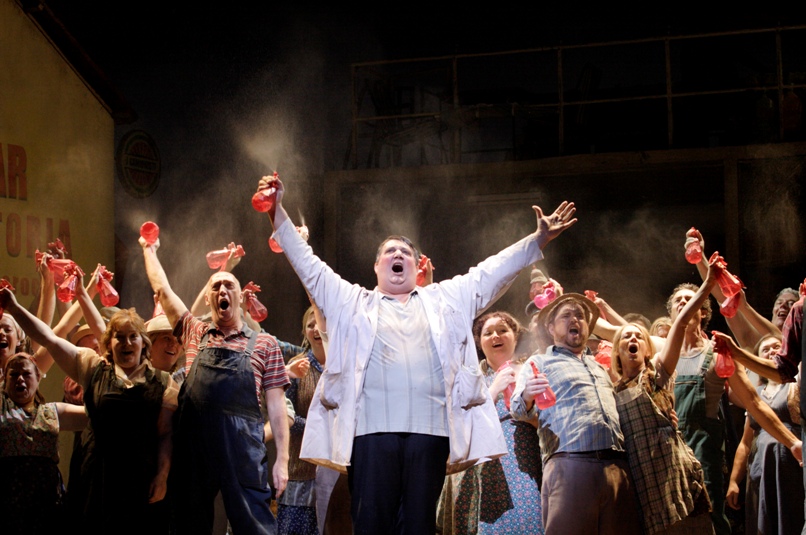 Last seen bibulous and splendid as Sir John in Robert Carsen's Falstaff for the Royal Opera, Ambrogio Maestri (pictured left) is once again on the make as the quack Dr Dulcamara. With his impeccably enunciated patter, poised comedy (that toothy whistle in "Io son ricco, e tu sei bella" is perfection) and generous projection, he fills out Pelly's bright red suit with panache and then some. His is the only voice that doesn't feel strained or stretched by the Royal Opera House, and its only thanks to some generosity on his part that Alagna and Aleksandra Kurzak's Adina don't get crushed vocally underfoot in ensembles.
Kurzak (pictured right with Alagna) has a delightful way with her, and while her Adina isn't perhaps the sensual sophisticate of some productions, her provincial affectations bring an unusual vulnerability to the heroine. Vocally Kurzak isn't a natural Adina, her voice is bulkier and requires rather more heavy lifting than many around this repertoire. Her coloratura is neat and her mid-range has a characterful warmth, but she doesn't have the showstopper top notes or – as yet – the power to deliver the role in such a space. Fabio Capitanucci's Belcore offers a quiet foil to Alagna's physical clowning, but risks being so dwarfed dramatically that we never really fear for Nemorino's success, lessening our investment in the tangled intrigue as it plays out.
The combination of Alagna's name and Donizetti's perennially popular opera will ensure that the Royal Opera House have a success with this revival (well timed to catch the beginning of festive outing season), and Pelly's gentle humour and Maestri's presence will ensure that audiences have a good time once they come. But there's something about this revival that feels token, uncherished. Currently it plays like a slightly dusty vehicle for a big-name star, rather than the ensemble smash that Donizetti had in mind when he wrote that joyous and irreverent opening.
L'elisir d'amore is in repertory at the Royal Opera House until 7 December
Nudging 50 now, Alagna still has that certain 'it' that is the combination of brute charisma and showmanship
rating
Explore topics
Share this article