Luisa Miller, Glyndebourne review – small-scale tragedy, big emotions |

reviews, news & interviews
Luisa Miller, Glyndebourne review – small-scale tragedy, big emotions
Luisa Miller, Glyndebourne review – small-scale tragedy, big emotions
Bold casting includes a sensational main-season debut from soprano Mané Galoyan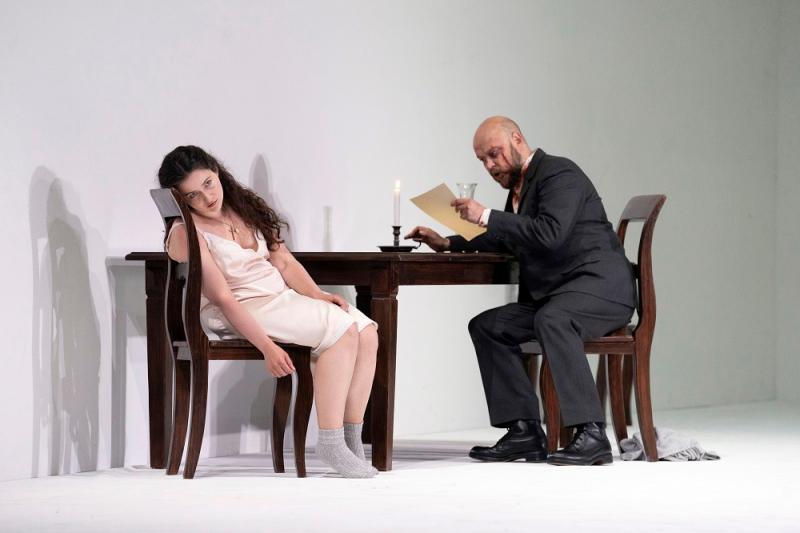 Luisa (Mané Galoyan) at the end of her tether, with father Miller (Vladislav Sulimsky)
"Time-travelling" is how Enrique Mazzola, the superb first conductor of Glyndebourne's last new production of the main season, described the slow-burn trajectory of Verdi's semi-masterpiece Luisa Miller in his First Person here on theartsdesk.
Possibly it's more a case of conservative opera-by-numbers evolving into something truly deep and personal – ultimately two duets and a final scene among the very best in Verdi's substantial output. In most of the first two acts, you simply need five of the best voices to pull focus and a production that doesn't get in the way too much.
That happened here at the highest level. Then, after the long interval, Mazzola and Georg Zlabinger, the associate director of a production which Christof Loy wasn't present to supervise, asked extraordinary things from their principal trio of singers - intimacy, vision, an often withdrawn anguish – which made this one of the finest evenings, surely, Glyndebourne has ever witnessed.
The dramaturgy in Cammarano's adaptation for Verdi of Schiller's Kabale und Liebe (Intrigue and Love) is skewed. You're asked to take on board in Act One a situation of a toff posing as a pleb for the hand of the village girl he loves, stymied by a revelation from one villain - the slimy Count Wurm, who wants Luisa, and pressure from a father who is the opposite of Luisa's loving Miller – without having a chance to get to know the characters, who reveal themselves only in standard set pieces (though since these are by Verdi, albeit in Donizetti mode, they're very good). Loy's trademark white, slanting sets, designed by Johannes Leiacker with some startling changes of light by Olaf Winter, minimally adorned– a table with refreshments, chairs, a crucifix, flowers scattered in the first act – and a rather ghostly offstage chorus, doubled by 11 restrained and expressive actors give a suggestion of a supernatural limbo, but leave the principals to be what they will.
Two – Krzysztof Bączyk as Wurm and Evgeny Stavinsky as Count Walter, pictured above – are more of the stand-and-deliver Verdi variety, perfect for what they're asked to do. The surprisingly underdeveloped role of Luisa's love-rival, the Countess Federica – fleshed out a bit by a speech from Schiller read, as are others, at the beginning of an act – looks pretty and arrogant in pink, but Nadezhda Karyazina's distinctive mezzo-contralto voice is the only one that needs more anchoring (pictured below right with Charles Castronovo as Rodolfo)..In the very small role of friend and helper Laura, Carrie-Ann Williams helps to make the frail beginning of Act Three touching with a few lines of exquisite sensitivity.
What it all comes down to, ultimately, is the domestic drama between father, daughter and lover. It's rare to have a tenor of such dramatic intelligence, and thrust when needed, as well as matinee-idol looks (maybe not so necessary in this role) to match the perfect Italianate delivery, as Charles Castronovo. We can have total confidence from the start in Mariinsky rising star Vladislav Sulimsky's Miller, but even he surprises us by how far he can go, and how moving, he can be, in the crucial Act Three duet where he changes Luisa's suicidal determination by envisaging the desolation of a bereft parent. Verdi equals his achievement in the Violetta-Germont duet here, and perhaps surpasses the Gilda-Rigoletto scenes – both operas were still to come at the time of Luisa Miller's premiere in 1849 – by virtue of the dramatic reversal achieved within the number (which of course you also get in Traviata).
Armenian soprano Mané Galoyan – vulnerable, petite, visibly overpowered by the threatening figures of Wurm and Federica – is a Gilda to the life, pure lyric, and you wonder if she'll rise to the anguish of the later scenes (Act Three pictured above). But with sensitive restraint from Mazzola, conducting a reduced London Philharmonic Orchestra which never feels thin but works wonders on the sense of intimacy from the marvellous Sinfonia onwards, and further demands on inwardness made by the production, she lacerates and breaks our hearts in the final dilemmas. Repeated verses are often sung quietly, on the cusp of silence, and dramatic pauses are febrile with intensity. The stage picture is artistic and apt, too, a black square now replacing the aristocratic windows and mirror which fravismed Federica in Act Two. This Act Three is perfect, the whole as good as it can be. Amazing how two new Glyndebourne productions on white sets - the first was the symbol-heavy Káťa Kabanová, at odds with the dramatic essence as this is not - can be so different. With the Loy ethos, less is usually more. This understated but devastating music-theatre burns itself on the memory. Don't miss it if you can get a return.
In Vladislav Sulimsky's Miller, we have confidence from the start, but even he surprises us by how far he can go in the crucial Act Three duet
rating
Explore topics
Share this article