A Midsummer Night's Dream, Guildhall School review - earthy, energetic Britten |

reviews, news & interviews
A Midsummer Night's Dream, Guildhall School review - earthy, energetic Britten
A Midsummer Night's Dream, Guildhall School review - earthy, energetic Britten
An energetic cast of quality voices meshes happily with bracing instrumental magic
Helena (Samantha Clarke) baffling Puck (William Sharma)
It speaks vivid volumes for the superb health of our music colleges that the Guildhall School tackles every aspect of Britten's long and layered Shakespeare adaptation with total confidence.
On Friday night, there wasn't a weak expressive link across a team of 19 soloists, many of them obviously destined for great things (totalling 29 if you add up both casts, though of course I can't speak for them all), and 46 top-notch players under the vivid guidance of the School's Head of Opera Studies, Dominic Wheeler. Though there's no shortage of magic, this is less an eerie
Dream
than a robust and vivid one, unlike any I've heard and all the better for it, energy levels within and without high at every turn.
Martin Lloyd-Evans' production doesn't always pull its vision into focus, which actually gives the performers a certain amount of adrenalin-charged latitude they don't abuse, but Ruari Murchison's open stage, with its string sculpure serving for the forest and an orb dewed upon the green, is high-quality and variously lit by Mark Jonathan. It's a pity the opening of Karl Dixon's video-projection blooms when Oberon sings of the flowery bank where Tytania sleeps doesn't extend to the idyllic operatic treatment of the fairy-queen-and-donkey romance. The third-act picture frame for the Athenian palace, though, comes into harmony with some of Lloyd-Evans' best ideas to raise the bar (final tableau pictured below).
We've seen these kind of grungy fairies before, mostly Goth/Punk with a hint of Elizabethan relics around them; they pop up from trap doors with robotic head movements but don't add up to much dramatically. The choral singing, though, is striking. Obviously these are not Britten's boys, which removes a creepy dimension only hinted at in a big, be-shorted changeling schoolkid, but Guildhall young women; there are gains, as in a very sensuous Act Two lullaby, as well as slight losses. But they can move and sing professionally, abetting the rest of the cast. Only Puck is slightly under-defined, a pot-bellied yob whose difficulty in squeezing his girth through the trap-door, a gag not over-done, doesn't quite go with the acrobatic trumpet (Thomas Kearsey, fearlessly blatant) and side drum of his music. This "first" cast's William Sharma delivers with confidence, though, and it's the only time I've heard the sprite imitate the voices of the male lovers with uncanny accuracy.
As for star quality in the other roles, where to begin? This is obviously a new golden age for young basses and bass-baritones; there were no less than four who shone. Usually the majority of rude mechanicals are taken by bit-part singers; here, in 2018 Kathleen Ferrier Award winner William Thomas, we had a Quince who amazed the minute he opened his mouth and an adorable Snug the Joiner, Tom Mole, who also produced a bigger than expected sound. Lloyd-Evans clearly wanted to use his special presence, keeping him back to be bewildered in the wood, stressing the gentle heart within the lion and finally letting him bust out as an ace dancer and acrobat in the Bergomask. The other novelty in the very lamentable comedy of Pyramus and Thisbe was Damian Arnold's Snout turning into a monstrous Wall with unexpected up-yours attitude; the other tenor of the group, Robert Lewis, followed the more usual trajectory of a Flute who finds his vocal chords and star charisma as his assumption of Thisbe reaches its "tragic denouement".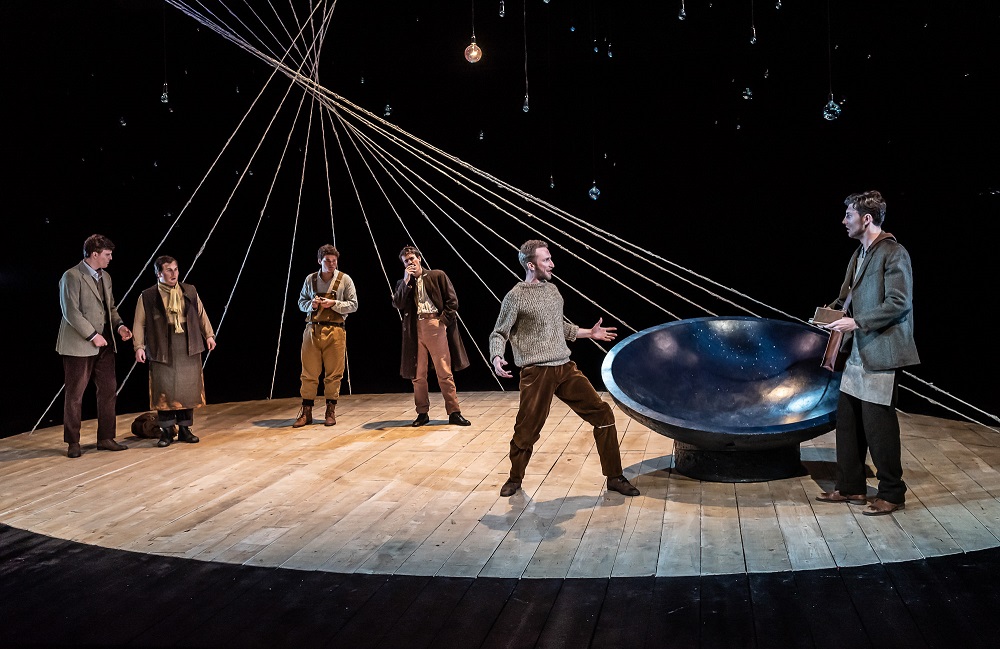 Returning to the bass-baritone sphere, Sam Carl gave us a Bottom of obvious thespian prowess - Friday night's Theseus, Christian Valle, another sterling voice, swaps roles with him on alternate nights - rolling the rs of his drrrream most theatrically (Carl pictured above second from right with Andrew Hamilton, Lewis, Mole, Arnold and Thomas). He was a known quantity for those who had seen British Youth Opera's superb realisation of Stravinsky's The Rake's Progress last year, while its Anne Trulove and Tom Rakewell, Samantha Clarke and Frederick Jones, were playing confused lovers at the Guildhall for the second time, along with the other pair, after the Guildhall's Così fan tutte last year; I didn't see it but I can well imagine it helped to define their tangled relationships.
Clarke proves a strong comedienne, but the neurosis etched powerfully into Helena's vocal lines in Act One also told us that she could take on the Governess in The Turn of the Screw tomorrow, if need be. Italianate-sounding Jones, the Lysander, is surely heading for Verdi and Puccini, though let him serve his apprenticeship first. To have a Demetrius in Seán Boylan who is already the perfect young baritone seemed too good to be true; Lucy McAuley's Hermia was strongly defined, but the voice still needs a bit of pulling into focus (pictured above: Boylan, McAuley and Jones with Sharma). The voluptuous Hippolyta, Carmen Artaza, sings that other mezzo role in the alternate cast.
There was total confidence from the fairy king and queen, too. I'd have liked a bit more seductive line from Collin Shay as Oberon, though he was well in step with the general strength of characterisation. Madison Nonoa floated several exquisite high lines for Tytania's beguilement with Bottom, though perhaps she needed a bit more help with supernatural glamour from the production (both pictured below with Carl and Sharma).
That certainly came from the music, superbly paced by Wheeler without rushing; the first act can drag, but not here - justifying an interval many productions wait until the end of the second to provide. It was good to re-establish a chamber relationship after the last ENO revival, for all its visual and aural ambition somewhat lost on the Coliseum stage and in the far-flung pit; this brought us closer to the work's premiere in Aldeburgh's Jubilee Hall (in other words, village institute). But there was nothing hempen-homespun about the playing. Finely-cushioning strings, vivacious woodwind and another outstanding brass solo from trombonist Jake Jones as Bottom's alter ego (or id) all strung pearls on a remarkably robust line. The wildly enthusiastic response may have been cued by the performers' friends and colleagues in the audience, but the rest of us were genuinely happy to keep them company.