2:22 A Ghost Story, Lyric Theatre review - Cheryl makes an impressive stage debut |

reviews, news & interviews
2:22 A Ghost Story, Lyric Theatre review - Cheryl makes an impressive stage debut
2:22 A Ghost Story, Lyric Theatre review - Cheryl makes an impressive stage debut
Danny Robins' clever play gains a creditable star turn in its fifth run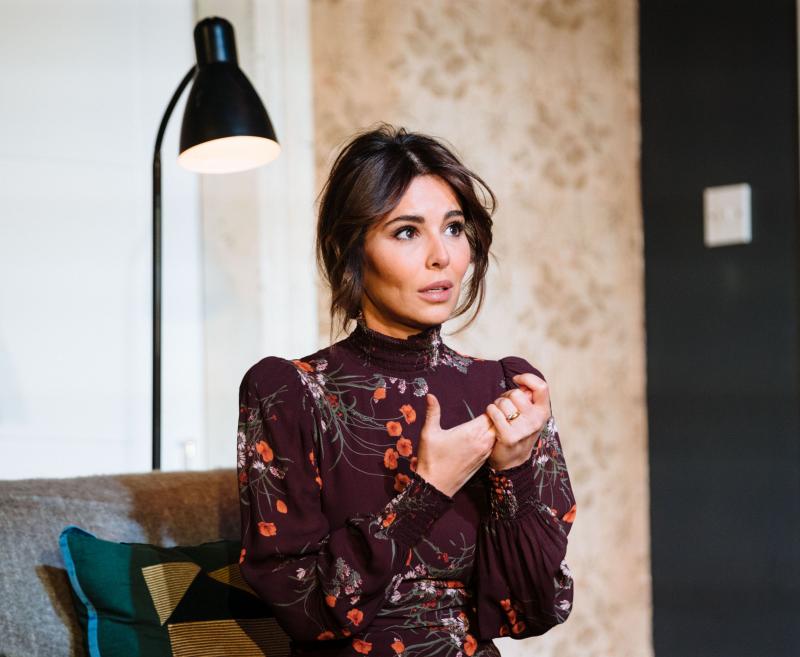 Elegant presence: Cheryl as Jenny in '2:22 A Ghost Story'
The set of 2:22 A Ghost Story is open to the auditorium when we arrive and locates us at once in gentrification-land. We are in a slick kitchen with white chevron tiling, new units and an obligatory island; big skylights loom overhead and outsize glass doors lead to the back garden - and the foxes. Their mating screams will terrifyingly punctuate the action, at maximum decibels.
Except… the more you look at this set (excellent design by Anna Fleischle), the more you start noticing strange details. The walls aren't finished and layers of old wallpaper have been peeled off and left as they are; a circa 1960s wall-mounted gas fire is still there, sharing space with an Alexa system and a baby monitor. The lady of the house is there too, painting a wall a modish dark colour.
Except… two onstage digital clocks tell us it's gone 2am. Why is this woman painting a wall at this ungodly hour? And why does she start to panic as 2:22 approaches?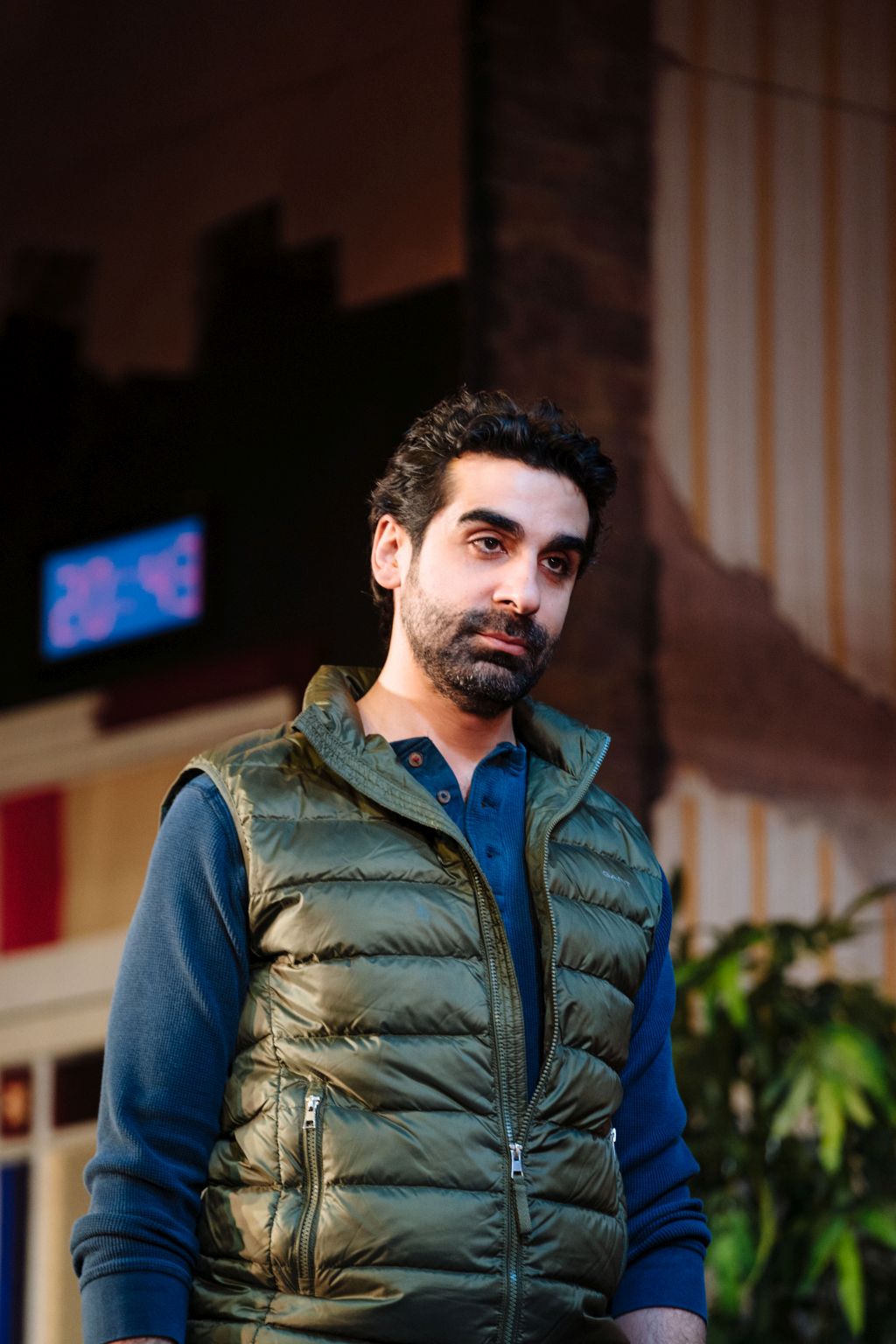 The plot of the play has to stay largely under wraps. What can be said is that paranormal investigator Danny Robins has written a gripping, clever modern ghost story, as it says on the tin, that gets more intriguing as it goes along (and even after it is over). It's also a knockabout comedy of manners that pokes a finger into the ribs of know-it-all husbands, racist builders, rapacious gentrifiers and cynical "realists".
Jenny (Cheryl) is painting a wall while waiting for the mysterious sounds she expects to come through her baby monitor at precisely 2:22am. She has started to move her 11-month-old, Phoebe, into the main bedroom at night, convinced something is haunting the room and threatening the child. Her husband Sam (Scott Karim, pictured above), an astronomer (cue ribaldry about showing off his telescope), has been away for work on Sark, a grey zone where he can study the stars free of light pollution. Jenny is angry that he didn't call her from there before coming home. Visiting them for dinner are Sam's old college friend Lauren (Louise Ford) and her new boyfriend, Ben (Jake Wood, a holdover from the first cast), a builder who worked on her flat and never left.
These are volatile ingredients for some sparky clashes, which we duly get as more and more bottles of wine are consumed. Sam, it's clear, is a confirmed rationalist and aggressively knowledgeable; Jenny, a lapsed Catholic who lost her faith when Sam "explained away" her religion while lecturing on the cosmos. Lauren is a tired psychiatrist with an encroaching drink and pills problem who seems eaten away by her childlessness; and Ben is a dark horse: a Little Englander who resents outsiders (eg Albanians) ruining his trade, but also a spiritualist, whose mother used to conduct seances. He believes in reincarnation and claims to have taken part in the French Revolution. Each of the three might have a motive for trying to scare Jenny out of her wits.
Together the four chew over the possibility that ghosts exist. Sam trots out scientific explanations for "hauntings", but even Lauren claims she saw a ghost once, and Ben sides with Jenny in thinking the 2:22 noises may well be manifestations of spirits that once lived in the house, unhappy that Jenny and Sam are stripping out the previous owner's botched DIY. Who is right? The play does eventually have an answer.
Ben is a fine comic creation, given an award-winning winning portrayal by Wood, all nervous, hand-flicking energy and robust turns of phrase. There's a great scene where he nails Sam's pomposity, mimicking his behaviour when they went to buy wine at a local corner shop.
The other cast member to win an award since the play's summer, 2021, premiere was Lily Allen, for Jenny, her stage debut. Other theatrical debutantes have followed in the role, Cheryl (née Tweedy, from Girls Aloud) being the fifth, as the show has bounced around the West End.
Doomy muttering about stunt casting attended the announcement of this new lineup. But she holds her own impressively from the outset, belting out her opening line – just one word, the F-word – with hilarious aggression. She's a pencil-thin, elegant presence, her hair piled up artfully around those trademark cheekbones, which makes her instinctive fieriness and four-letter words all the more interesting. Her Tyneside accent has not been changed, which is also welcome.
Director Matthew Dunster ensures this is a pleasantly engaging evening, deploying the necessary shock tactics with pinpoint accuracy. It's witty as well as scary, well executed on all fronts and delivers a great punch in the final round. The rest is silence.