Bagdad Café, Old Vic review - sweet but scattershot |

reviews, news & interviews
Bagdad Café, Old Vic review - sweet but scattershot
Bagdad Café, Old Vic review - sweet but scattershot
Stage adaptation of 1987 film needs more narrative drive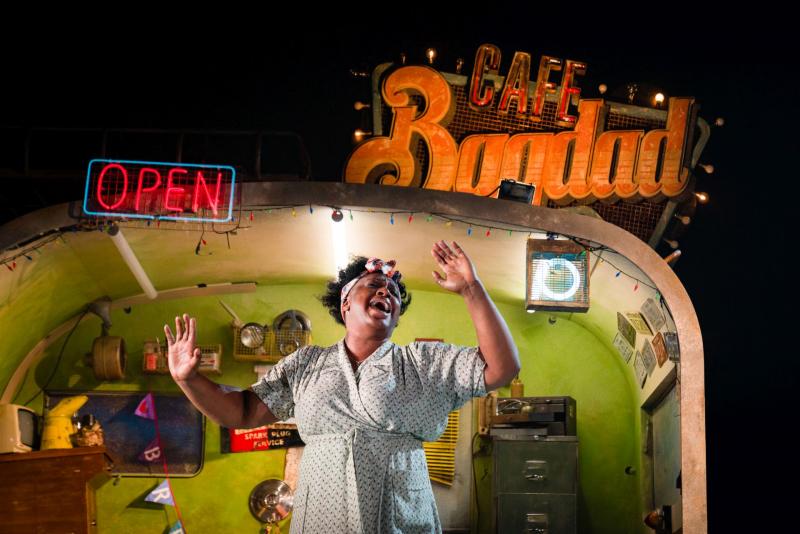 Calling us: Sandra Marvin in 'Bagdad Cafe'
A gorgeous song exists in search of a show to match over at Bagdad Café, the 1987 film that gave the world the memorably plaintive "Calling You", which is threaded throughout Emma Rice's stage adaptation of the movie with understandable insistence.
What hasn't yet been achieved in this Old Vic premiere is much narrative heft to go with the abundant heart of an evening that ends with a collective Zoom, a reminder in our fraught times of the collective call-out to community. All that's needed now is something more of substance.
Rice has always been great when it comes to feeling and rather more free-form as regards narrative. That may be why her most robust productions remain work like the much-revived Brief Encounter, which tethers her bounteous invention to a rock-solid story. Percy Adlon's celluloid source, here adapted by the German filmmaker in collaboration with his wife Eleonore, is a far more whimsical affair that tells of an unexpected friendship that arises at a Mojave Desert hostelry between an itinerant German woman, Jasmin (here played by Patrycja Kujawska), and a café-owning local, Brenda (the clarion-voiced Sandra Marvin, late of Hairspray).
The production, too, marks the reopening of a venue that has been at the welcome forefront of so much first-rate streaming during our various lockdowns, and it's intriguing to note the format of a run that will follow a month or so of in-person performances with a final spate of online shows as part of the Vic's In Camera series. Social distancing remains in place for those patrons who choose to enter the auditorium, which I must say felt entirely welcome after a sequence of being packed in like so many spectator-sardines at some of the bigger shows of late.
Devotees of Rice, like myself, will recognise her characteristics: a love of miniatures, for one, alongside a visual playfulness that finds a scrunched-up Chevy in the centre aisle and a neat boomerang effect that elicits its own applause. Lez Brotherston's ravishing, cloud-streaked visuals (gorgeously lit by Malcolm Rippeth and created "in cahoots", we're told, with Olivier Award-winner Vicki Mortimer) give an immediate sense of both space and place as the stage is given over from the start to a poncho-wearing gathering (pictured above) who impart an intrigue all their own. Puppets add to an element of the unexpected borne out when Rudi Cox (Gareth Snook, inheriting Jack Palance's onetime film role) remarks, "I wonder what's going to happen next." One might be tempted to reply that anything goes, had that phrase not already been coopted by a certain well-known musical opening next week.
Rudi's caravan-dwelling hippie is slowly drawn to Jasmin, whose own abandoment is paralleled by the domestic woes of Brenda and her husband, Sal. How this fractured assemblage are seen to recombine constitutes a vignette-heavy 90 minutes that never really illuminate the gathering sisterhood that arrives via authorial fiat. The cast all look thrilled to be back on a stage, as who can blame them, but aren't always used to full potential: that seems especially true of Le Gateau Chocolat, a veteran of Rice's Globe Theatre Twelfth Night here cast as the sonorously spoken Sal. An imperious Russian with mile-high hair at one point stomps off into the audience, even as the "natural nudity" indicated in an admonitory note by the entrance references a scene in which one character strips off so as to be painted by another.
The musical soundscape ranges from snatches of The Clash and La Traviata, both of which pale once the Bob Telson-penned "Calling You" is pressed into action one further time. You exit feeling elated, to be sure, even as the show itself seems not quite to have begun.