Brokeback Mountain, @sohoplace review - emotionally inert take on acclaimed tale of queer love |

reviews, news & interviews
Brokeback Mountain, @sohoplace review - emotionally inert take on acclaimed tale of queer love
Brokeback Mountain, @sohoplace review - emotionally inert take on acclaimed tale of queer love
Mike Faist and Lucas Hedges star in an underpowered adaptation of Annie Proulx's short story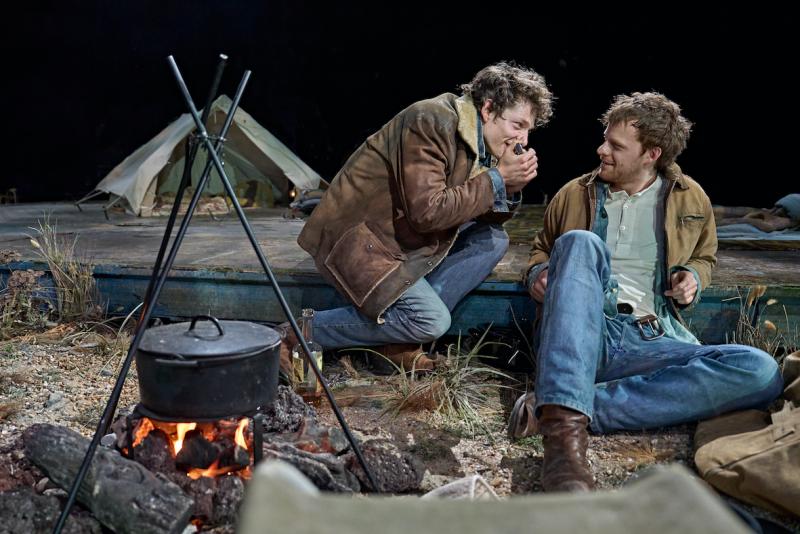 Broken: Mike Faist and Lucas Hedges play two ranch hands in love
For a masterclass in expansive adaptation, one could do worse than turn to Ang Lee's Oscar-winning Brokeback Mountain, based on American author Annie Proulx's 1997 short story of the same title. Proulx's restrained but searing tale of the queer romance between two ranch hands in 1960s Wyoming generated in Lee's 2005 film a tragedy of deep interiority and complex emotion.
Eighteen years on, this source material faces a kindred, if altogether new, challenge in Ashley Robinson's stage adaptation at West End's @sohoplace, which comes with serious star wattage through its central cast of Mike Faist and Lucas Hedges — American actors making their West End debuts in the wake of acclaimed performances on Broadway and in Hollywood.
Robinson's play nominally centres on an elderly Ennis Del Mar (Paul Hickey), who, in 2013, wistfully looks back on a 20-year period in his youth when he was embroiled in an affair with Jack Twist, even as the two men had wives and children. As young adults, Ennis (Hedges) and Jack (Faist) are employed as ranch hands on the titular Brokeback Mountain, whose secluded wilderness triggers their homosexual relationship and, through the years, becomes a site of nostalgic longing. At a time of rampant homophobia, the two men sustain their passionate connection in the shadows, or, more accurately, in the welcoming embrace of nature — but not without having to confront the tragic fate ultimately dealt to their love.
Directed by Jonathan Butterell, Brokeback Mountain functions as a memory play, where the older Ennis keenly watches in his mind's eye a rapid succession of brief scenes from this story. These moments are punctuated by a dozen original songs written by Dan Gillespie Sells and performed on stage by a country band featuring Eddi Reader as a balladeer (pictured below). Tom Pye's versatile set, foregrounding a few pieces of furniture and a peripheral campsite, brings together and accommodates these scattered episodes with help from David Finn's mellow lighting design. In a story that sets such great store upon the enabling force of its natural landscapes, however, this scenic world fails to evoke or convey any visual sense of its key settings.
These deficiencies of ambience are compounded by other issues afflicting this lightweight transposition of Proulx's story to the stage. Notwithstanding their prior accolades, Hedges and Faist struggle to inhabit their respective characters with the conviction and nuance merited by their tempestuous inner lives. Hedges' boyish charm seems persistently at odds with the taciturn nature and quiet resentment of Ennis, especially as the character has to navigate the thorny terrain of a dysfunctional marriage. Faist's jocular take on the more affable Jack is apposite in the early portions of the play, but his tonally erratic performance doesn't quite capture the character's quiet agony over the years. As a result, the chemistry between the two actors feels off-mark, making the central relationship appear to be driven by physical attraction only, rather than a profound emotional connection.
That Robinson's underpowered text doesn't allow these characters to gain depth is partly to fault here. The brevity of the scenes has a filmic quality to it, and there are many instances when one can't help but feel that this is an adaptation not so much of Proulx's story as of Lee's film. While the soulful country songs are clearly intended to fill these psychological gaps, the conversion of the older Ennis into a full-blown narrator-figure would have served this purpose much more effectively. It's a shame that the band's fine musical work feels theatrically detached from the drama unfolding on stage, too. Emily Fairn, as Ennis's wife Alma, and Martin Marquez, playing the supporting male characters, give a welcome sense of the key figures in Ennis and Jack's joint tale, but their performances feel similarly constrained by the slim opportunities allowed them.
This could have been an exhilarating opportunity to reimagine Proulx's acclaimed story with distinctly theatrical resources and in bold ways. Instead, what we witness is an artistically conservative and emotionally inert replay of prior material. While this poignant study of queer love and homophobia still feels sadly relevant to our times, it surely deserves a more gripping and vigorous reinterpretation for the stage.