Camp Siegfried, Old Vic review - the banality of evil, brilliantly served up |

reviews, news & interviews
Camp Siegfried, Old Vic review - the banality of evil, brilliantly served up
Camp Siegfried, Old Vic review - the banality of evil, brilliantly served up
Bess Wohl two-hander gets a superlative production
Tuesday, 21 September 2021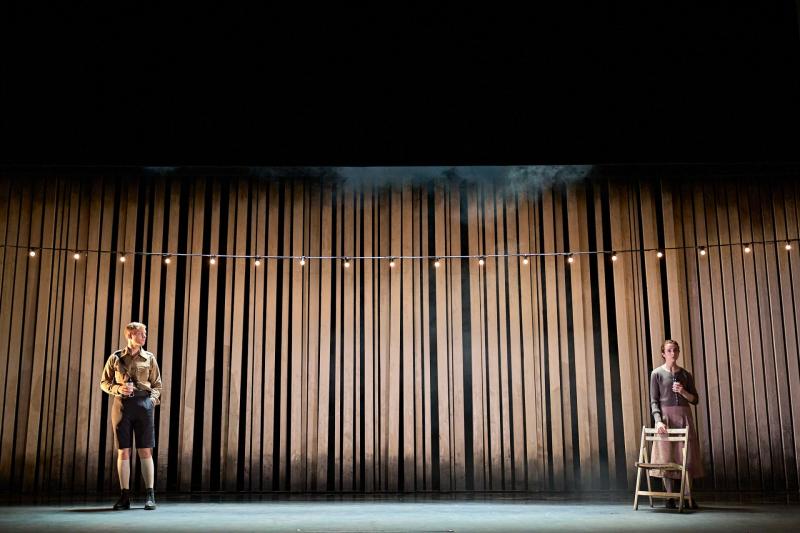 Basic training: Luke Thallon and Patsy Ferran in 'Camp Siegfried'
A stealthily powerful play gets the production of its dreams in Camp Siegfried, which marks a high-profile UK presence for the American writer Bess Wohl.
A
world premiere
at the
Old Vic
, Wohl's two-hander shines a scary and pertinent light on a
Nazi
training ground in the 1930s that is seen to have all sorts of ongoing repercussions for today. That a potentially slippery text is as well realised as it is pays tribute, and then some, to a creative team working in complete harmony, starting with an impeccable cast, Luke Thallon and Patsy Ferran, who deliver the play's darkening affect well across the finish line.
This playhouse has been an especially invaluable presence during the pandemic, coupling superb livestreams of various bespoke revivals (Faith Healer, The Dumb Waiter), with an exciting virtual premiere in the Andrew Scott vehicle, Three Kings. Camp Siegfried introduces an important young American writer into the English theatrical mix (Wohl's Grand Horizons is a Tony nominee this month for Best Play from Broadway's truncated 2019/20 season) while enriching an unusual array of plays now and soon to come that address Nazism from numerous angles: Indecent, Once Upon A Time in Nazi Occupied Tunisia, and Leopoldstadt are just a few of the others.
Wohl's reading during lockdown took her towards the discovery of the eponymous locale, a German-American summer camp in Long Island's Suffolk County that operated from 1936 to 1941 and really did have streets named for Hitler and his men. The play itself unfolds in 1938 and finds two teenagers, known only as "He" and "She", who come together in a hormonally driven adolescent mating dance that is also an inculcation into Nazi ideology.
Thallon's He asserts his virility by chopping wood and acting as protector of the apparently more fretful She. Not to be outdone, She in time asserts a voice that sounds uncannily like a precursor to the MAGAts of today and soon challenges him with being weak. The two move toward and away from a courtship that brings with it a pregnancy containing echoes of Edward Albee's Honey in Who's Afraid of Virginia Woolf?, the very play in which Ferran was appearing in New York before the pandemic rang down the Broadway curtain.
The mind can be a frighteningly malleable thing, a truth replicated in visual terms by a cunning set from Rosanna Vize whose apparent facelessness gives way to a secret woodland and then, near the end, to an image of blinding clarity even as Wohl's text embraces an ironic brightness that directly recalls the climax of David Hare's Plenty. (Rob Casey's ravishing lighting adds to the cumulative power.) Grainy newsreel footage of a camp in action infiltrates the toxic coming-of-age of two youngsters who wonder at varying times whether one or the other might be a spy and talk of knowing Jews from "picture books". (Tellingly, She experiences great kindness at the hands of a doctor and his wife whose own Judaism she fails to clock.)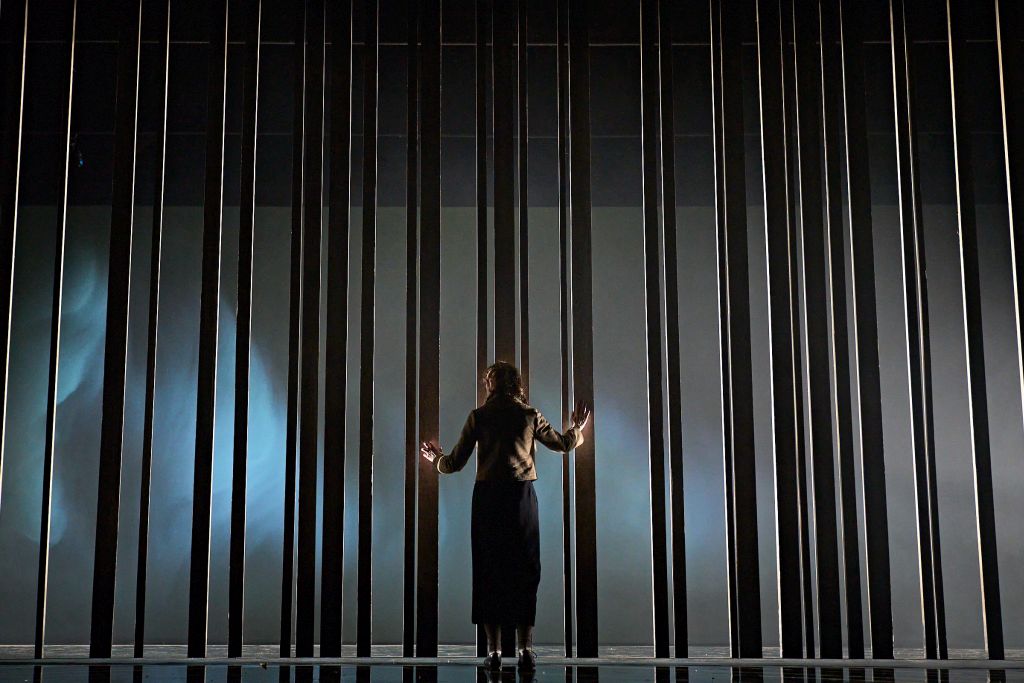 Wohl's naming of her characters hints at an Every-person quality to them both, but also allows her to sketch in as much individual background as seems appropriate. She, we learn, is a librarian's daughter who is apparently agoraphobic, which accounts for an initial timorousness that gets shed by the amazing Ferran like a pair of old shoes once she gets a taste for the power of the pulpit; the scene in which She grabs her moment in the spotlight, thinking Herr Hitler is in attendance, is surely a high water mark of this or any theatrical year. The no less astonishing Thallon embraced similar thematic terrain in Leopoldstadt, shifting gears here to communicate a Fuhrer-like fury beneath the initially sweet-seeming He, who early on reveals his capabilities as a roaring Hun in an about-face that is funny and then scary, as required. Both performers are expertly guided by Katy Rudd, the fast-rising director here reaching a new career plateau.
The duo's sexual awakenings, together and apart, are adroitly handled, as well, not least Her own complex history, whether imagined or actual, when confronted with a teenage boy one year older in a situation that makes a virtue of procreation: "pure Germans," he argues, must reproduce. Wohl finds humour in their affection for words of Germanic origin ("kindergarten", for one), alongside the insidiousness of his invocation of the word "kampf" - as befits someone who is soon to return to the motherland, leaving She on American soil.
And whereas affinities to now can sometimes feel parachuted into period dramas like so many visiting infantrymen, Camp Siegfried hints at an internally impressionable nature to people of any age that can be easily coopted and corrupted at will. The play's climactic insistence on a brighter future leaves you shuddering at a renewed awareness of the past and its seemingly ceaseless implications for our anxious present.