Curtains, Wyndham's Theatre review - unexpectedly giddy fun |

reviews, news & interviews
Curtains, Wyndham's Theatre review - unexpectedly giddy fun
Curtains, Wyndham's Theatre review - unexpectedly giddy fun
Late-arrival to the West End is broad, brash - and delightful
Wednesday, 18 December 2019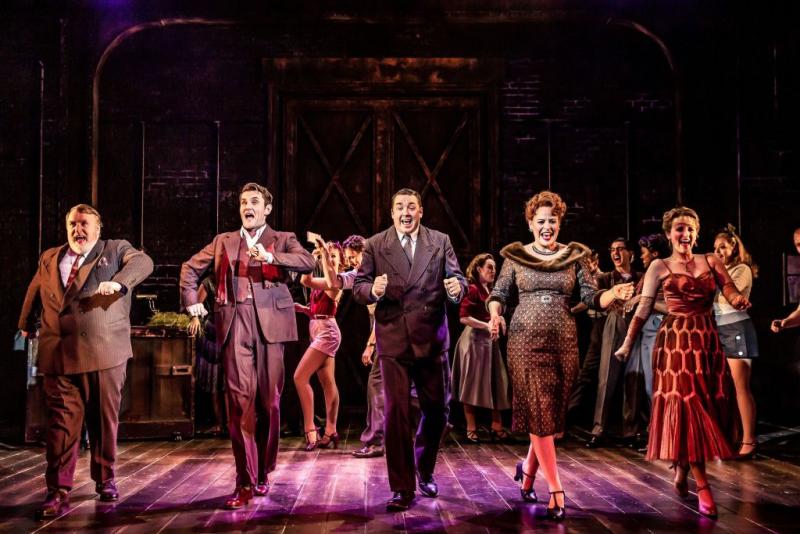 Showbiz-mad sleuth: Jason Manford (centre) in 'Curtains'
Who knew? This West End premiere of the 2007 Broadway entry from the legendary songwriting team of John Kander and Fred Ebb (Chicago, Cabaret) secured a prime holiday-season slot at the last minute when this playhouse's previous entry, The Man in the White Suit, closed prematurely.
And the happy if unexpected news is that Paul Foster's touring production
– Wyndham's, unusually, is another stop on the road –
is a pure delight.
Curtains
may not be the subtlest or most nuanced
musical
you'll ever see, but it's without a doubt one of this year's most thoroughly enjoyable.
Like so many Broadway shows, the topic here is Broadway – specifically a musical called Robbin' Hood that is having a hard time out-of-town in Boston because various key creatives within its ranks keep being killed. Who better, then, to tackle the case than Frank Cioffi (Jason Manford), a sardonic, sharp-witted lieutenant who also happens to be steeped in showbiz, his profession manqué. (Cioffi's credits when not on the beat are said to have included Billy Bigelow and Shakespeare's Bottom.)
A great role, the part won a Tony back in the day for its Broadway creator David Hyde Pierce, and Manford has a high old time juggling the necessary sleuthing with the slow-aborning romance between Cioffi and the show-within-the-show's bright young soubrette, Niki (Leah Barbara West). The actor on opening night also held many a determined gaze toward the audience as and when Rupert Holmes's book for Curtains ventured towards the vexed subject of critics. Theatre scribes are the unlikely topic of a first-act quartet, "What Kind of Man?", that asks just who in their right mind would enter such a profession. (Good question!) And the score throughout exhibits the zip and zest characteristic of the great, now-gone partnership between Kander, the composer (now 92), and his lyricist, Ebb, who died in 2004. The rousing ensemble number "Show People" constitutes the pair's thank you to the community that made their careers possible, and this tour furthers exposure to a show that a dedicated coterie may have caught at south London's Landor pub theatre in 2012.
Smart enough not to disappear entirely down the rabbit hole of the self-referential as so many musicals these days do (call it the Spamalot effect), Curtains plays with multiple theatrical archetypes, folding them all into a particular genre – the whodunit – that has pretty much vanished these days on modern-day Broadway: Holmes, indeed, wrote one of the few of any note in the Tony-winning Mystery of Edwin Drood, even as London keeps that kind of play alive if not exactly kicking via The Mousetrap. And so we have a Rebecca Lock (pictured above) in purposefully OTT form as a hard-boiled producer revealed to have more heart than anyone bargained for when it comes to her musicals-mad daughter Elaine (Emma Caffrey), who insists on being called Bambi and exists to be belittled by her mum.
Set a half-century ago, the show itself hearkens back to a theatre less interested in social relevance (Kander and Ebb, God knows, trawled that terrain in full all the way through to The Scottsboro Boys) than in indulging the sorts of backstage shenanigans familiar from the likes of Kiss Me, Kate, albeit with perhaps one too many bluffs and counter-bluffs for comfort in the second act: this time out, as on Broadway, the piece feels padded. That said, the adroit Foster's production boasts an invaluable alum of Opera North's recent (and not very good) Kiss Me, Kate in Alan Burkitt. The actor-dancer's grace and athleticism are something to behold within a show whose spoken allusions to Balanchine as well as Marge and Gower Champion surely mean increasingly little to audiences, alas, as time goes by. (The spirited choreography for Curtains is by Alistair David.)
Andy Coxon does well by the soaring lament, "I Miss the Music", which over time resonates even more deeply as Kander's affectionate tribute toward the much-missed Ebb. And Samuel Holmes all but walks away with the production as a director whose face is locked in a terminal sneer, not least when responding to Bambi's perky assertion, "I've had a thought", with the pitch-perfect reply, "How long we've waited for this day." When it comes to closing out the West End year on an unanticipated high, Curtains has arrived not a moment too soon: cheers, not sneers, all round.