Dead Dad Dog, Finborough Theatre review - Scottish two-hander plays differently 35 years on, but still entertains |

reviews, news & interviews
Dead Dad Dog, Finborough Theatre review - Scottish two-hander plays differently 35 years on, but still entertains
Dead Dad Dog, Finborough Theatre review - Scottish two-hander plays differently 35 years on, but still entertains
A play that will speak to any middle-aged Londoner with roots elsewhere
Saturday, 14 October 2023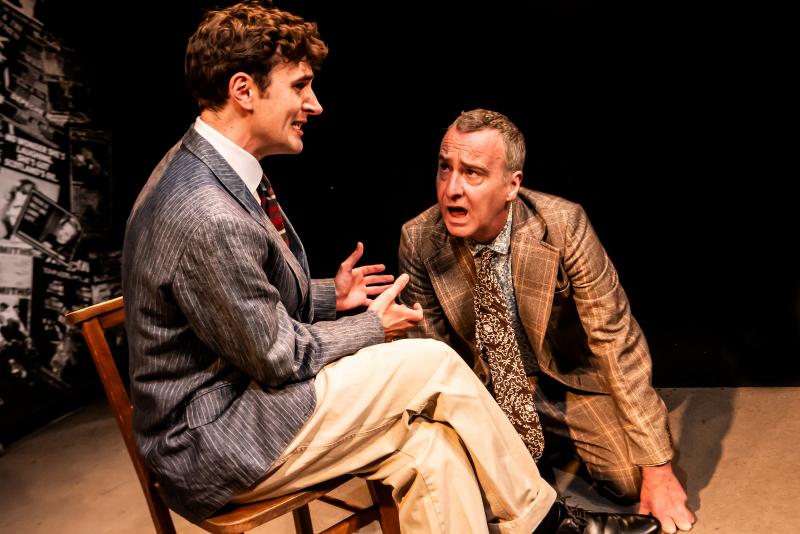 Angus Miller and Liam Brennan in Dead Dad Dog - his bark proves worse than his bite
I know, I was there. Well, not in Edinburgh in 1985, but in Liverpool in 1981, and the pull of London and the push from home, was just as strong for me back then as it is for Eck in John McKay's comedy Dead Dad Dog.
Back in London for the first time in 35 years, it plays now not as contemporary satirical commentary on Thatcher's Britain, but as warm nostalgia-fest, inevitably its teeth blunted, its references, Morrissey excepted, cuddlier.
That softening comes, at least in part, from a quick survey of the house people of a certain age. To paraphrase Stephen Sondheim from
Follies, "
We're still here" – and everything glows a little more in the rearview mirror.
Liz Carruthers wisely leaves us to draw these conclusions, delivering the play without giving in to the temptation to replace Chic Murray with the better known, in England at least, Billy Connolly and leaving in a jab at Ally MacLeod's doomed crusade to Argentina in pursuit of the World Cup in 1978. The Scots have wallowed in gallows humour for generations, after all. More remarkably, she also refuses to compromise on Scottish slang and accents. Even I took five or 10 minutes to tune in to the unique tones and rhythms, though I do have to watch Gregory's Girl with the subtitles on these days.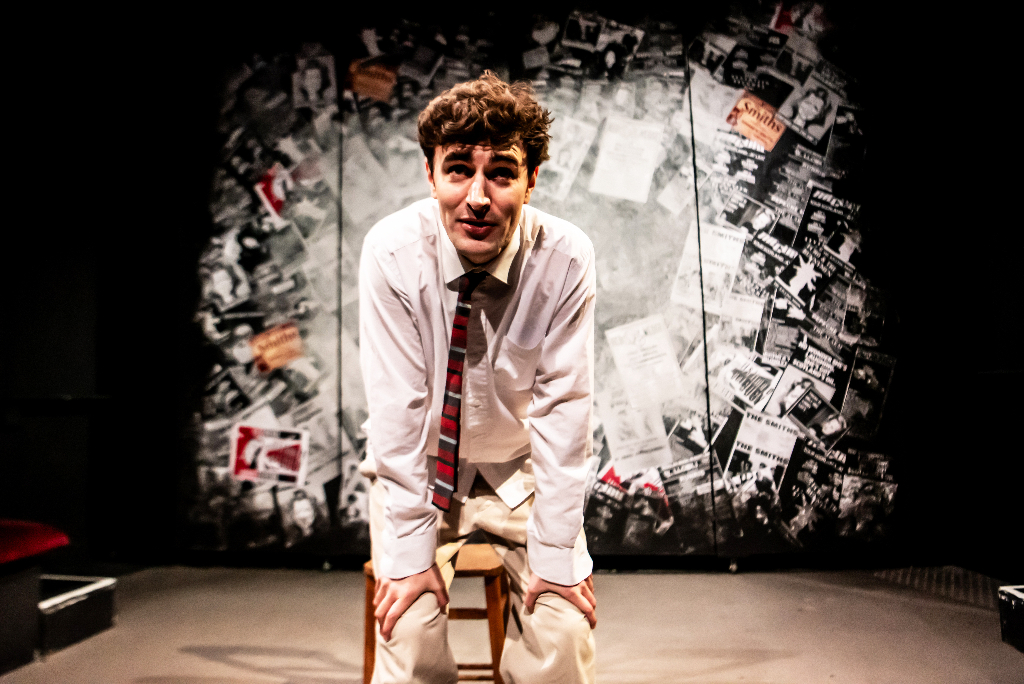 Liam Brennan (Willie) and Angus Miller (Eck, pictured above) are our father and son odd couple in this two-hander, bickering, blustering and bruising over a pacy 60 minutes. The hook is that Willie has been dead 12 years and simply pitches up, unaware of Mrs T and broccoli, but still able to read his son like a book. Eck's surprise soon turns to horror as he realises that his father, after his sojourn in heaven ("It's a bit like Rothesay – rains a lot") has lost any vestige of his superego and will now just blurt out whatever is on his mind. And, in a nice comment on filial relations, he'll be electric shocked if his father is more than a few steps away. So, stuck together they are.
Not ideal that, if you're 24 years old, with a job interview at BBC Scotland in the morning and a hot date in the evening. Cue Willie's torpedoing of Eck's dreams, not through malice, but partly through old man blundering and partly through a misguided belief that he knows best. That's an urge most parents learn to resist once the teenage years are over, but Willie missed them otherwise engaged upstairs.
Miller is winningly charming as Eck, a bright lad who'll do well, but who is over-invested, somewhat contrarily, in both hanging on to his roots in Scotland and embracing what was then called a Yuppie lifestyle, now probably attracting the dread descriptor, woke. Nothing really new under the sun is there?
Brennan has a trickier job as Willie could easily become needy, vindictive, overpowering, but he just stays on the right side of those negative qualities. We see his intervention in his son's life as more motivated by guilt, by his generation's unwillingness to open up, for men to hide feelings beneath humour – though that may be 2023 talking to 1985 there. The best scene in the play is a recreation of a moment when a toddler Eck is made fearful of death by Captain Scarlet (the timeline doesn't quite work, but no worries) and there's an intimacy developed so suddenly, one that is implied to be rare – and it was.
Perhaps the biggest jolt between then and now is not the Proustian rush of the opening bars of "Blue Monday" or the Red Wedge posters on the backdrop, but the attitude displayed towards the death of a parent. We often hear that people would give anything to have one more day with a departed mother or father and nobody doubts their sincerity – even I would, and few are less sentimental than me.
It's not done now, to the point of heresy I would suggest, to assert, as this play does, that one day is probably enough. It's right though.
Dead Dad Dog plays now not as contemporary satirical commentary on Thatcher's Britain, but as warm nostalgia-fest
rating
Explore topics
Share this article