The Glass Piano, Print Room at The Coronet review – fascinating story undermined by absurdism |

reviews, news & interviews
The Glass Piano, Print Room at The Coronet review – fascinating story undermined by absurdism
The Glass Piano, Print Room at The Coronet review – fascinating story undermined by absurdism
The production's levity eviscerates the underpinning emotional realities
Fragile elegance: Grace Molony plays Princess Alexandra
Often the greatest works of dramatic absurdism spring from the worst extremes of human experience, whether it's Ionesco's Rhinoceros responding to fascism, or Havel's The Garden Party satirising the irrational cruelties of Prague's Soviet occupiers.
In such
dramas
, absurdity becomes a powerful metaphor for the way totalitarian power seeks to undermine and warp reality, but in a work like
The Glass Piano
, in which absurdity is essentially a device for conveying the gently absurd, it's less easy to see the point.
The proposition is utterly fascinating: it's based on the real life story of Princess Alexandra of Bavaria who suffered from the delusion that she had swallowed a glass piano. Acclaimed playwright Alix Sobler – who normally focuses on Jewish themes ­ – has talked about her interest in using it as a metaphor to convey anxiety. Yet this particular aristocratic affliction – known as the glass delusion – was well known from the Middle Ages to the nineteenth century, and I for one wanted to know much more about precisely what it involved.
One potentially compelling way of achieving this would have been to make the audience at least partially inhabit that delusion themselves – so we could all truly understand the culture of fetishised delicacy, neurosis, and ritualised privilege that might lead to such a state of mind. And for the first few moments it looks promising. Declan Randall's gorgeous atmospheric set design – in which a suitably aristocratic dining table with a chandelier above it looms above a black reflective floor – simultaneously suggests grandeur and alienation. To the side of the stage, pianist Elizabeth Rossler gives a sumptuously polished delivery of Gabriel Prokofiev's (and yes he's related) gorgeous, gently dissonant, appropriately glassy score.
Then the comedy starts. Timothy Walker's King Ludwig is a blustering wannabe poet, no-one's quite sure where the queen is, and Suzan Sylvester's longsuffering maid, Galstina, is a walking caricature of exasperation. Grace Molony has both elegance and poise as the deluded Alexandra, yet her problems at the palace seem compounded by the fact that everyone else is in a different play. As with all decent MittelEuropean royal families, there is both marital unhappiness and madness. Yet the production tackles this with a levity that eviscerates the underpinning emotional realities.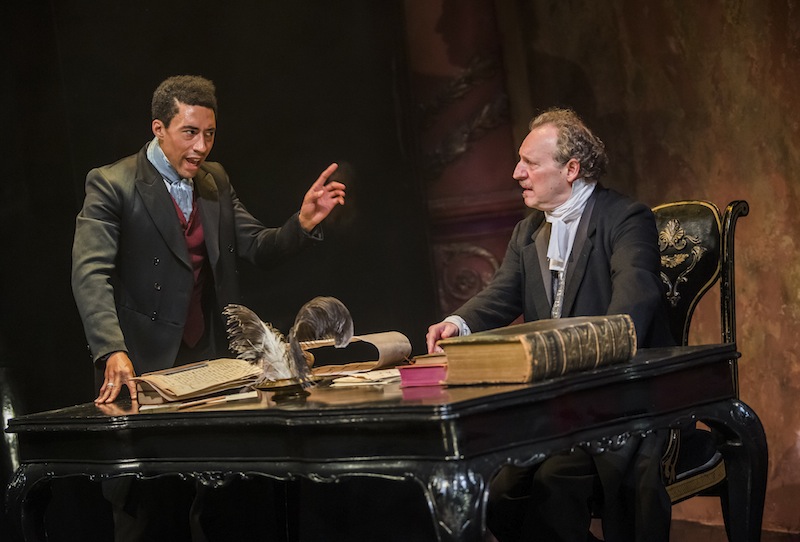 The sense of what Max Key's production could have been becomes more obvious with the entrance of Laurence Ubong Williams' Louis Lucien Bonaparte (and yes he's related too). Bonaparte (above left) is a philologist with a Rousseauesque fascination for the emerging language patterns of feral humans. Though there's a wit to Williams' performance, it's underpinned by gravitas. As Bonaparte starts to decode Alexandra's condition – in the meanwhile falling in love with her – we ourselves become more emotionally invested.
But unfortunately their love story is played in tandem with the increasingly slapstick dynamic between Ludwig and Galstina. They too are apparently in love. Sometimes it works to contrast tragic with comedic lovers, yet here it just all feels exasperating. How extraordinary it would have been, for example, to look in just a little more depth at the tension between Bonaparte's obsession with the wild and his love for someone with the most refined psychosis possible, but this is all sacrificed to more and more lurid humour.
Without wanting to give anything away, there is a terrible end to this story, which gains the impact it does have from both Molony's performance and Randall's elegant lighting design. Yet having stranded us in an absurdist past, Sobler wraps things up altogether too neatly with a cod-Freudian conclusion: as a result, much though you want to, it's very hard to care.
As with all decent MittelEuropean royal families, there is both marital unhappiness and madness
rating
Share this article