Guys and Dolls, Bridge Theatre review - exuberant new production of the 1950 masterpiece |

reviews, news & interviews
Guys and Dolls, Bridge Theatre review - exuberant new production of the 1950 masterpiece
Guys and Dolls, Bridge Theatre review - exuberant new production of the 1950 masterpiece
Nicholas Hytner and a crack cast deliver a fresh take on the classic musical
Rockin' the boat: Cedric Neal as Nicely-Nicely and the cast
It now seems an inevitability that Marisha Wallace will be a frontrunner at next year's theatre awards, not just this year's.
Having barnstormed her way to a 2023 Olivier nomination for playing Ado Annie in the Young Vic's
Oklahoma!
, her Miss Adelaide, luckless fiancée of crap-game organiser Nathan Detroit, is the crowning achievement of Nicholas Hytner's exuberant new production of
Guys and Dolls
at the Bridge, which itself should be a shoo-in for prizes of its own.
Hytner has taken the 1950 Frank Loesser comic musical about gambling low-lifes in New York along a new route. It's what used to be called a promenade performance but has now been dubbed "immersive theatre". Whatever. This style has proved a huge draw at the Bridge, starting with its sell-out Julius Caesar. Those with a ticket for the central seatless mosh pit mill around throughout, with uniformed marshals shepherding them from position to position.
We enter to the sound of rumbling subways, with neon advertising signs and street furniture moving up and down overhead. Where the cast will perform becomes clear when chunks of the floor start rising up like something from a Christopher Nolan film, creating rat runs through the crowd. These platforms allow one scene to morph briskly into the next. It's busy and crowded, almost to the point where you don't know where to look. But that adds to the feel of downtown bustle.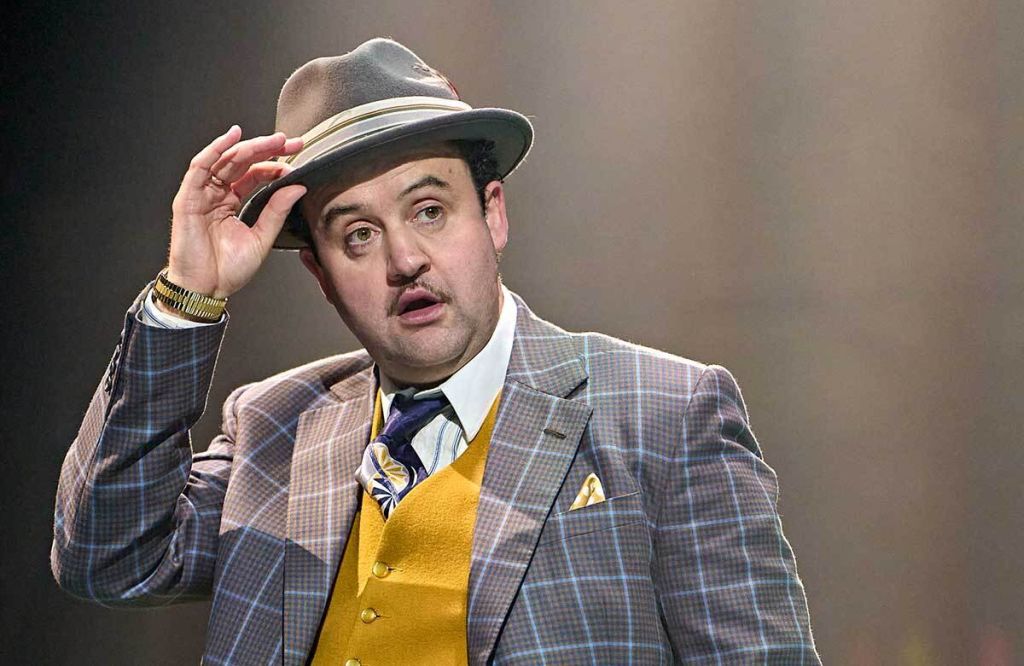 Only when the action first moves to Havana for Sky's date with Salvation Army stalwart Sarah Brown does this approach fall short. Dispersed among the crowd, a handful of dancers in feathered headgear get rather lost, though things perk up nicely when Sky and Sarah hit Havana's bars and clubs.
But this is the only nit I found to pick. This is one hell of an evening, even for those who aren't following it on foot. Damon Runyon's vivid characters are projected in all their individuated glory here, and that trove of memorable songs just keeps on coming. Every element seems right: the inventive orchestration, Bunny Christie's subtly jaunty costumes, Paule Constable's lighting, the crack cast.
Daniel Mays (pictured above), a regular in TV drama, is probably the face audiences will instantly recognise, playing feckless bachelor Nathan Detroit. He's come up with body language to go with his creditable accent, majoring in hunched shoulders, skittering limbs and comically emphatic hand gestures. This is a relatively soft-centred Nathan, who notes that he has been running a crap game "since I was a juvenile delinquent". He's a jittery motormouth, whereas master gambler Sky Masterson (newcomer Andrew Richardson) is all laidback self-confidence, a handsome, sexy man who so far in his life has thrived on being circumspect and manipulative.
Richardson is making his professional stage debut as Sky, after a career, mainly in films, that has also featured a stint at the Royal Ballet School. So his salsa-inflected dancing in a Cuban gay bar Hytner inserts into the scenario is unsurprisingly fluid and intense. Neither lead is a heavyweight singer, but that isn't a problem here: their piano moments are lovely, and their way with the witty lyrics works.
Besides, the lead women can really belt it out. As committed soul-saver Sarah, Celinde Schoenmaker has the upper register of an operatic soprano, which is sometimes a little disconcerting up against Richardson's more idiomatic delivery; but she is a fine foil to Adelaide, and their sozzled duet "Marry the Man Today", given a bump'n'grind spin, is a triumph. Schoenmaker is endearing, too, in her drunk scenes in Havana, hair down, cantering around the bar for "If I Was a Bell", then locked in a hilarious embrace with Sky, her legs hanging down like a peg-doll's.
Choreographers Arlene Phillips and James Cousins navigate the zigzagging raised platforms as if they were easy to design routines for. I'd bet they weren't. At one point all the "guys" hare across the stage in a long line, evading the police, and their trust in where their feet are landing at speed is laudable. The show's dance style is a mix of contemporary moves, furiously fast at times, especially for the men. But the choreography manages to find something new in familiar scenes. For "Sit Down, You're Rockin' the Boat", for example, everybody ends up standing on the rows of mission chairs doing a Mexican wave.
Cedric Neal, leading this scene as a hilariously falsetto Nicely-Nicely, also brings something fresh to it, singing his big number as if he were a gospel preacher, whose ornamentations elicit murmurs of approval from both cast and audience. And in the Hot Box nightclub scenes, the raunchiness has really been ramped up, all the ladies onstage twerking and grinding away with great grins on their faces.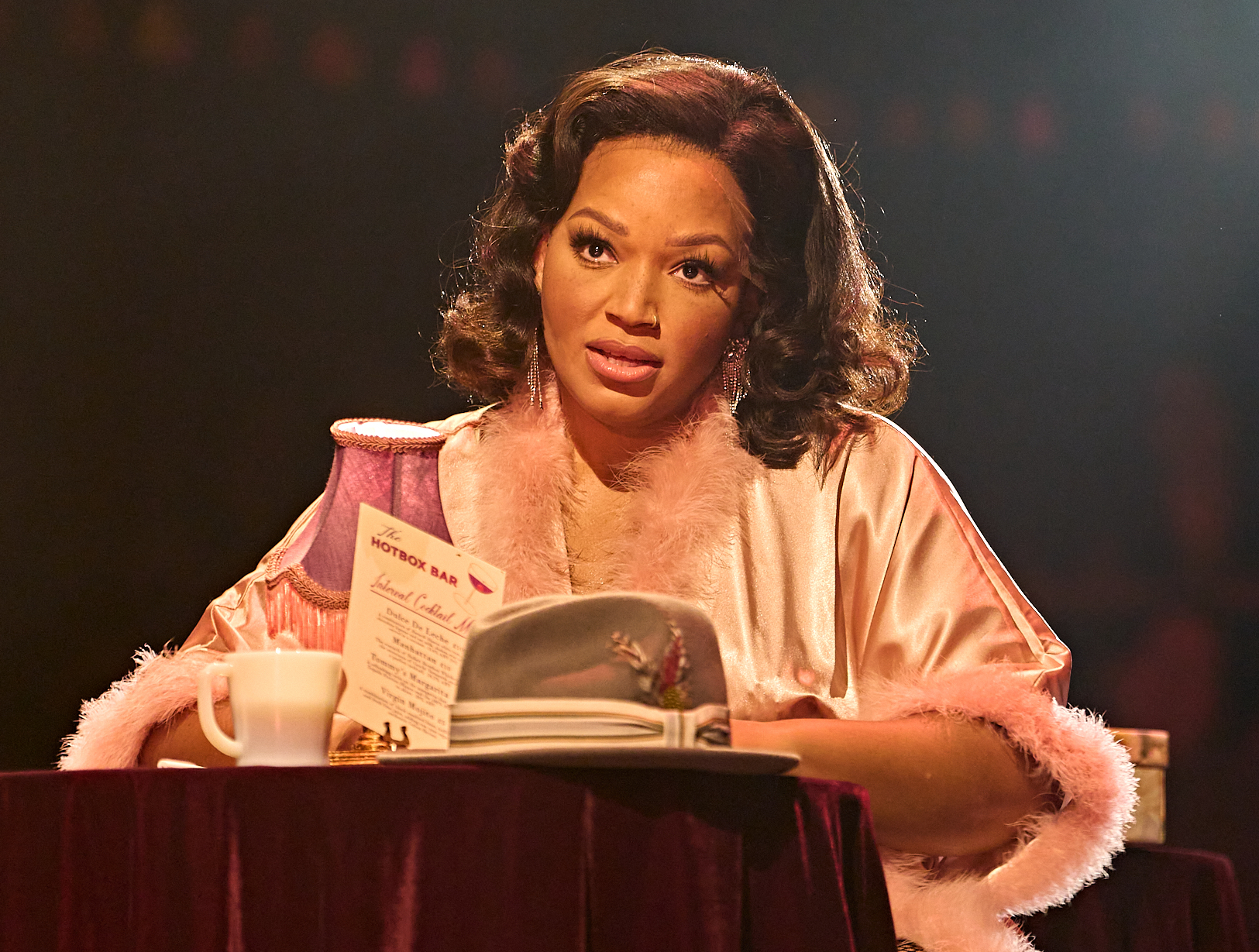 It's during the super-sassy "Take Back Your Mink" that Wallace should convince you she is the best Miss Adelaide you have seen, assuming she didn't have you at her first solo, "Adelaide's Lament" (pictured above). This she delivers as if she really is reading a psychology book to establish just how bad Nathan is for her health, building the song intelligently. Wallace is American, so doesn't have to struggle to sound authentic; she never overcooks the role, quietly poignant in that solo's sad reprise, and gives Adelaide something she doesn't always get enough of: nuance. That said, her extraordinary vocal delivery could probably stun an elephant.
I loved it, a bushel and a peck.