Henry IV Parts 1 & 2/Henry V, Shakespeare's Globe review - helter-skelter ensemble history trilogy |

reviews, news & interviews
Henry IV Parts 1 & 2/Henry V, Shakespeare's Globe review - helter-skelter ensemble history trilogy
Henry IV Parts 1 & 2/Henry V, Shakespeare's Globe review - helter-skelter ensemble history trilogy
Doubling, humour and an outstanding female Henry V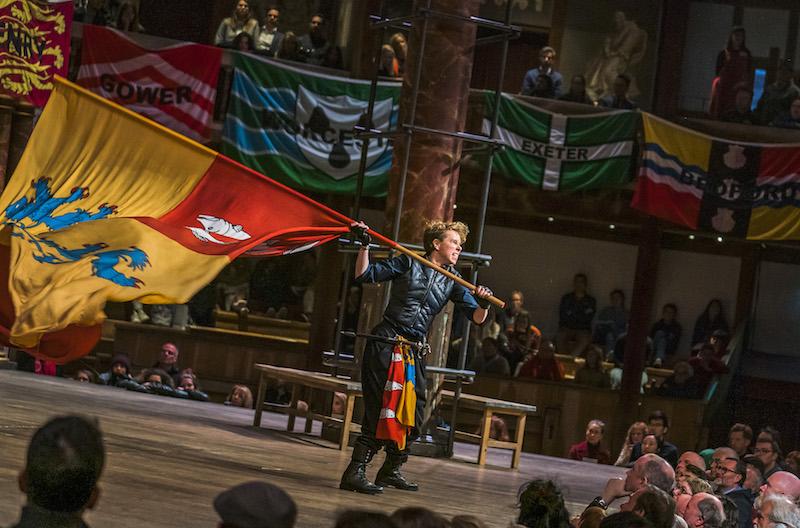 Michelle Terry's Harry 'Hotspur' Percy goes into battle in Henry IV Part One
Women as Hal, Hotspur and Falstaff? It's been done before, and superlatively well, in Phyllida Lloyd's Shakespeare-in-prison trilogy (Henry IV Part One, with several crucial scenes from Part Two, between Julius Caesar and The Tempest). Loyalties need some shifting from lock-in with an all-female-cast to Wooden O with men in the picture too. The different values of Shakespeare's Globe - which is all about communication, too, but of an even more direct sort - as well as the knowledge that the best woman standing, the supremely charismatic Sarah Amankwah, will make it as Henry V, ensure some winning over. Above all, this is a history chronicle so confident in its pacing - praise be to the year-long gestation of an ensemble - that there isn't much time to regret any shortcomings.
Those rest chiefly in a feeling that joint directors Federay Homes and Sarah Bedi don't always let their actors savour the lines in their eagerness to keep it all on the move. Philip Arditti kicks off with a Henry IV who makes us understand every word, in time-honoured well-projected Globe style. It's a confident start, so much better than the heritage flatness of Gregory Doran's deadly dull RSC trilogy. Unfortunately there's no time for Helen Schlesinger's Falstaff, a handsome figure with padding which means the fat jokes fall somewhat flat, to savour the sound of his own voice. Globe Artistic Director Michelle Terry's Harry Percy - his sobriquet gives this Part One its alternative title, Hotspur, though Hal and Hotspur might be more apt to the production's central theme - is an adolescent over-energised to the point of unintelligibility.
Yet some early disappointments - few laughs in the first Eastcheap and the Gadshill scenes, a conjugal conflict between Harry and his Lady (Leaphia Darko) which goes for little - yield to gains. With little stage scene-changing, the sparring between Hal and Falstaff is paralleled very potently on the same spot by Hotspur's goading of Owen Glendower (this time the orotund figure Falstaff should feign to be, vaunted with comic conviction by Sophie Russell). Schlesinger turns the expected badinage with groundlings to excellent use in Falstaff's "honour" speech on the battlefied (on Friday afternoon, "what is that honour?" got the answer "air" from a seated Shakespearean, and quick humour about line-stealing). And I found my eyes pricking with tears when Amankwah (pictured above) and Terry, the future king and the youth whose future is about to be cut short, finally come face to face in mortal combat.
The human juices certainly flow here, with no skimble-skambling at any point, and the fights are clevely choreographed by Kevin McCurdy; the cast of 11 slip between roles with natural confidence. There's subtle heightening rather than splendid distraction from some superb live brass playing (kudos especially to trombonist Amy Harding) and the period-to-today costuming is pefectly complemented by flags of Britain's riven states hanging from the balconies. Originally scheduled to stay for the second and third parts of the trilogy on a single day, but called away for work, I swear to return as groundling for the rest. It felt good to be back. David Nice
Henry IV Part Two (***)/Henry V (****)

"And let us... on you imaginary forces work". This quotation from the Chorus's speech at the opening of Henry V could apply to the exuberant style of the trilogy as a whole. We are reminded that we are in "the wooden O" and it is up to us to see the actors as different people and to accept that we are in a London tavern, on a battlefield or in a palace.
Directors Holmes and Bedi and their eleven-strong ensemble certainly test our imaginary forces. The tiring house might rival the stage as a site of frantic activity as - for example in Henry V (renamed Harry England) - Globe veteran Colin Hurley switches back and fore between Montjoy, Pistol, Lord Scroop, Bates and a giggly if substantial Princess Katherine. Helen Schlesinger, Falstaff in Henry IV, slips nimbly between Exeter, Nym, Monsieur Le Fer and Queen Isabelle in Henry V. Jonathan Broadbent quick-changes a flirtatious Quickly into Westmorland and back again. The ensemble idea is nothing if not democratic; the speeches of Rumour and the Chorus are divided among the company.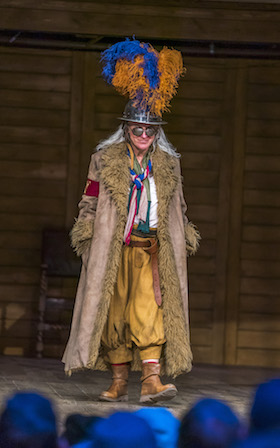 In Henry IV Part 2 (here titled Falstaff) doubling causes some unexpectedly revealing moments, notably when Philip Arditti as a puking but affectionate Doll Tearsheet adopts the king's robe and a solemn manner and becomes a monarch contemplating his poorest subjects, free of his worries. It is suddenly a moment of shared humanity - and Arditti is convincing in both roles.
Sarah Amankwah (pictured below left) follows her mercurial, naughty-boy Hal with a tough, authoritative Henry V. A slight figure in scarlet with a commanding voice, she holds the stage as king, knowing when to be still among the rush of activity, deftly showing that war is not a game. Henry's patriotic religious fervour is mixed with impetuous cruelty when he orders the killing of the prisoners and he is here disconcerted by the truth-telling he hears in the "a touch of Harry in the night" scene.
Helen Schlesinger's Falstaff (pictured above, dressed for battle) is unusual in being fresh-faced and fleet of foot. Relishing interaction with the groundlings, flirting and stealing drinks, this (fairly) fat knight is a jolly cove with not much of an immoral undertow. Henry's dismissal of him follows a hilarious pile-up with Bardolph (a solemnly funny John Leader) and Shallow (Sophie Russell in one of many incarnations including Clarence, the Dauphin and the Archbishop of York). There's an intake of breath from the groundlings, but this Falstaff is not crushed.
The whole enterprise is executed at speed. What is lost sometimes is sufficient space to develop secondary characters. A scene allowed proper unhurried time, such as the death-bed reconciliation between Hal and his father, benefits from welcome emotional depth.
To be in the Henry V audience at the end of a trilogy day is to be in the company of a group of enthusiasts ready to roar at each new character and respond gleefully to any jokes - the matter of Llewellyn's leek-eating punishment of Pistol (Steffan Donnelly with Colin Hurley, pictured below), for instance, and the rude suggestions in Princess Katherine's English lesson. But there are moments of silent concentration too, such as when Henry condemns the traitors in Act I.
Costumes are easily transformed with a cloak here, a blanket there in Jessica Worrall's design. During Agincourt loud booms and bright flashes startle the audience, much as they must have done in Shakespeare's day.
There is no "concept"; the sense of a divided country is plain in the script in any case. This version cannot unseat fond memories of the Globe's productions in 2010 and 2012 with the charismatic warrior-king of Jamie Parker and Roger Allam as Falstaff, his funny, vicious surrogate father, but it is a heck of a lot of fun and there is an exhilarating sense of being in the moment.
There is no jig to end Henry V, but instead a joyously syncopated drumming sequence performed by the whole ensemble. This is a brilliant alternative: militaristic but also expressing shared pleasure. Heather Neill
The whole enterprise is executed at speed. What is lost sometimes is sufficient space to develop secondary characters
Explore topics
Share this article