The Maids, Trafalgar Studios |

reviews, news & interviews
The Maids, Trafalgar Studios
The Maids, Trafalgar Studios
Macabre savagery meets existentialist thought in Jean Genet's hallucinatory vision
Trouble brewing: Uzo Aduba and Zawe Ashton's maids plot revenge against their mistress (Laura Carmichael)
"Murder is hilarious," quips Zawe Ashton's scheming maid, and in Jamie Lloyd's high-octane, queasily comic revival of Jean Genet's radical 1947 play, it really is. It's also lurid, strange, bleak and powerfully transcendent, as befits a piece that locates hunger for creation and liberation in the imitation and destruction of another.
Lloyd employs Benedict Andrews and Andrew
Upton's
salty new translation – the latter's wife, Cate Blanchett, led a 2013 Sydney Theatre Company production – to emphasise the unflinching modernity of Genet's piece, which uses and unmasks theatrical artifice in order to illuminate human experience.
The play is loosely inspired by a scandalous 1933 crime: sisters Christine and Léa Papin brutally murdered their female employer in Le Mans, France. It was viewed as doubly unnatural – maids turning on a mistress, women committing violence against other women – but Genet's thesis is that the truly unnatural behaviour began much earlier, with class-based social oppression. His sibling maids, Solange (Uzo Aduba, pictured below with Zawe Ashton) and Claire (Ashton), are psychologically devastated by subjugation to their mistress (Laura Carmichael, in a dark mirror to Downton), here a screeching American socialite. There is an added dimension with Lloyd's casting of two actresses of colour, underscoring references to "slavery" and comparative "whiteness".
Genet's mode of delivery is not naturalism, however, but an arresting combination of foul-mouthed performance poetry and expressionist fever dream. The maids enact a sacred ritual in their sparse attic, with one embodying the cruel mistress and the other her debased victim-turned-murderer. This sadomasochistic game becomes a plan to kill via poisoned tea, but the distinction between reality and fantasy is constantly blurred – we could be in a memory, Hell, a cautionary fable, delusion of mental illness, or a sensational tale out of the sisters' beloved Deadly Pleasures magazine.
But the theatricality serves to amplify Genet's real subjects: the danger of defining one person by another, the ugliness of imposed prejudice, and the absurdities of constructed identity. Claire's impersonation of their mistress punctures the latter's status – is she really superior when her maid can conjure the same effect using her prop accessories and drag queen-like costuming? Genet noted men could play these parts, highlighting the performative quality of gender alongside that of class, but the intention is clear in the detailed work by Lloyd and his strong female trio.
So, too, is the complexity of their role-play. The sisters blur identities as they mirror one another's self-loathing and crawl into their mistress's skin in a manner that suggests both passionate hatred and a warped form of worship. Carmichael's shallow lady of the house (pictured below) tries on the part of weeping widow as she would a new dress, and while she insists the maids only exist through her, she is presented to us through them: an operatic villain introduced as a fur-clad silhouette against blinding floodlights. She's ever-present through suffocating flower petals, which rain down from the ceiling just as soon as the maids have futilely swept up the last batch.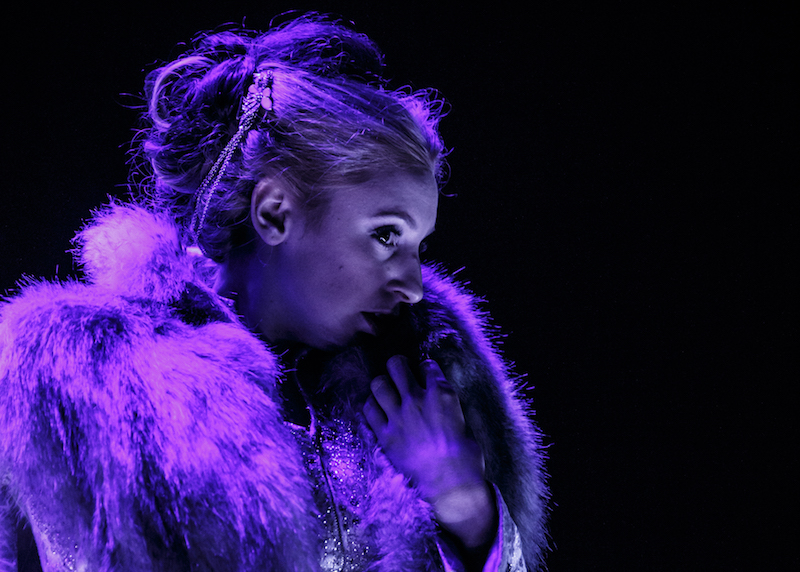 Ashton and Aduba superbly convey the dehumanised sisters' desire for independence. They live at the mercy of their infantilising mistress's whims – a form of imprisonment that develops long before they contemplate committing a crime. Repressed sexuality erupts in graphic visions and accompanying shame, and lust turns inward as tender intimacy shades into incest. They fear the judgement of voyeuristic observers – a meta-theatrical layer emphasised by Soutra Gilmour's traverse set, full of surprises, and effective lighting (Jon Clark) and sound (Ben and Max Ringham) design that is both hallucinatory and an immersive plunge into their subjective experience.
Lloyd's straight-through, 100-minute production is a sensual assault that could do with more shading – occasional drops in intensity aren't entirely by design. Though admirably fearless, both Carmichael and Ashton would benefit from adopting Aduba's skilled tonal gradation, which provides releases from the fervency through wry wit and soft yearning. But this is still a memorable demonstration that being and acting are fatally entwined.
It's an arresting combination of foul-mouthed performance poetry and expressionist fever dream
rating
Share this article