Mary Poppins, Prince Edward Theatre review - a lavish but old-fashioned revival |

reviews, news & interviews
Mary Poppins, Prince Edward Theatre review - a lavish but old-fashioned revival
Mary Poppins, Prince Edward Theatre review - a lavish but old-fashioned revival
Everyone's favourite nanny returns, again
Thursday, 14 November 2019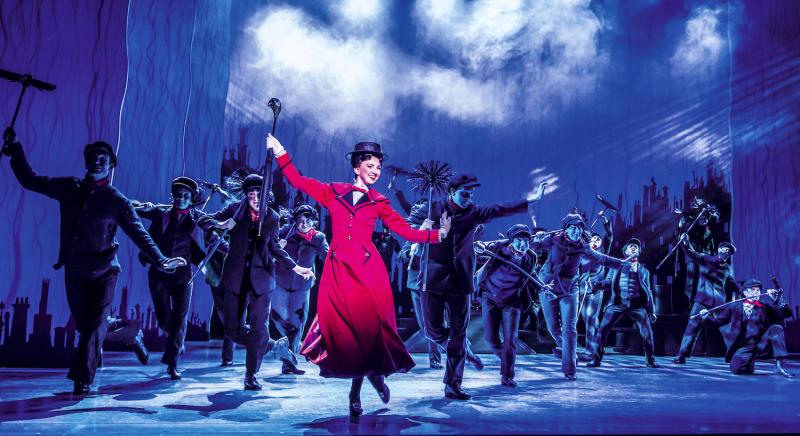 Sky high: Mary Poppins (Zizi Strallen) joins the sweeps on the rooftop for "Step in Time"
It's been 15 years since Cameron Mackintosh's stage musical version of P. L. Travers' Mary Poppins made its West End debut.
Now, the magical nanny returns to the Prince Edward Theatre, with Zizi Strallen (who also headlined the UK tour) succeeding her sister Scarlett in the title role – all set to capitalise on the recent Emily Blunt-starring
film
sequel renewing our interest in the adventures of the Banks family.
"I fear what's to happen all happened before," muses Charlie Stemp's Bert at the start of the show. Well, yes and no. Fans of the original movie should be warned that the Disney version jostles for space with new material: George Stiles and Anthony Drewe's numbers added to those iconic Sherman Brothers songs, plus an altered book by Julian Fellowes, Richard Eyre and Matthew Bourne splitting directorial duties, and both Bourne and Stephen Mear contributing choreography. The result is a polished but tonally uneven product – bloated at two hours 45, and with some additions looking like very trimmable filler.
Admittedly, it's a tough ask to match a cherished childhood film, gilded with nostalgia, and several changes here actually bring the show closer to Travers' books – including the entry of a fearsome rival nanny, and a statue brought to life who conveniently shares the Banks children's absentee father woes. However, a curious loss is the movie's (Travers-despised) suffragette subplot; instead, this Mrs Banks is a former actress who frets about being a good wife and society hostess.
Given that the musical elsewhere features overt contemporary thinking like the value of raising children with kindness and understanding instead of bullying discipline (a sentiment applied as much to the psychologically stunted Dad), it's a disappointingly regressive choice. There's also a hectoring, moralising tone that grows wearying; in one particularly unsubtle lesson, Mr Banks is asked to choose between investing in the northern factory of Mr Northbrook or the financial scheme of Von Hussler. Which is not to say that a message of valuing goodness over greed isn't hugely welcome right now, but you can deliver such ideas with an imaginative spoonful of sugar, rather than po-faced preaching.
Thankfully, salvation comes in the form of the supernatural, with delightful theatrical illusions by Paul Kieve giving us Mary Poppins' instant home makeovers, floating teacups, and of course the astonishing unpacking of that iconic carpet bag – all a thrill to witness live. Bob Crowley's beautiful sets act like a pop-up book or a doll's house opening up to reveal its elegantly costumed inhabitants (Poppins' impeccable coats are especially covetable), and there are lush transformations like a gloomy London park suddenly bathed in light and technicolour for "Jolly Holiday" (pictured above). Inevitably, the hummable, take-home songs are all the Sherman Brothers', despite a concerted effort to make the comparatively bland "Anything Can Happen"…happen.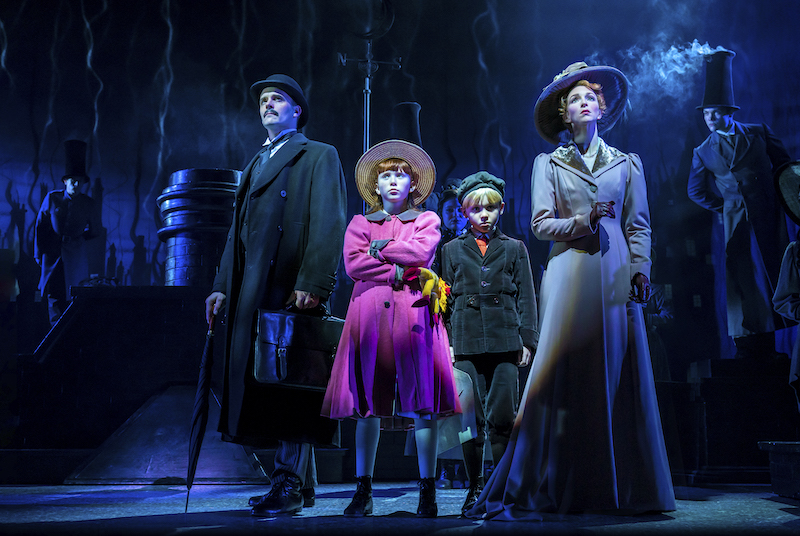 The movement is uplifting throughout, with creative additions like sign language incorporated into the choreography for "Supercalifragilisticexpialidocious" – Mear inspired by his deaf partner, Mark Smith – and soaring balletic grace for Joshua Denyer's Neleus, which somehow does convey exactly how a liberated statue might feel. But the big set-piece is the tap-based "Step in Time" (main picture), climaxing with Stemp doing a Donald O'Connor by walking up a wall and then tap-dancing upside down. Reprising his cheeky-chappie Half a Sixpence act, Stemp is a thoroughly charming presence here, and his talents are put to great use; why not have Bert doing multiple pirouettes and a flying split leap off a chimney if you can?
The efficient Strallen impresses in both song and dance, but her Poppins is ill-defined. She lacks that Julie Andrews mix of warmth and authority (a big ask), her delivery reading as passive rather than fascinatingly enigmatic; also missing is the dangerous alien quality that makes a policeman recoil from her gaze. While it's a good idea dramatically to make the Banks children (I saw Adelaide Barham and Gabriel Payne) more troublesome, their arc is confusing: they love or hate their nanny in alternate scenes, simply to fuel the story, suddenly gain a subtext-blasting wisdom at the climax, and deploy enough spoilt, bratty, know-it-all behaviour to severely test our patience. It doesn't help that the youngsters have been directed to overenunciate and strike haughty poses; they compare unfavourably with their more naturalistic or breezily anarchic West End neighbours.
However, Joseph Millson brings genuine pathos to the crumbling patriarch, and Amy Griffiths makes the most of Mrs Banks's few spirited moments (the family pictured above). Claire Machin and Jack North are a good double act as the put-upon household staff, Malinda Parris enchants as Mrs Corry, Claire Moore is a fabulously OTT villain, and Petula Clark gives a touching rendition of "Feed the Birds". All contribute to a lavish if somewhat muddled and inescapably old-fashioned revival – sure to succeed commercially via the nostalgic power of Poppins, but, unlike its titular nanny, never quite taking flight.
Mary Poppins is now booking at the Prince Edward Theatre until 31 May, 2020
The efficient Strallen impresses in both song and dance, but her Poppins is ill-defined
rating
Explore topics
Share this article