Preludes, Southwark Playhouse review - journeying into the mind of Rachmaninoff |

reviews, news & interviews
Preludes, Southwark Playhouse review - journeying into the mind of Rachmaninoff
Preludes, Southwark Playhouse review - journeying into the mind of Rachmaninoff
Dave Malloy's innovative musical immerses us in a creative crisis
Thursday, 12 September 2019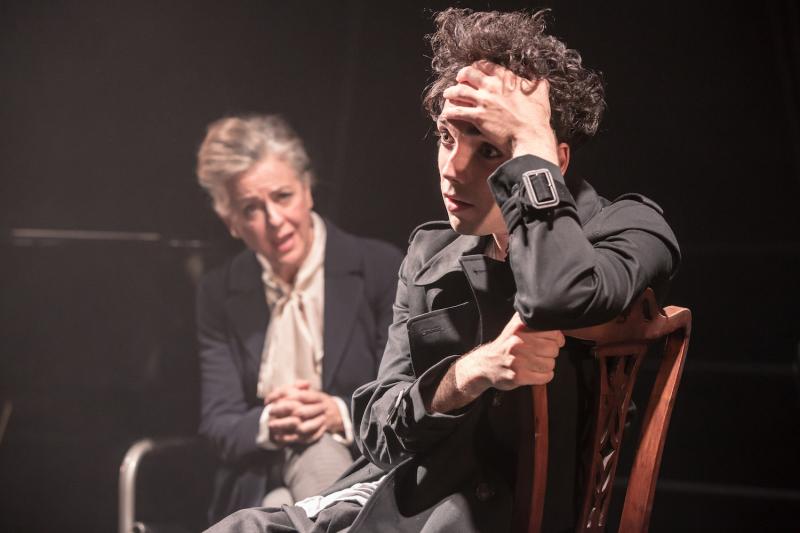 Doctor's orders: Dahl (Rebecca Caine) aids the blocked composer (Keith Ramsay)
Where does music come from? That's the vital question posed to Sergei Rachmaninoff in Dave Malloy's extraordinary 2015 chamber work, as the great late-Romantic Russian composer – stuck in his third year of harrowing writer's block – tries to relocate his gift.
It comes from others and from himself; from past and present; from everything and nothing. It is ephemeral, and yet it is at the core of his very being.
Rach (Keith Ramsay, pictured below with Tom Noyes), traumatised by the failure of his first symphony in 1897 – mangled by a drunken conductor and finished off by a sharp-tongued critic – is encouraged to seek help by fiancée Natalya (Georgia Louise) and opera singer friend Chaliapin (Norton James). Pioneering hypnotherapist Dahl (Rebecca Caine) leads us into the composer's busy mind, wandering through surreal interludes before confronting his darkest insecurities.
Malloy and original director Rachel Chavkin also collaborated on Broadway hit Natasha, Pierre & the Great Comet of 1812, and this is a miniature version of that postmodern melding of styles and iconoclastic approach to time periods. Here, too, in Alex Sutton's assured production, classical music is underscored by electro, opera meets folk and yodelling; Rebecca Brower's costumes fuse historical and contemporary; Russian characters speak with modern American accents and references; and a long-dead composer's crisis becomes an accessible look at artistic aspiration and accompanying mental health issues.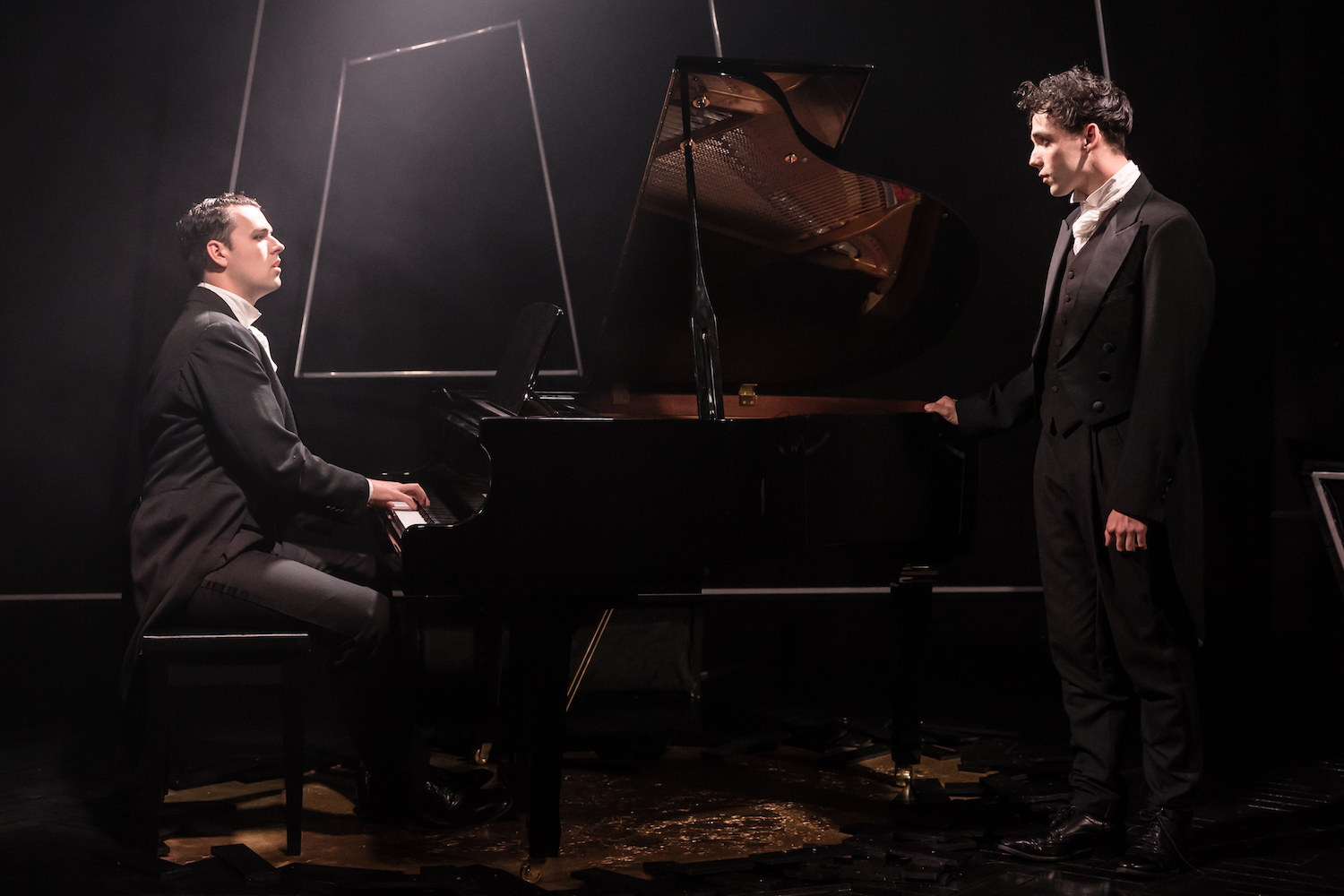 Rach's list of everything he's done that day to prevent him from writing, including cleaning the coffeemaker to an obsessive degree, will certainly ring true to anyone prone to procrastination. Ditto the panic that success might never be repeated, particularly after an early triumph – his experience of the public clamor following his popular 'Prelude in C-sharp minor', written aged 19, feels similar to that of a singer today thrust suddenly into the spotlight and struggling to match that first hit, or the former child star left behind.
Malloy's writing is most engaging when he delves into the process of creation – quite possibly revealing as much of himself as of Rachmaninoff, while their music meets and intertwines (definite shades of Sondheim's Sunday in the Park with George). The description of C-sharp minor as a key is delicious – it feels "dark and silken under your fingers, like midnight, but a really sophisticated midnight" – and his explanation for how inspiration comes from fragments of various sources is beautifully conveyed via the build-up of musical pieces beneath Rach's words. He describes, too, the competing thoughts swirling around the head of the seemingly focussed pianist.
The latter is possible due to the split characterisation of the central figure: as Rach, who vocalises his struggles, and Rachmaninoff, the stalwart musician (a remarkable Tom Noyes) sat at a grand piano. It lends itself to comedy – Rach watching, with bored detachment, his virtuosic counterpart perform – and to pathos: during a drunken night, messing around with friends, Rach shoves Rachmaninoff off the piano stool as he attempts to catch a promising tune, already slipping away. Most importantly, it illustrates the terrible division of self during this artistic dry spell; severed from his composer identity, Rach is a shadow of a man, living a wretched half-life.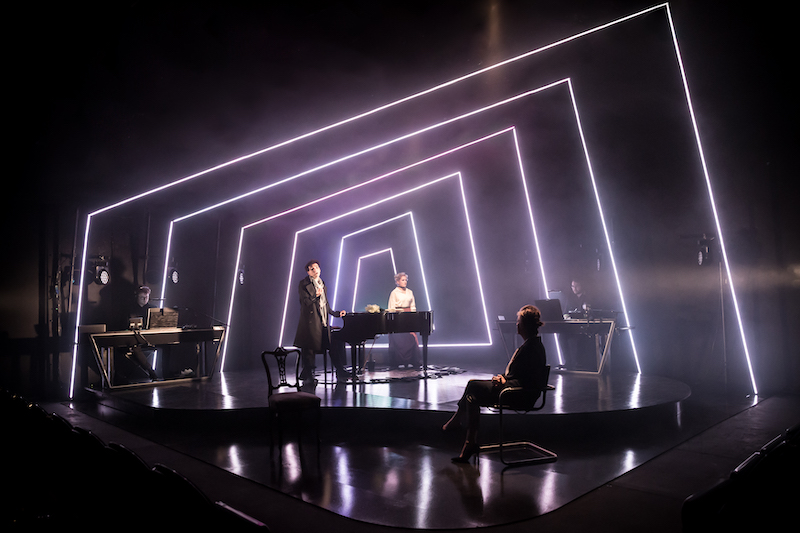 His self-obsession is occasionally challenged, with Natalya getting a good number questioning his continued wallowing in melancholy – although, given what we see in the therapy sessions, our sympathies are still mainly with Rach, likely suffering from clinical depression. Nevertheless, Louise is superb as Natalya, with an impressive vocal range and effective lightness of touch in her portrayal. A duet that sees the lovers connected but visibly separated is beautifully handled.
Ramsay leavens Rach's egomania with wryness, and commits to the primal cry of his character's breakdown, though sometimes overdoes the bohemian rebel schtick (exacerbated by guyliner and goth styling). James supplies bonhomie and booming operatic vocals; Caine is a cool foil to Ramsay, contributes to a stirring "Vespers" and takes to the piano in a key moment; and Steven Serlin is excellent as a series of intimidating Russian icons: Chekhov (complete with gun), Tchaikovsky, Tolstoy and – seemingly via New Jersey – Czar Nicholas II.
Sutton's immersive production benefits from Andrew Johnson's well-balanced sound design and MD Jordan Li-Smith's intricate work; onstage synthesisers take us into Rach's trance state, provide a heartbeat, and underscore his hellish memories. But most striking is Christopher Nairne's spectacular lighting (pictured above), with a series of neon arcs used in expressionistic fashion – sharp bursts of colour to show Rach's anxiety, reality-eliding strobe lights, or rippling swells like delicate sound waves.
Though excitingly radical in form, Malloy's piece does contain critiques that could be applied to his own work, such as the accusation that it's primarily an inward-looking intellectual exercise, or that it's piling on too much in search of an epic riposte to convention. As Chekhov counsels Rach, "use more silence": the sensuality of a piano duet is all the more spine-tingling for its restraint, and the climactic number, stripping back everything but Noyes's passionate playing, is exceptionally powerful. By that point, we well understand the sacrifice and struggle, and the courage to reckon with failure, that led to such crystalline beauty.
Preludes at Southwark Playhouse until 12 October
Severed from his composer identity, Rach is a shadow of a man, living a wretched half-life
rating
Explore topics
Share this article