Ride, Charing Cross Theatre review - A true story of female empowerment |

reviews, news & interviews
Ride, Charing Cross Theatre review - A true story of female empowerment
Ride, Charing Cross Theatre review - A true story of female empowerment
New musical about a barrier-breaking woman freewheels into the West End
Thursday, 01 September 2022
Liv Andrusier and Yuki Sutton in Ride - "Who wears the trousers here then?"
Who tells your story? Something of a theme in new musicals since Hamilton posed the question in those long ago pre-Covid, pre-inflation days. In Ride, the once famous cyclist who had hardly ever ridden a bike, Annie Londonderry, circumvents the problem right at the start, because she will – and she'll also, a little reluctantly, tell the story of Annie Kopchovsky, the Latvian-born mother she once was.
It was three years ago that Freya Catrin Smith and Jack Williams found Annie's story and started to develop it as a musical, a version winning the Vault Festival Show of the Week in 2020. It has now pedalled all the way to the West End, where it is a welcome addition to the peloton of musical theatre shows jostling for our attention.
It's 1895 and Annie is telling her extraordinary tale to newspaper executives, as ever with a eye on the main chance. It's a good one – the first woman to cycle round the world, the trip undertaken to settle a bet between two businessmen as to whether a woman was capable of such a feat – but she's also angling for a writer's gig, one that history, often blurry about her, records that she did get. What she's really selling (as usual for Annie) is her personality, bright, bubbly and full of the chutzpah we see on talent shows these days – but, one surmises, seen rather more rarely in a woman of the 1890s. She feels much more of our time than of her own.
Liv Andrusier (pictured above) has a lot of fun in the role. Channeling Lois Griffin for the Boston accent, her Annie brims over with "can-do", with a laser-focus on her version of the Great American Dream, with an attitude so positive that you just know that she must be running away from something… and she is. A de facto mother to her siblings after her parents died, she was married to an Orthodox Jewish man as a teenager, had three children of her own and was buffeted by the antisemitism that pervaded society. She invented another Annie to escape and how better to do that than by using the bicycle, the vogueish means of female emancipation that had got women out of their homes and to places hitherto inaccessible. Annie being Annie, her destination was the whole darn world!
On Amy Jane Cook's beautiful and adaptable set (that converts from a musty 19th century newspaper office to the Sinai Desert and back again), Andrusier is joined by Yuki Sutton (pictured below), who helps tell Annie's story taking on roles such as an officious French customs clerk (is there any other kind?), an academic would-be lover with whom Annie bonds during a train hold-up and the secretary she needs to support her fledgling career. Sutton also acts as a kind of everywoman, initially short of confidence and wracked with doubt, but inspired by Annie's self-belief. one of the women to come in the next century who crash the glass ceilings of limited expectation. Pleasingly, the moral of empowerment (one that we always expected) thus creeps up rather than overwhelms a story with enough legs to pedal its own machine.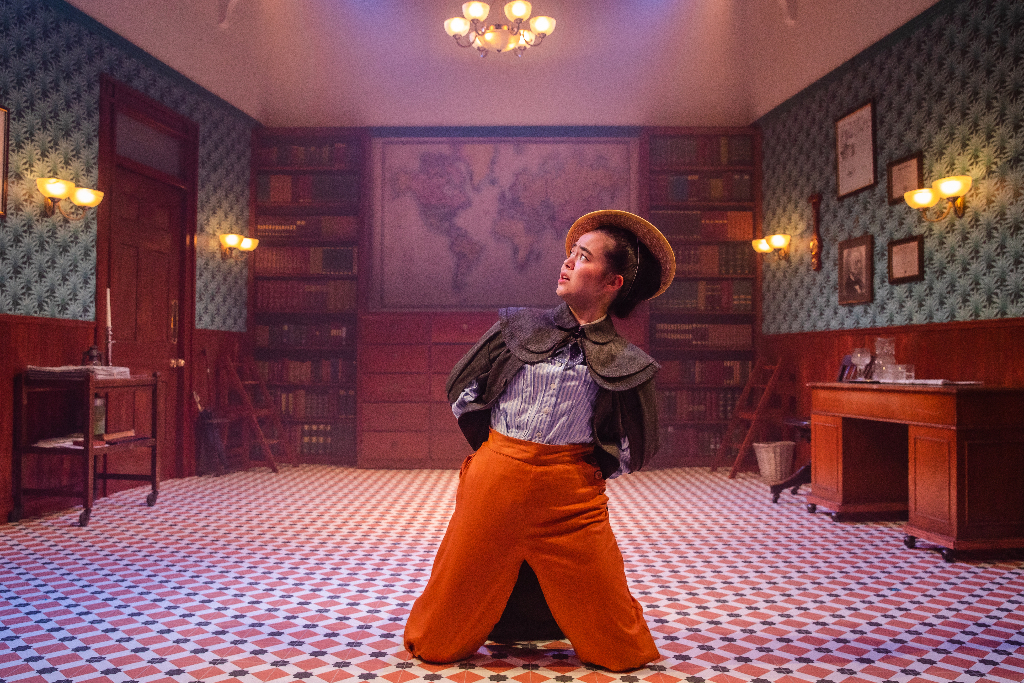 So that's the toughest hurdle for a new musical cleared – Catrin Smith's and Williams's book is excellent, but can they write songs? They can. In "Everybody Loves A Lie", Annie explains her philosophy that the sausage is less important than the sizzle, that whether she actually did all this stuff matters less than the interest people have in the legend. That, of course, is how the world turns these days, alternative facts laid before a public that can choose which ones they prefer to believe. It's not Annie's most attractive of traits, but we see why in "Stranger" in which she lays bare the Kopchovsky life she left behind – she may be no angel and a cynical user, but we understand.
Both women sing well, Andrusier with plenty of belt (especially on her 11 o'clock number, "Out Of Time") and Sutton with more variety, using her sharp comic timing to get the most out of a range of comic roles. Musical Director, Sam Young, sometimes struggles to make the poppy songs' melodies heard over the mic-ed up vocals in a space that can be unforgiving for all but the most perfectly balanced of soundtracks, but the two leads, both a year on from graduation, show that they have the pipes required for a West End show. That isn't something that can be taken for granted these days.
Director, Sarah Meadows, adopts the increasingly popular approach of doing without an interval and, at 90 minutes, the show is pretty much as long as it can be without one. That said, there's plenty of scope to extend the flashbacks, to illustrate the dubious wager and the view of working class women that underpins it, to flesh out the world of sensationalist journalism into which Annie thrust herself. Do not be surprised to see a longer, bigger iteration of Ride in the future, one that might use a larger cast and not strain the two actors' voices quite so much (I feared a little for them, I confess).
Three years is no gestation time at all for a new musical and this one can already walk and talk (and ride a bike) – there's scope for more though, and then we might see Annie's remarkable life not just ride, but fly.
Catrin Smith's and Williams's book is excellent, but can they write songs? They can
rating
Explore topics
Share this article