The Wizard of Oz, London Palladium |

reviews, news & interviews
The Wizard of Oz, London Palladium
The Wizard of Oz, London Palladium
A bit like the Tin Man: shiny, but if only it had a heart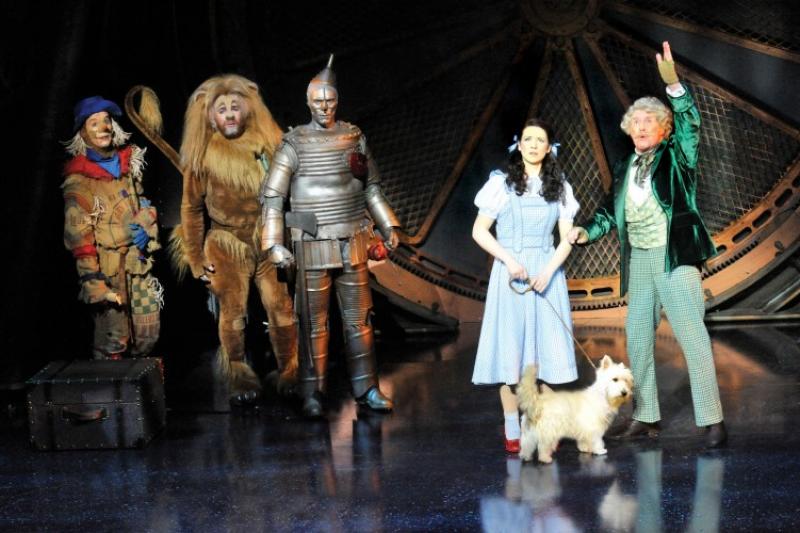 There's no place like home: Dorothy and friends contemplate her return to Kansas
If it only had a heart. Animal cruelty, a sadistic green-faced witch, flying monkeys: L Frank Baum's story, which spawned the MGM movie that made Judy Garland a star, is downright grotesque. And when it's not unsettling you with its rusty Tin Man, straw-brained Scarecrow and camp Cowardly Lion, it's making you gag on its sickly platitudes about best friends, family and finding your heart's desire in your own backyard.
For all that, The Wizard of Oz seems to be perennially popular – so much so that it also inspired the monster-hit musical Wicked. And if anything was going to get the box-office tills ringing for this new production, reworked by Andrew Lloyd Webber and director Jeremy Sams, it was the fillip it received from Over the Rainbow, the BBC's televised talent search for the perfect Dorothy.
There's plenty to goggle at, but Phillips's choreography lacks invention, and the garish colours and empty sentiment become increasingly wearing
The winner of the role, Danielle Hope (pictured below), acquits herself pretty well. When she first rushes in crying, "Auntie Em! Auntie Em!", all pigtails, wide eyes and ardent wobble in the voice, she wanders worryingly close to a Garland impersonation, and there are moments throughout when her inflexions and mannerisms are reminiscent of that iconic celluloid performance. But she does go some distance towards making the character her own, particularly when she sings. Her rendition of "Somewhere Over the Rainbow" is sweet and appealingly unaffected. True, her physicality is slightly awkward – she shifts her weight from foot to foot and seems unsure what to do with her arms – but as she grows in confidence and experience, there's no reason why she shouldn't resolve that difficulty.
But what of the production that surrounds her? It's big, brash, often visually impressive, occasionally a tad ugly. No amount of spectacle, though, can disguise the strangely soulless quality of the narrative itself – a problem that this new adaptation fails to solve. What's more, the pace of Sams's production lags badly in the second act; and the new songs, by Lloyd Webber with lyrics by Tim Rice, pad out Harold Arlen and EY Harburg's score but add only length, rather than melodic or emotional interest.
Dorothy's Kansas home is depicted, in Robert Jones's design, in sepia vistas – endless skies heavy with cloud, a windmill lazily rotating, prairie studded with telegraph poles stretching into infinity. The cyclone that lifts the family house off the ground and deposits it in Oz – conveniently squishing the Wicked Witch of the East in the process, so that Dorothy can divest her of the ruby slippers – is represented in Jon Driscoll's projections which, while not theatrically very exciting, at least deliver a sense of scale and some witty touches: a startled cow whirls past the window as the terrified Dorothy and the trusty Toto gaze out. The world where they land is Technicolor-bright, beneath a dazzling rainbow; and it's peopled by blue Munchkins, among them some cutesy kids. Fortunately, Hannah Waddingham as the Wicked Witch of the West soon turns up, hooked nose almost meeting her chin, from head to toe a bilious shade of green, and ready to inject some cackling menace, aided by her flame-thrower broomstick.
But Dorothy, of course, just wants to go home – so it's off to see the Wizard, picking up her trio of peculiar chums on the way. The Yellow Brick Road she skips along, in choreography by Arlene Phillips that strongly recalls the movie, revolves briskly. Poor Toto – played by one of four doughty Westies – didn't look keen at all on opening night, as his furry little legs struggled to keep up. Otherwise, he and the gargantuan sets were impeccably behaved, as the adventurers travelled through the Witch's narcotic poppy fields, to her skeletal castle with its creepy avian apes, and at last, to claim their hearts' desire, to the palace of Michael Crawford's Wizard, a Heath Robinsonian lair of huge pipes and gaskets in an Emerald City as blinged-up as Las Vegas.
There's plenty to goggle at, but Phillips's choreography lacks invention, and the garish colours and empty sentiment become increasingly wearing. Waddingham has one terrific aerial entrance from the ceiling above the stalls, and she delivers her performance of almost pantomime abandon with enlivening relish. Crawford, though, can't do a great deal with the damp-squib Wizard or the trio of cameos he also tackles, and seems uncharacteristically subdued. With the might of all that free TV publicity behind it, and enough onstage eye candy to keep enthusiastic audiences distracted from its flaws, though, there's every chance this will run and run. But in the end, it's a lot like its titular charlatan: peep behind the hoopla, and you'll find there's very little there.
It's big, brash, often visually impressive, but no amount of spectacle can disguise the strangely soulless quality of the narrative
Share this article