Fleishman Is in Trouble, Disney+ review - mid-life crises in Manhattan |

reviews, news & interviews
Fleishman Is in Trouble, Disney+ review - mid-life crises in Manhattan
Fleishman Is in Trouble, Disney+ review - mid-life crises in Manhattan
Taffy Brodesser-Akner adapts her hit novel about high-flyers losing their bearings
Meet the Fleishmans: Claire Danes as Rachel, Jesse Eisenberg as Toby
As films and television series based in New York City tend to do, Fleishman Is in Trouble opens with an aerial shot of Manhattan – except, significantly, this sequence is presented upside down.
To the celestial sound of tinkling arpeggios, the slim skyscrapers of the Upper East Side hang down from the sky into a blue cloudless ocean like futuristic stalactites, the camera moving gently through them before dipping,
Psycho
-style, through a window.
There, the man whose life has similarly been upended is lying on a bed in an austere room, with a buzzing phone beside him. Its screensaver is a shot of his two kids; the caller, though, is one of the horde of horny women who want to have sex with him. Yes, Toby Fleishman (Jesse Eisenberg) is "doing the apps". A female narrator, who will accompany us throughout the series, notes matter-of-factly that he had never been wanted by women before.
His problem is that the one woman he thought he wanted, his now ex-wife Rachel, has become a stranger to him. Soon she will leave the children with him and mysteriously disappear off his radar. The series will spend eight episodes moving back and forth between the start of Toby and Rachel's relationship and its aftermath post-divorce, with detours into the lives of Toby's best friends from college, Libby (Lizzy Caplan) and Seth (Adam Brody, pictured below right).
This is a classy production, impeccably cast and shot, with playful music by the contemporary composer Caroline Shaw. Its producers have wisely used the author of the original novel, Taffy Brodesser-Akner, for the adaptation. She knows how vital the archness of the narrator's voice is and doesn't hesitate to begin each episode with a voiceover from her. It distances what we are seeing, puts it into a kind of frame, yet because our narrator turns out to be Libby, we are given privileged access to the characters at the same time.
Libby is a frustrated journalist who quit to look after her two children but now finds herself socially stateless: not like the other mums in her New Jersey neighbourhood but not part of the literary set she once aspired to (Christian Slater pops up in a cameo as the hard-living gonzo author she idolised in her youth). She clearly needs to write a book, and you come to assume her voiceover is the material for it.
What Brodesser-Akner is creating, though, is no ordinary "relationship drama". There is love but little romance, sadness but no actual tragedy. It's not total social satire either, though it does a fair amount of ridiculing of the rich people (richer than Toby, a hepatologist, tragically for him, earning a mere $300,000 a year) who lead the pack in Manhattan. These are people with expensively immobilised faces and knowingly "cute" T-shirt messages, their social barometers registering only the outward signs of others' income levels. They offer to "reach out" and "circle back" rather than fully engage with somebody; they live "clean" lives full of massages, visits to the Hamptons and personal trainers, but do recreational drugs and clandestine sex on the side (pictured below, Lizzy Caplan with Eisenberg).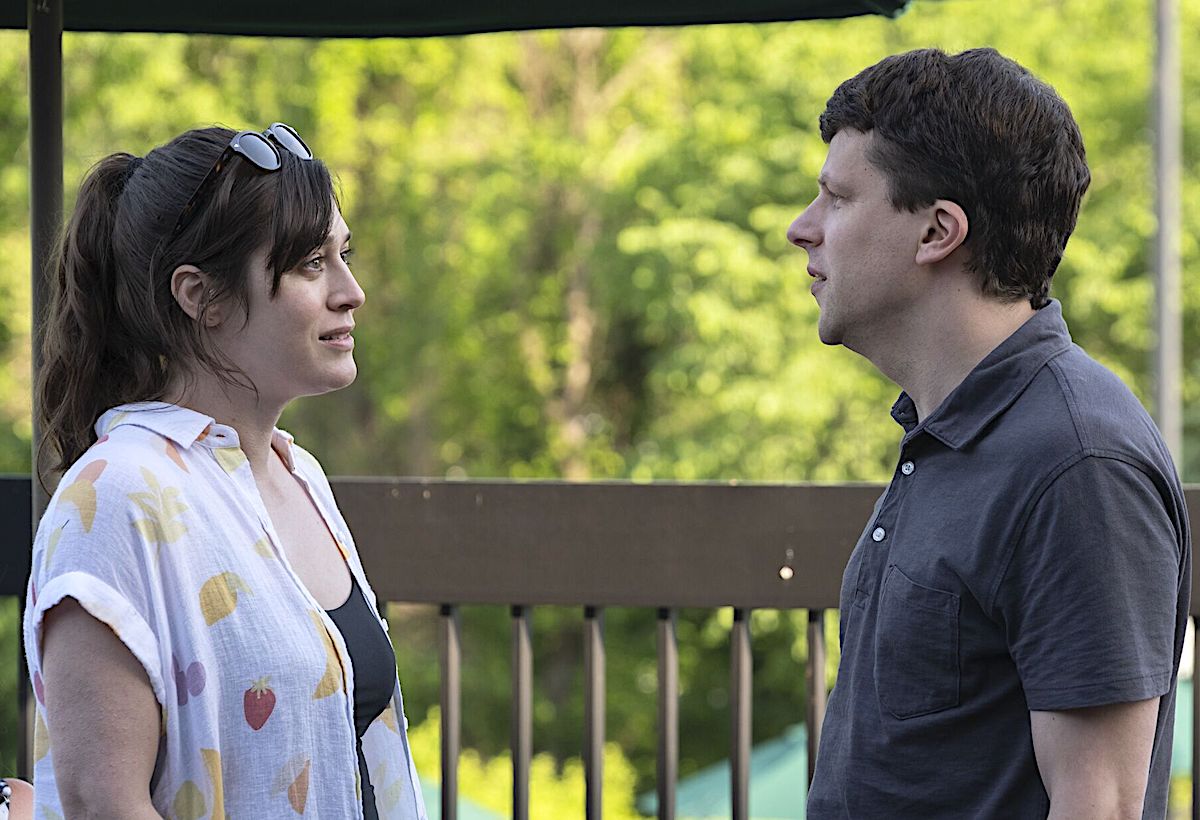 Rachel seems to have become one of them, a talent agent who made a lot of money from a client she found and nurtured from an off-off-Broadway solo-show performer to a mega-brand. Claire Danes excels as this unhappy executive, the once flowing locks of her college days cropped into submission, her face in close-up registering each fake attitude she strikes, each tremor of her pain. Fleishman is largely a dark comedy, but it can also cut to the quick.
Eisenberg's trademark twitchiness is a natural fit with Toby's no-carbs, salad-without-oil neuroses. He scuttles, round-shouldered and bullet-headed, through the hospital corridors, his mouth set tight, his eyes mostly dead. He responds as he knows he should to patients, calmly and kindly, his eyes briefly lighting up here and there with what looks like interest but might be veiled sarcasm. For the flashbacks to his youth, though, he has the familiar mop of curls and the animated face Eisenberg has deployed in many a good film.
Above all, Toby has a quickfire sardonic line of wit, a quality he shares with Libby and Seth. Their chats are a joy, the source of a relaxed vein of knowing humour that speaks of years of companionship. Caplan is outstanding in the series, too, her natural glamour suppressed by her persona as a blowsy housewife with unwashed hair. (Her increasingly impatient husband is played by Josh Radnor, star of How I Met Your Mother, except here that is one flashback we don't actually see.)
The series spends its first six episodes desperately seeking Rachel, but in episode seven it dramatically pivots. By then, though, you have probably lost sight of what genre of drama this is, and don't really care, because these characters get right under the skin. Their concerns are both totally time-specific and universal. We just aren't used to seeing them on television that often or limned out this compellingly. Brodesser-Akener said she was inspired by the 1990s TV series thirtysomething when writing her novel; her own TV series is more midfortysomething, smarter and more modern, an affecting map of how grown-ups get lost now.
Eisenberg's trademark twitchiness is a natural fit with Toby's no-carbs, salad-without-oil neuroses
rating
Share this article