Viewpoint, ITV review - the perils of the peeping tom police |

reviews, news & interviews
Viewpoint, ITV review - the perils of the peeping tom police
Viewpoint, ITV review - the perils of the peeping tom police
Who's watching whom in DC Young's surveillance operation?
Noel Clarke as DC Martin Young, doing a nice bit of promotion for Canon cameras
Alfred Hitchcock's 1954 thriller Rear Window has spawned its fair share of copycats, including Disturbia and Brian de Palma's Femme Fatale.
For
ITV
's new five-night mystery
Viewpoint
,
screenwriter
Ed Whitmore (
Silent Witness
,
Manhun
t etc) puts another spin on the Master of Suspense's voyeuristic original with his story of missing Manchester schoolteacher Gemma Hillman and the murky shenanigans which unravel in the wake of her disappearance.
When investigators decide that Gemma's partner Greg Sullivan (Fehinti Balogun) is a good bet as prime suspect, on account of his history of violence and obsessively controlling behaviour, they implement a cunning plan in which DC Martin Young (Noel Bulletproof Clarke), from the police surveillance unit, will set up an observation post in the house opposite Greg's and try to catch him doing something incriminating. Needless to say, it's not so simple.
As the story advances, new leads and investigative avenues open up, but central to the drama is the gradually evolving relationship between Young and single mum Zoe Sterling (Alexandra Roach, pictured below with Catherine Tyldesley), whose house has become Young's temporary billet as he peers out of her window through his collection of lenses (fascinating factoid – the location is a smart Georgian terrace part-owned by former Manchester United star Gary Neville). The issue of how ethical, let alone practical, it is to install a round-the-clock police operation in the home of a mother and her young daughter goes wholly unexamined. In addition, DC Young is almost comically unsubtle about his assignment, and could hardly be less unobtrusive if he put on a Santa suit, opened the window and stood there playing the trombone, but somehow he continues to go unnoticed.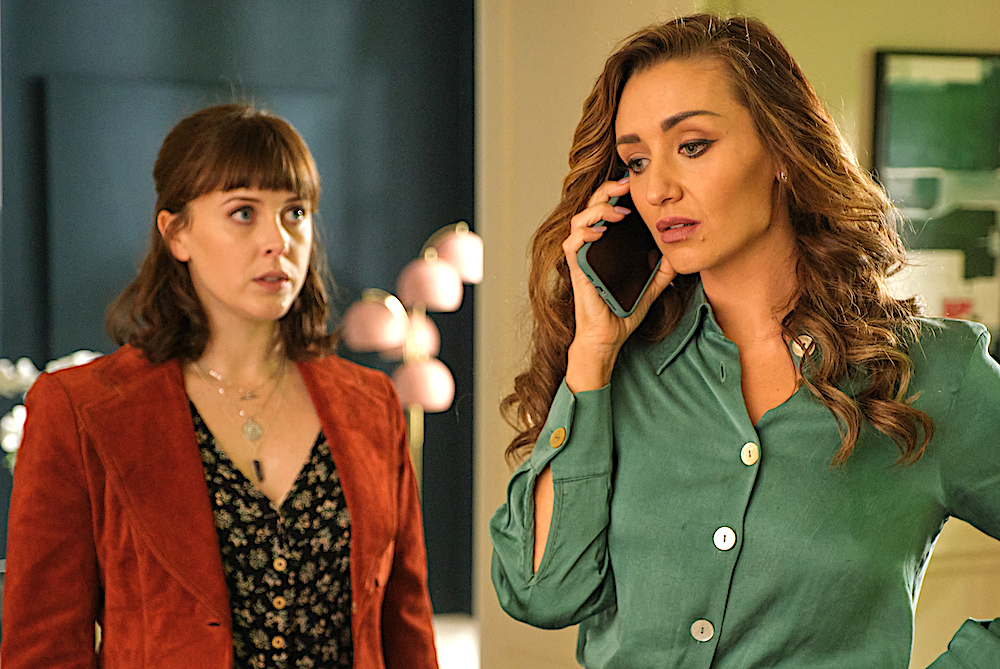 The trick in the tale is that it turns out that Zoe is already a bit of a peeping Tommasina herself. Her musician boyfriend Tim has been AWOL for the past 12 months because he "needs some time alone" or some such nonsense, leaving Zoe to look after her daughter Caitlin as best she can. Creepily, she finds that peering at her neighbours through binoculars and taking notes of their movements is a way of cheering herself up. This proves to be quite helpful to DC Young from a professional point of view, but it also starts to lure him into breaching his professional boundaries.
Zoom-lens Zoe even bales him out with a bit of DIY snooping when he has to abandon his post to visit his sick son. He empathises with Zoe because he's separated from his own wife following a disastrous police operation which left his colleague DC Hayley Jones (Shannon Murray) confined to a wheelchair. In the fallout from this, Greg lost his job with the CID and ended up in surveillance, merely a lowly support unit to the "proper" police.
Everyone has their troubles, and so (we gradually learn) did Gemma and Greg, centring around enormous quantities of debt and the desperate stratagems they resorted to to get out of it. It seems the saintly and much-loved schoolteacher Gemma (Amy Wren) was even running a money-laundering scam at after-school clubs. Intensifying the sense of claustrophobia and almost incestuous interrelationships, the house next door to Gemma and Greg's also proves to be a location of intense interest, as Young becomes increasingly fascinated by the behaviour of unscrupulous property developer Carl Tuckman (Dominic Allburn) and his wife Kate (Cath "Corrie" Tyldesley). Gemma and Carl, it seems, may have been more than just neighbours, and a simple missing person case starts to take on wide-ranging implications.
Viewpoint never comes close to Hitchcockian peaks of menace and suspense, though it's entertaining enough if you set the cynical part of your brain to "park". Clarke excels as a broody, self-contained leading man, while Roach's Zoe is endearing and irritating in equal measure. They really should have found a bit more for Phil Davis to do as DC Young's boss though, because every time he's about to go off on an irascible tirade he gets cut off in his prime. Maybe they give him a bit more rope as the yarn progresses.
A simple missing person case starts to take on wide-ranging implications
rating
Explore topics
Share this article