Intruder, Channel 5 review - implausible but watchable |

reviews, news & interviews
Intruder, Channel 5 review - implausible but watchable
Intruder, Channel 5 review - implausible but watchable
The death of a home invader opens a can of worms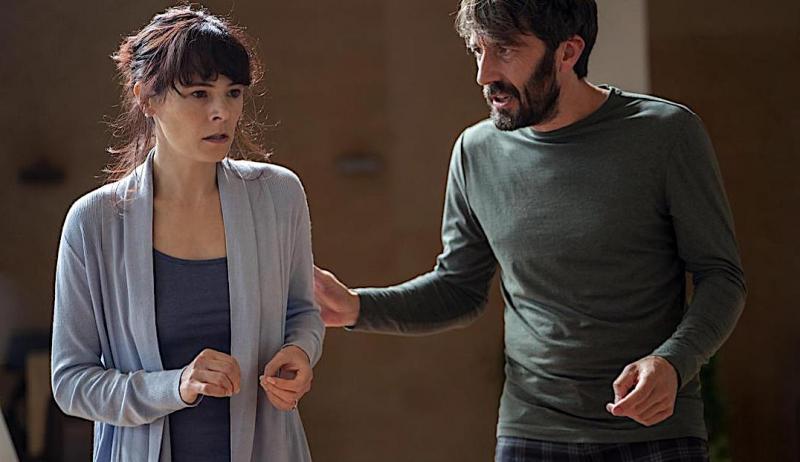 Trouble ahead for Rebecca (Elaine Cassidy) and Sam (Tom Meeten)
Channel 5 is rather partial to its four-night dramas, though recent effort The Drowning seemed to have sneaked unseen past the quality control department on its way to the screen. It pulled in the viewers though, and Intruder will probably do the same.
Written and directed by Gareth Tunley (creator of 2016's psychological thriller The Ghoul), it's about what happens when a pair of youths break into the luxurious country home of Sam and Rebecca Hickey (Tom Meeten and Elaine Cassidy). They disturb Sam as they blunder clumsily around the house, and as one of them (Syed) tries to escape through a window Sam stabs him fatally in the back. A shocked Rebecca insists they must call the police, but a panicked Sam realises that he could be charged with murder, since his victim hadn't attacked him and was trying to get away. Sam, Rebecca and their friend Angela, staying in the house after a party that night, set about rigging the evidence to make it look as if Syed attacked Sam and Rebecca knifed him to save her husband.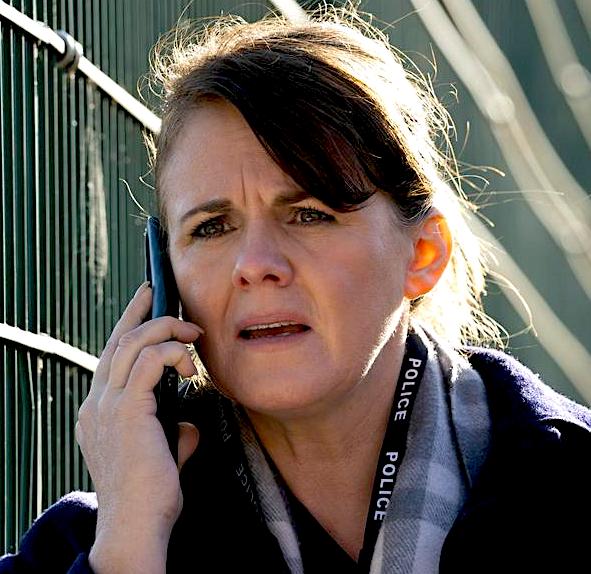 Will the cops buy their story? Well, they were still buying it by the end of the second episode, but family liaison officer Karen Bailey (Sally Lindsay, pictured left) is beginning to smell a rat. The stress of keeping their murky secret is beginning to tell on Sam and Rebecca, and the event has also given Angela (Helen Behan) blackmail leverage against Sam. Despite her displays of sisterly bonding with Rebecca, she wants to rekindle her recent affair with Sam and prise him away from his wife altogether (perhaps she's the real intruder). Since Angela is mentally unbalanced and drinks enough to put Mötley Crüe under the table, her threats to tell what really happened can't be ignored.
Add to all this a background plot involving drug smuggling, police corruption and a sinister local farmer called Fitz (Seamus Moran) issuing threats to Rebecca, and you have a pleasant little bouillabaisse of infamy and sordidness, albeit not an especially convincing one. Every now and then there are hints of a slightly more ambitious creation battling to get out, when Tunley allows himself to turn a satirical eye on his characters.
The opening party sequence, with the Hickeys and their well-lubricated friends hoovering up the powdered Andean mood-enhancer and talking total bollocks, neatly lays out the flawed and self-deluding characters we're dealing with here. Sam works as a talk-show host on radio station London Chat Radio, which seems virtually identical to LBC right down to the grandiose station idents, and his hectoring and self-righteous tone would fit perfectly in their 10am weekday slot. It's bizarre, though, that London Chat Radio seems to be based in what looks like the West Country, though in fact the show was filmed (like The Drowning) in Ireland.
Anyway, we're obviously heading for a lurid and sensational climax. It isn't King Lear, but it's got enough going on to keep you watching.
Intruder continues on Wednesday 7 April and Thursday 8 April on Channel 5