Cargill, RSNO, Søndergård, Usher Hall, Edinburgh review - luscious opening to a rich season |

reviews, news & interviews
Cargill, RSNO, Søndergård, Usher Hall, Edinburgh review - luscious opening to a rich season
Cargill, RSNO, Søndergård, Usher Hall, Edinburgh review - luscious opening to a rich season
Youthful inspirations by Strauss, Berg and Mahler mark a significant birthday
Thomas Søndergård conducting the Royal Scottish National Orchestra in the Usher Hall
The conductor Thomas Søndergård turned 50 on Friday.
He marked the occasion, which coincided with the opening concert of the Royal Scottish National Orchestra's winter season, with a short homily on the contradictions of age – "the young seek experience, adventure and wisdom, the old seek only one thing: youth" – addressed to the audience before a programme of three works whose composers were all in their early twenties at the time of writing:
Richard Strauss
's
Don Juan
, Berg's Seven Early Songs, and
Mahler
's First Symphony.
It was a bold start to a season that promises rich pickings from the Vienna of the 1900s – there's much more Mahler and Strauss to come, bolstered by heavyweight symphonies from Shostakovich and Rachmaninov. Such popular programming has clearly struck a chord with the audience. In Edinburgh's capacious Usher Hall the first big concert after the Edinburgh Festival can seem a bit like business as usual, but last night it was comfortably full with an audience conspicuously younger and more enthusiastic than might be expected.
Strauss's youthful portrait of the world's most famous Lothario is unsurprisingly sympathetic, a masterclass in orchestral virtuosity that only reinforces how peerles Strauss is in his total command of orchestral texture. The two overtly romantic interludes were exquisite: a ravishing violin solo from leader Maya Iwabuchi before an extended lyrical passage for solo oboe whose more nuanced romantic vision was subtly held in check by Søndergård so it seemed fragile to the point of disappearing. The last bars were magnificent. An orchestral climax halts suddenly, before an aching void, filled after a long silence by a few bars of menacing orchestral shadow.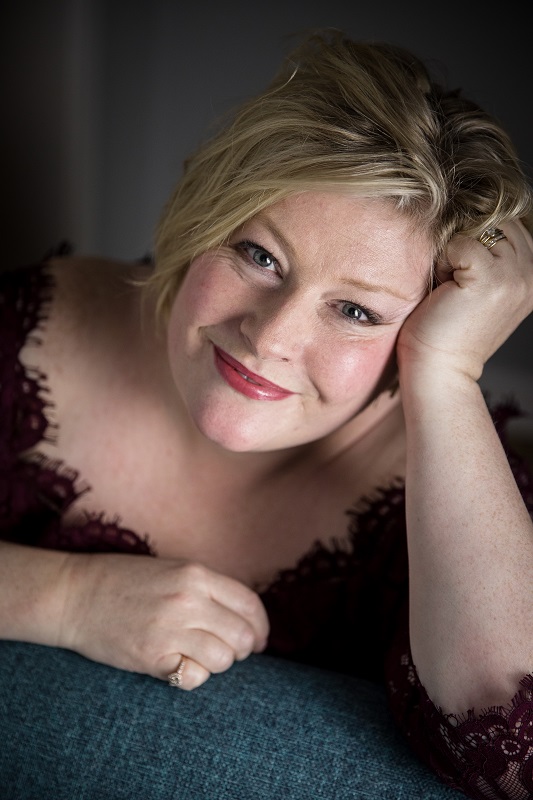 The genesis of Berg's Seven Early Songs is tantalising. Composed when he was 20, orchestrated in his 40s, they are a selection from 40 songs which date from when he was Schoenberg's pupil – "I recognised at once that his was a real talent" recalled the teacher many years later. The seven songs that now form an established cycle in the late-romantic repertoire are like miniature jewels -- delicate, precisely orchestrated, heartstoppingly beautiful – and far too short. Could we hear some of the other 33 one day?
In a live performance each one slips through your consciousness and drops into your memory with evanescent brilliance – so fleeting you long to hear a repeat of a phrase, a turn of melody, a twist of harmony. Especially given a sumptuous performance by Scotland's superstar mezzo Karen Cargill (pictured above by Nadine Boyd). She made the most of her 15 short minutes on stage, commanding the hall with an opulent tone that sounds as effortless as it is confident. The lights were put up so we could read the words in the programme, but I would have been happier to see surtitles, as deployed routinely by the Edinburgh Festival, as this helps bond singer and audience. I think Cargill sensed this too – after her broad and enveloping smile when she first came on stage the sense of rapport seemed to diminish as she gazed down on so many heads buried in copies.
Søndergård is recognised for his Mahler, and justifiably so. The First Symphony is not a complex piece, chock full of quotations from his song-settings, its moments of cheerful bombast only gently spiked by premonitions of the angst, sadness and tragedy that inhabit the later symphonies. That is not to say it is without challenges. It is episodic in nature and while it lacks the huge expanse of a typical Mahler slow movement it nonetheless contains three or four extended passages which are as beautiful and soulful as anything he wrote later.
To make it all hang together you need to be a master of transition, and here Søndergård's skill was no better exemplified than in the third "Frère Jacques" movement with its fleeting switches from the noise of a street band to that of something rather like a Palm Court Trio, all underpinned by a growling, faintly sinister funeral march. Here, and in the second movement's nature sounds (cuckoos and birds aplenty), Søndergård created a musical vision to believe in, and marvel at, vastly more than the sum of its parts.
In a nice touch the orchestra interrupted the wildly enthusiastic applause with an appropriately chromatic orchestration of "Happy Birthday", the singing led by Karen Cargill clutching a large bouquet of flowers.