The Creation, Academy of Ancient Music, Cummings, Barbican review - back to choral paradise |

reviews, news & interviews
The Creation, Academy of Ancient Music, Cummings, Barbican review - back to choral paradise
The Creation, Academy of Ancient Music, Cummings, Barbican review - back to choral paradise
A joyful and lavish rebirth for Haydn's happy masterpiece
Thursday, 30 September 2021
Heaven's gate: the Academy of Ancient Music's 'Creation'
Whatever the upsets and uncertainties of this musical season, the return of choral works at full scale and full power has been an unalloyed joy. And sheer, exhilarated, heaven-storming joy branded the Academy of Ancient Music's reading of Haydn's The Creation in the Barbican Hall on Tuesday night.
The AAM's incoming music director Laurence Cummings commanded his substantial orchestra, a 26-strong chorus, five soloists and even Alastair Ross's striking, historically-informed continuo – an 1801 Broadwood fortepiano. They endowed Haydn's Enlightenment-era vision of a sin-free universe with proper grandeur as well as all the tenderness, humour and warmth written into this glorious score. If you don't believe that truly great art can ever be happy without blots, then
The
Creation
may leave you hungry for the tragedy of humankind's fall from grace that the libretto deliberately excises from its sources in Genesis and
Paradise Lost
. Just now, though, we have earned a little unshadowed bliss. Cummings delivered it gift-wrapped.
This Creation came into being in English rather than German. The libretto, after all, was published bilingually in the first edition of 1800. Throughout the piece you can hear Haydn striving – and even managing – to best the musical coups he had admired in Handel's English-language oratorios in London. On top of his first-class players and chorus, and the accomplished solo voices, Cummings had extra help on the way to paradise in the form of the video projections by Nina Dunn Studio. They surrounded the stage in an ever-changing swirl of digital effects. All that virtuoso hi-tech wallpaper – video-designed by Matt Brown – introduced a risk of sensory overload in a work already full of mimetic and descriptive writing that gives a musical colouring to every kind of entity from worms to flowers to stars.
Sometimes the projections brought genuine magic to the mix. As the universe emerged from chaos after Haydn's revolutionary orchestral depiction of a pre-creation void, the deep-space, Big-Bang patterns of the backdrops worked their cosmic charm as exploding nebulae spun around the stage. I did worry that, as God created flowers, trees, fishes, birds, beasts and finally Adam and Eve, the visuals might turn too literal and David Attenborough-ish. Luckily, Brown didn't stray too far down that figurative path. We saw some identifiable blooms, including an apt strelitzia, or bird-of-paradise flower (pictured above with Mary Bevan), but otherwise semi-abstract patterns suggested a constantly mutating landscape of oceans, forests and meadows. At the moments of high drama that punctuate Creation, as when light illuminates the darkness in a blaze of sound, bold and simple images – a sun, a moon, an eye – did their complementary work. Were there stretches when this seething, fractal, optical busy-ness proved too much of a clever thing? Certainly. Did it seriously interfere with our enjoyment of the artistry on display from singers, chorus and musicians? I doubt it.
As for the three angelic soloists in the first two parts, they avoided oratorio stiffness by a measure of mobility. They flung their recitatives from the back of the stage but moved forward to the front for their arias. Stuart Jackson's Uriel made a genial, urbane but formidable tenor linchpin, mighty but never rough in the flowing lines of his narration. This voice is an absolute rock, but a friendly rather than jagged one. When the sun first rose in its aural and (in this production) visual glory, he more than held his own. Matthew Brook's Raphael captured the curious mix of lyricism, wonder and drollery in Haydn's settings of the Genesis stories. His soaring, rhapsodic passages of awe yield to stretches of almost-comic patter as the sheer oddity of God's handiwork – slitherers, waddlers, creepy-crawlies and all – finds musical shape. It's not often you hear audience belly-laughs in a canonical masterpiece like this, but Brook got them when he showed how "in long dimension creeps with sinuous trace the worm".
Mary Bevan's Gabriel, meanwhile, sailed elegantly through the coloratura passages that give expression to the new-minted wonders of nature ("With verdure clad the fields appear"). She sounded aptly airborne and feathery as the creation of the birds ("On mighty pens uplifted") inspires some of Haydn's sweetest pastoral styling. The AAM's players chipped in with the cute or cumbrous mimicry of fish, flesh and fowl that Haydn gives to flute, horn, clarinet, trombone, and so on. Cummings kept his tempi lively (as did Haydn, it appears) and drew some thrillingly tight and fierce choruses from the choir behind. This Creation glinted and shone in a bracingly clear light. God (and Haydn) did not say, "Let there be sludge!" The roof-raising exchange of praise between chorus and the trio of soloists ("Achieved is the glorious work") out-Handels even Messiah in hands, and voices, as sure and well-managed as these (pictured above: Matthew Brook, Stuart Jackson, Mary Bevan).
Cummings broke for the interval there, and so left the scenes of Adam and Eve in the garden of Eden to follow as a shorter, self-contained coda. Rather than have the angelic soprano and bass soloists return, as usual, the AAM had the luxury of fresh voices as the blessed pair: Rachel Redmond and Ashley Riches, both mellow in their tone, precise in their diction and fully attuned to the gorgeous ebb and flow of their joint numbers. As Haydn's music changes perspective from divine to human love, the universal to the intimate, the solitary eminence of the angels gives place to quasi-operatic drama. So these ancestors of humanity touched, embraced, kneeled and even lay down on their paradisal floor.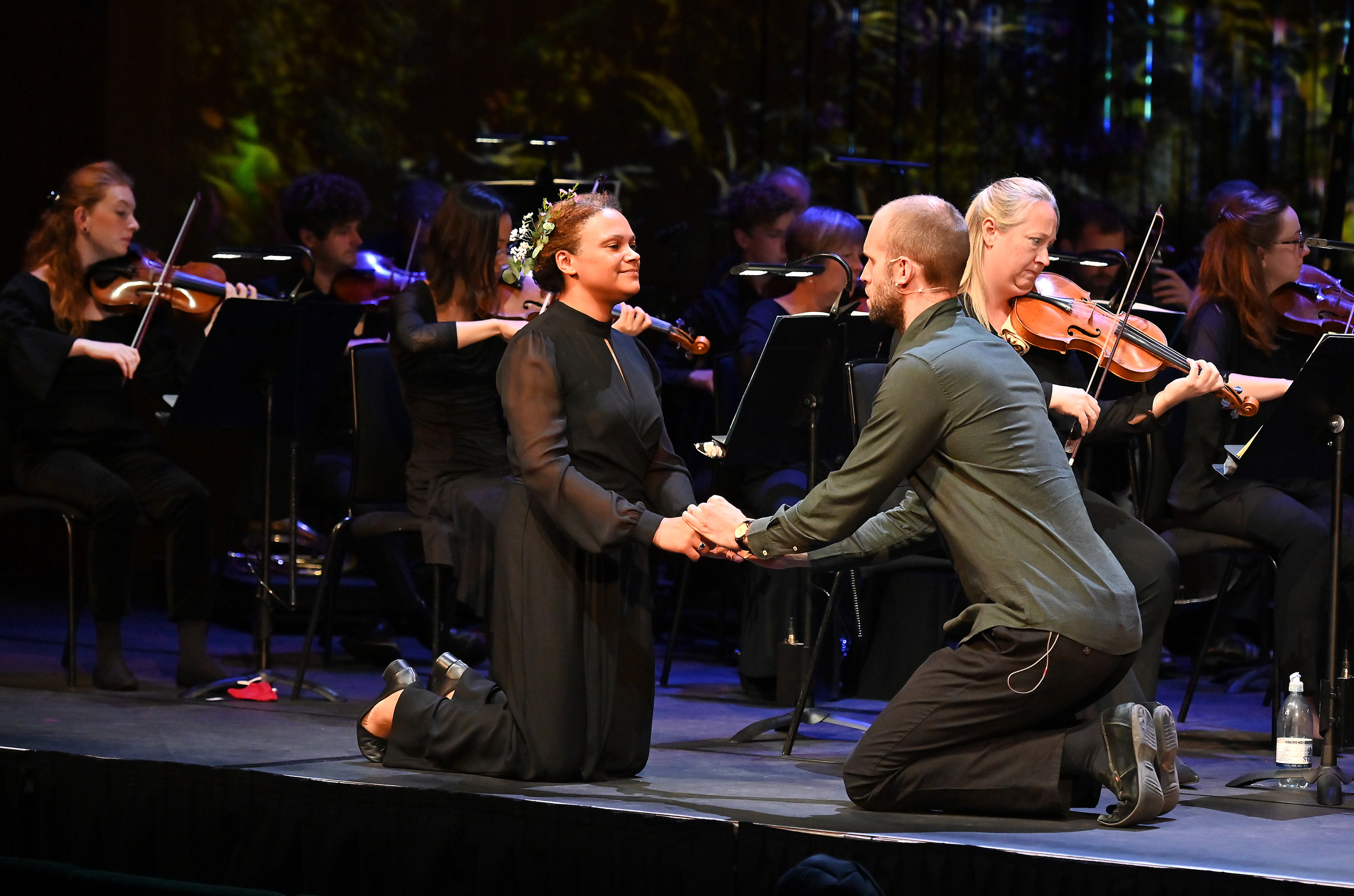 You can't hear these sumptuous yet refined duets without thinking of Haydn's younger friend Mozart, dead six years as he wrote Creation. Yet this Adam and Eve inhabit a serpent-free garden where beauty always stops short of the pain of doubt, suspicion and fear. Physically expressive, vocally polished, Redmond and Riches (pictured above) made the unstained loveliness of "Holde Gattin" (or, as we heard it, "Graceful consort") a feast for the ears and balm for the soul. By this time, I confess, the video projections had ceased much to engage – or to bother – me. The chorus rounded off our rapture with their closing contrapuntal blast; and paradise yielded to a wet night in the brutalist citadel. But Cummings, the AAM and their singers had, magnificently, opened the gates of choral Eden for us again.
It's not often you hear audience belly-laughs in a canonical masterpiece, but Matthew Brook got them
rating
Explore topics
Share this article