Kozhukhin, BBCSO, Oramo, Barbican |

reviews, news & interviews
Kozhukhin, BBCSO, Oramo, Barbican
Kozhukhin, BBCSO, Oramo, Barbican
Kaleidoscope of fascinating scores circa 1925 crowns superlative Nielsen anniversary series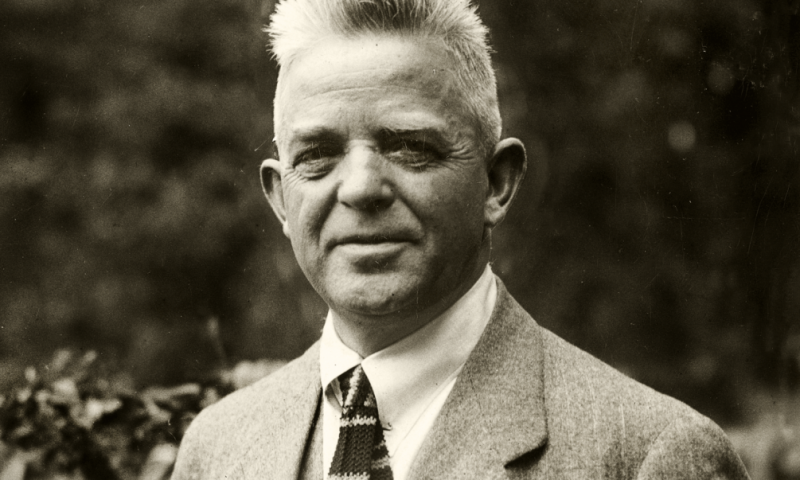 Carl Nielsen: ever more the maverick in later years
No two symphonic swansongs could be more different than Sibelius's heart-of-darkness Tapiola and Nielsen's enigmatically joky Sixth Symphony. In its evasive yet organic jumpiness, the Danish composer's anything but "Simple Symphony" – the Sixth's subtitle – seemed last night to have most in common with another work from the mid-1920s, Rachmaninov's Fourth Piano Concerto.
These are the connections and contrasts that the BBC Symphony Orchestra's chief conductor Sakari Oramo has been underlining in his six-concert journey around the Nielsen symphonies. Last night's typically confounding finale was the right conclusion to the best concert series London has heard in years (well, at least since the BBCSO's Martinů symphonies under Jirí Belohlávek).
Tapiola shocked us into stillness at the start of the programme with its timpani roll, its sombre oscillating strings and spiteful woodwind spirits. Ostensibly it's a tone poem about the ancient, mysterious forests of Finland, but as always with Sibelius the personal psyche is also laid bare, and Oramo underlined the human disconsolateness, the cries from the heart. No performance I've heard, either live or on disc, has ever struck more terror into this listener with the icy wind towards the end, what Nicolas Slonimsky in Music Since 1900 pinned down as "a chromatic rise in a 56 bar crescendo of cumulative string sonorities" ("like Ligeti," I heard a voice behind me declare when the ritual was over).
Oramo is a master of cohesion, not just in the obvious matter of making exchanges between the personable members of his orchestra flow but also in partnering soloists who need some watching; in fact I've only ever heard a predecessor of his at the helm of the BBCSO, Andrew Davis, achieve quite such impressive welding with the star player in concertos. Which is just as well, because Rachmaninov's Fourth Piano Concerto is really a Sinfonia Concertante, the pianist supporting numerous wistful orchestral solos.
Denis Kozhukhin (pictured right) never dropped a stitch in Rachmaninov's numerous exciting builds to nowhere – a result of stuck inspiration after leaving Russia in 1918 turned by the composer into a positive that needs careful handling. The slow-movement intermezzo, the only point where a thinness of material can be a liability – after all there's only so much you can do with three notes that could be "Two lovely black eyes" – shimmered with velvet-textured colours, only to yield to the most thrilling of all Rachmaninov's finales before the last of the Symphonic Dances. And the encore, Gluck's "Dance of the Blessed Spirits" from Orfeo ed Euridice as simply transcribed by Giovanni Sgambati, was perfect: sustained song at last, poetry which Kozhukhin wielded no less than Rachmaninov the pianist in a celebrated recording to take us slowly into a metaphysical zone.
After the interval, Oramo served up the real rarity by a composer he's championed before, the fitfully fine John Foulds - his orchestration of the piano piece April – England. Its lush profusion, a psychedelic counterbalance to the sombre Tapiola, starts with a jolly Graingerish tune, but the steroidal effect grows triffids in the English landscape before an interesting series of solemn chords. The Barbican's magnifying effects made the ears zing with the piercing high frequencies.
Less is often more in Nielsen's last symphony. "Inextinguishable" was the name he gave to the volcanic Fourth, but its two successors might also bear the subtitle. The ironically named "Sinfonia semplice" has more in common with the more consciously epic Fourth and Fifth than it might at first appear; the human spirit won't be crushed, but expresses its survival through earthy comedy. The diagnosis of heart disease which was to kill Nielsen six years later surely has as much to do with the arrhythmic riots of the outer movements as a similar prognosis had in the case of Mahler's Ninth Symphony. It's a one-off, and nothing in the sweet songs and string quartet we heard in a generous Danish pre-concert reception – respectively performed by soprano Else Torp with pianist Christina Bjørkøe and the phenomenal Nightingale String Quartet - would have led an innocent listener to expect anything like this.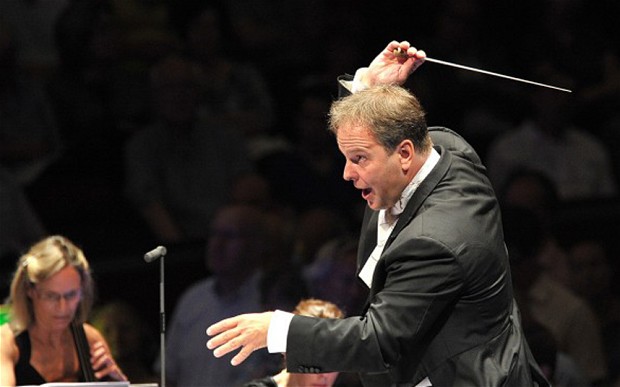 Songs of innocence are kicked off by a glockenspiel who with typical Nielsenesque strangeness is the star of the parade alongside the first bassoon: full credit to consummate artists Oliver Lowe and Julie Price. But within a minute we're going off the rails, and in one of the most elaborate movements in the symphonic repertoire, one that's in a constant state of development, the tracks disappear in familiar thickets of string notes, brass uproars and semitonal wind screams. Oramo (pictured above) gauged the biggest of the collapses with almost frightening concentration, and got his excellent BBCSO strings to withdraw into strange realms again and again.
It's an odd spectacle seeing half the orchestra sit idle, looking baffled, as the wind, trombones and percussion go through the motions of "new music" in the Humoreske. It's even odder experiencing the seemingly fragmented tricks and manners of the final theme and variations, with its central eerie waltz manner and brass disruption resurfacing in the finale of Shostakovich's Fourth Symphony, just as the glock plays a similar role in his own symphonic farewell, the Fifteenth (exactly how Shostakovich got to know this score is a job for the music historians). But there's method in madness here as echoes of the previous movements lead us towards a defiant circus-ring fanfare. Nielsen's control and purpose in his seeming anarchy are absolute, and so were Oramo's: the perfect pairing. Where next? Nothing so through-threaded in the 2015-16 season programming, but maybe for future series a Hindemith revival might not be such a bad idea. Meanwhile, thoughtful BBC planning means it's on to the Nielsen concertos and choral works at the Proms.
Nielsen's control and purpose in his seeming anarchy are absolute, and so were Oramo's
rating
Share this article
Subscribe to theartsdesk.com
Thank you for continuing to read our work on theartsdesk.com. For unlimited access to every article in its entirety, including our archive of more than 10,000 pieces, we're asking for £3.95 per month or £30 per year. We feel it's a very good deal, and hope you do too.
To take an annual subscription now simply click here.
And if you're looking for that extra gift for a friend or family member, why not treat them to a theartsdesk.com gift subscription?