Kuusisto, Philharmonia, Salonen, RFH review - Icelanders fare better than Sibelius |

reviews, news & interviews
Kuusisto, Philharmonia, Salonen, RFH review - Icelanders fare better than Sibelius
Kuusisto, Philharmonia, Salonen, RFH review - Icelanders fare better than Sibelius
Frozen symphonies partly redeemed by animated violinist in an Icelandic concerto
Friday, 29 September 2017
Anna Thorvaldsdottir - rooted in Icelandic nature
London orchestras do communicate with each other, sometimes at least, when it comes to programming.
It can't have been a coincidence that on Wednesday we had one Finnish chief conductor, Sakari Oramo launching his BBC Symphony Orchestra
Sibelius
cycle with a searing Fifth Symphony, followed last night by another, Esa-Pekka Salonen at the head of the
Philharmonia
, with the Sixth and Seventh, each prefaced by new(ish)
Icelandic
music in a programme which looked on paper even more enticing. Trouble is that while Oramo's Sibelius really was that rare wonder where passion and precision become one, Salonen's didn't even seem to be looking for a heart in its manicured precision and questionable grandiosity.
At least he didn't make the mistake of lumping the two great but utterly different two last symphonies together like Rattle (another one who, it seems to me, just doesn't get it). One day the enigmatic Sixth will find the place it deserves, at the end of a concert, where its final fade from sunset hymns into nothingness can truly be taken as one possible signing-off for Sibelius's symphonic output (the fact that he went on to the Seventh, Tapiola and the far-from-incidental music to The Tempest only shows him capable of different possibilities in the art of the endgame). But it really didn't make much difference given such a stolid approach to a work which should sing, fly, dart in and out of the forest, and leave us puzzled but bewitched.
This is music that needs to seem utterly organic. Slow-pacing the songs of thanksgiving that frame what should be a series of mysterious journeys takes them from the great outdoors and puts them in church. The Philharmonia played beautifully but coldly (with the exception of a serious woodwind-ensemble lapse just before the dying fall). There was more scope for grandeur in the Seventh, and Salonen at least knows how to negotiate its many tempo-changes. Its three peaks were well if obviously crowned by Michael Buchanan's richly-upholstered trombone solo, but the scherzo-like passages around its central turbulence need respectively to needle fantastically and to make the heart leap in what sounds like a rustic idyll; these were both poker-faced and earthbound.
Two relatively young Icelandic composers fared much better than poor Sibelius. Aeriality by Anna Thorvaldsdóttir (strictly speaking, Þorvaldsdóttir) seemed at first to be once of those all-process, no-hooks soundworld pieces, textures discreetly seething with stock-in-trade quarter-tones around a series of unisons, but outlines of a real face emerged tantalisingly not long before the end. And yes, you could connect what you heard with the unique landscape of her homeland. Daníel Bjarnason's Violin Concerto (the composer with Pekka Kuusisto pictured above last night by Camilla Greenwell), a rhythmic tour-de-force in total contrast, was obviously written for the idiosyncratic talent – close on genius – of Pekka Kuusisto (though you wouldn't know it from a note which said absolutely nothing about the work itself).
Anyone who remembers Kuusisto's whistling in spellbinding encores – the last I heard was a shatteringly moving Finnish lament in Kensington's Cadogan Hall on the night of the Grenfell Tower fire – would identify with the concerto's opening; there can't be another like it. Tough, though, if as an orchestral player you can't whistle too. The whole was too much a box of tricks catering for Kuusisto, though; with the generic dances going on at least five minutes too long, it didn't seem sure of its direction, though the aerial conclusion, like the opening, was compelling. Best of all, as we've come to expect, was the encore this time, a melancholy Swedish wedding march with exquisite folk inflections. And Kuusisto (pictured below by Camilla Greenwell) went on to play more folk music in the Clore Ballroom afterwards, a postlude I'm sorry to have had to miss.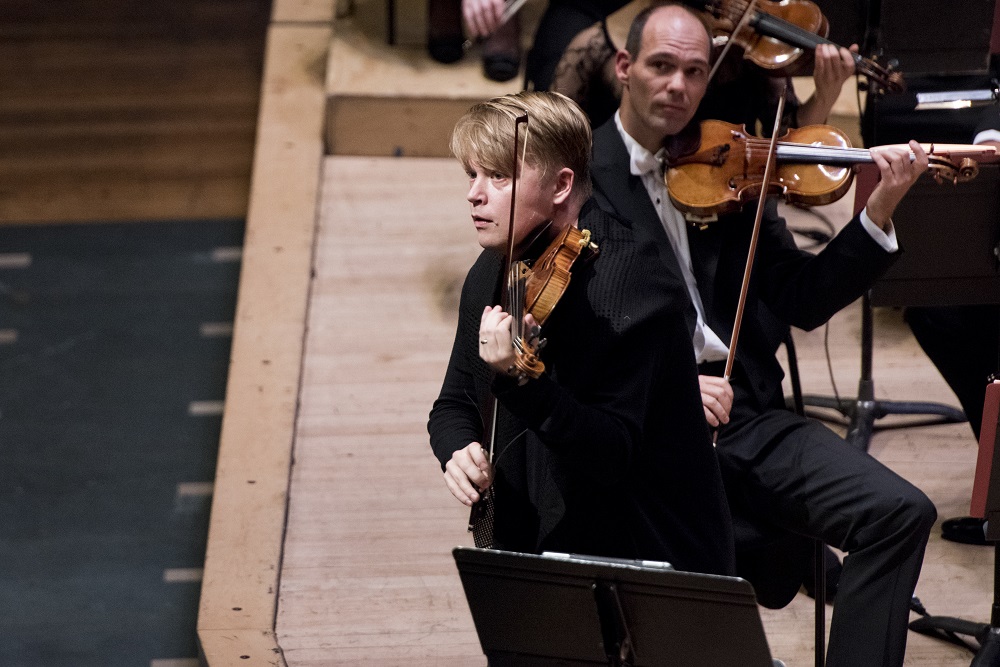 This was the official launch of the Nordic Music Days festival on the Southbank, offering plenty of new works and experimentations to follow over the weekend, but looking somewhat meagre on paper, the music itself swamped by peripheral events; anyway, give it a go. But if they thought they'd be setting the mood by calling in a lighting designer for the concert, they got it disastrously wrong. At first I thought the northern-lights effect was built into Thorvaldsdóttir's piece: after all, the second hall in Reykjavík's stunning Harpa arts centre might have given the cue in its lighting options. It was good to see the Festival Hall organ lit so beautifully as it had been for Jurowski's LPO performance of Enescu's Oedipe on Sunday. But there was no similar co-ordination in the changes here.
At one point there was a jarring switch to orange which had no precedent in the score, and the shifts throughout the Sibelius symphonies proved inept and distracting. You wanted to run backstage at the interval and ask them to stop it for the second half, which at least wasn't quite so jarring. Money would have better spent on coaching the players to look involved. Kuusisto apart, this came across, both aurally and visually, as the launch not for a "Tender Is the North" festival – the Barbican's title for much more substantial offerings – but for "Frozen Is the North", and a disappointment as a season opener after magnificent work from Rattle with the LSO, Jurowski and Oramo. Better is guaranteed to come shortly from the Philharmonia's two great choices of principal guest conductors, Jakub Hrůša and Santtu-Matias Rouvali.
Money spent on random lighting would have been better used in coaching the players to look involved
rating
Share this article