Lindberg, Cowen, RLPO, Philharmonic Hall, Liverpool
Lindberg, Cowen, RLPO, Philharmonic Hall, Liverpool
It's not often you hear a concerto for one trombone. Premiering in Liverpool was one for two
Christian Lindberg: master multi-tasker
There's always a bit of a buzz around a premiere, even one which may seem slightly off-the-wall. Jan Sandström's Echoes of Eternity is a concerto for two solo trombones – unusual in itself, given that there are precious few concerti for just one solo trombone – and symphony orchestra. Add to that the fact that one of the soloists is also the conductor and it's easy to see that this piece is beginning to get complicated.
Even more odd was the fact that it started last night with neither conductor not the other soloist on the platform. One moment, the Royal Liverpool Philharmonic Orchestra was tuning up, the next they were in full flow, performing the piece itself. It was far from clear how it all started but it did and kept going – and, as it happened, it kept going rather well. Somewhere backstage a trombone began to sound and on came Christian Lindberg, who played exquisitely, conducted a bit and then multi-tasked superbly by using the crook of the trombone to beat time or waving an occasional finger in the air while holding on carefully to his instrument – and still playing. An amazing sight.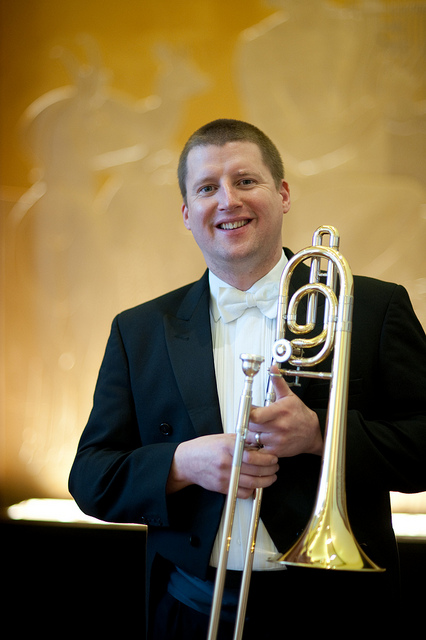 He was joined, in exactly the same fashion, by Simon Cowen (pictured right), the RLPO's principal trombone, and the two sparked off each other, sometimes competing for the limelight, at other times growing intimate. At the end, as the piece died away to nothing, Lindberg inserted the mute into the bell of the other trombone and gradually covered it with his hand, thus allowing the sound to fade to nothing.
Echoes of Eternity was written to celebrate the long history of Cáceres in Spain and as part of the bid for that city to become European Capital of Culture in 2016. It was therefore appropriate that it should have its UK Première in Liverpool which was European Capital of Culture in 2008.
There is a wonderfully lyrical section at the beginning, with Lindberg bringing out some of the aching beauty of Sandström's melodies. He was backed by an opaque, almost shimmering, string sound which would occasionally sink in pitch. This moved into a lively, rhythmical section which felt full of humour but with solemn, tonal melodies interjected here and there like great chorales, leading to a rich and emotional middle section which Lindberg milked to the full.
It was at this point that he recited a poem about the city which really did not work: it made the music feel disjointed. By all means, print the poem in the programme and let the audience hear it interpreted in the music. That said, it is an amazingly descriptive piece where the RLPO woodwind played a major part. It's just a great shame that, when this programme is repeated on Sunday, Echoes of Eternity will be replaced with Grieg's Piano Concerto.
The concert opened with a highly controlled performance of Nielsen's Helios Overture. Lindberg worked a long and dramatic crescendo right from the outset, which was only marred by some inaccurate horn playing. The playful counterpoint between strings and woodwind worked well and there was a particularly long drawn-out ending as the piece collapsed into nothing. Lindberg's excitable conducting style helped bring Sibelius's Second Symphony alive. Though the first movement felt fast it was highly controlled with a fine brass chorus – as you might expect, given the conductor. The subtle ending really did feel like a full stop: the piece was finely concluded.
The opening of the second movement was a hugely emotional moment though, in the central episode, it seemed to meander. There was a big ending, as demanded, but was it big enough? It felt underpowered. Add a highly vivacious scherzo with touchingly different trio sections which led into a gloriously broad reading of the finale.
Lindberg, who played exquisitely, conducted a bit and then multi-tasked superbly by using the crook of the trombone to beat time or waving an occasional finger in the air
Explore topics
Share this article