Sarah Willis, First Lady of the French Horn |

reviews, news & interviews
Sarah Willis, First Lady of the French Horn
Sarah Willis, First Lady of the French Horn
The Berlin Phil's only woman on brass goes solo
Thursday, 02 September 2010
Sarah Willis: 'The first and only woman to join the brass section of the world's most celebrated and widely followed orchestra'
No woman has ever achieved a higher profile on the French horn than Sarah Willis. Why? It's not as if she is a renowned soloist. But she is the first and only woman to join the brass section of the world's most celebrated and widely followed orchestra. It will be no surprise if this Saturday the BBC cameras as usual pick her out from row upon row of Teutonic males in the second of the Berlin Philharmonic's two Prom 2010 appearances.
But in addition to her Berliner duties, this year Willis has stepped out from under the orchestra's giant shadow for the first time.
She has recorded a CD of chamber music. Trio! is available on Musik Alexander, the bespoke label of Gebr. Alexander of Mainz who have been supplying horns to the Berlin Phil since time immemorial. It features three pieces for horn, violin and piano: Brahms's incomparable trio; a transcription of Mozart's quintet for horn, violin, two violas and cello – known as "das Leitgebische" in honour of Josef Leutgeb, the horn player for whom Mozart would later write the four concertos; and a playful bauble by Duvernoy. The CD also features Cordelia Höfer on piano and Kotowa Machida on violin. Read Graham Rickson's rave review on theartsdesk here.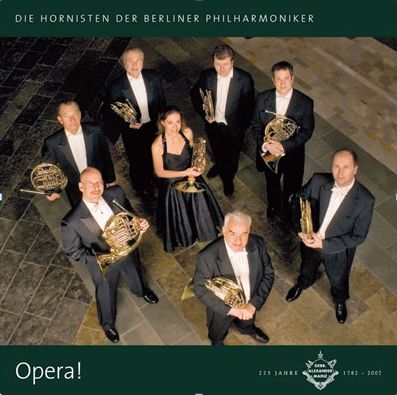 For those of us who follow the horn world, Willis's emergence as a soloist is a surprising development. She has played in the Berlin Phil's wind ensembles before, and its horn ensembles - most notably on Opera!, a CD of operatic pieces recorded by the Berlin Philharmonic horn section in 2007 (pictured right). The instrument has few enough male soloists making a career in Europe or America, but female soloists have historically been thin on the ground. For 20 years Willis has been content to play second horn. Why has it taken her so long to step into the limelight?
The Horns of the Berlin Philharmonic perform Rossini's "La Danza", including a low horn solo from Sarah Willis



"There are so many wonderful pieces for the horn", she says, "but somehow I ended up being an orchestral player specialising in the low range, so one gets out of the habit of playing solos. So for me to stand up and play a solo takes a lot of preparation - physically and mentally - and I always end up doubting myself, which is tiring and annoying. I wish I was different. But I have always loved to play the Brahms and the combination with Kotowa and Cordelia just works. They both are incredible chamber musicians and also breathe with me - luxury for a horn player. They can also play so powerfully that I never have to worry about drowning them out. We just decided to record it for ourselves."
The Brahms trio has a particular place in the composer's emotional biography. Brahms's father played the horn for the Hamburg militia for 36 years, so young Johannes grew up with the sound of the natural horn in the house, and for all his life he would dismiss its cousin with new-fangled valves. He once referred to it as a "brass viola". Brahms duly turned to the instrument for the purposes of lamentation. The death of his mother in 1865 inspired two works: A German Requiem, and the inexpressibly mournful horn trio. One morning soon after she died her son was walking in the Black Forest "and as I came to this spot", he wrote in a letter, "the sun shone out and the subject immediately suggested itself".
I was afraid I would start to doubt my interpretation if I listened to the many recordings"It is the trio every horn player wants to and should play. It's not only an incredible piece of music with a mixture of joy and deep sadness in it but it is also written perfectly for the horn: Brahms really knew how to show off the horn at its best. It is the most substantial piece of chamber music written for the horn in the 19th century. The combination of horn, violin and piano had never been used before so it was also an important step for our horn repertoire."
Of the many recordings available, the ones that stand out are (of course) by Dennis Brain, also Wolfgang Tomboeck on the Vienna Philharmonic's single F pumpenhorn and, on the valveless natural horn, the American soloist Lowell Greer. So how does anyone manage to say anything new? Willis was careful to give them a wide berth.
"I was afraid I would start to doubt my interpretation if I listened to the many wonderful recordings made by amazing horn players who are much more established soloists than myself. I don't know about stamping my own signature on it. Brahms is of course a difficult piece to master. There´s a bit of everything in it which a horn player should be able to do - slurring, tonguing, phrasing, extreme loud and soft dynamics etc. But Brahms really knew how to write for the horn and manages to show the horn at its best."

Willis first heard the piece at 15 at school in Esher in Surrey, where the visiting teacher was Tony Halstead, the celebrated British natural horn player, also a phenomenal player in the lower range. "I then went on to study with Tony at the Guildhall." Girls didn't play the horn and had to be assertive even to be allowed to take it up in the first place. "At school they said, 'We've got a flute or a clarinet, and we've got a harp.' My father said, 'Absolutely not, they're too expensive and I'd always have to carry it.' The teacher at school said, 'Well we have a horn, but that's not for you because that's something for the boys.' So I said I wanted to play that."
When researching a book on the French horn I discovered that the female horn player goes back slightly further than musical history would suggest. A concert in Milan in 1827 featured "for the first time on the French horn a Tyrolese air with variations" performed by one Madame Vansuest. The earliest known Englishwoman to play the horn was a Miss Cann, who also played the flute and died in Paris at the age of 19. A Concert Spirituel in the same city in 1780 featured a Mademoiselle Beate Pokorny on horn. There is an even earlier instance. A concert was announced in the Dublin Mercury in 1742, to be given by "Mr Charles, the Hungarian, Master of the French Horn." His repertoire included horn solos and horn duets, but on those occasions when he was performing a horn trio, he called on the service of his wife, whose name has not come down to us.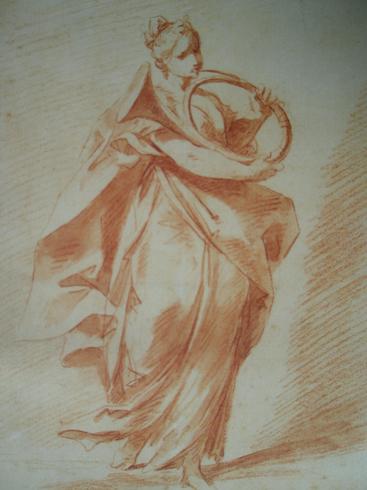 I turned up an idealised sketch by Vittorio Maria Bigari of an idealised female player in the robes of a muse, parping on a hunting horn (and holding it incorrectly, pictured right). In France the horn also made its way into the royal household at Versailles. Marie Antoinette had three unprepossessing sisters-in-law, all of them passionate about music. One of them, Madame Adélaïde, was a keen horn player. So recalled Madame Campan, Marie Antoinette's first lady of the bedchamber, in a memoir written long after the Revolution: "Madame Adélaïde, in particular, had a most insatiable desire to learn; she was taught to play upon all instruments, from the horn (will it be believed!) to the Jew's-harp."
Madame Campan's incredulity at the idea of a female horn player – "will it be believed!" – echoed down one century and some way into the next. Female horn players fell out of sight until the 1940s, when Helen Kotas Hirsch was briefly principal at the Chicago Symphony Orchestra. In this country both Enid Roper and Livia Gollancz were in the Halle horn section. Nowadays women are sprinkled across several major British orchestras, including Angela Barnes in the LSO, and there are as many female as male students in the music colleges.
In order to pursue her career, Willis made her way to Berlin. She was already used to boldly going where no woman had gone before, being the first person of either gender to get an orchestral job on the other side of the newly breached Berlin Wall in the pit of the Staatsoper (where of course she was also the only woman). These days she has gone so native that her mother tongue comes out with a slight German accent.
"Being the only woman is of course an honour", she says, "but has never been a big deal for me. Immediately after my audition for the Berlin Phil someone came up to me and said, 'You're the first female in the brass.' I hadn't even thought about it up until then; all I wanted was to get in. You've got to play as strong and loud as the guys. No one is interested that my lungs aren't as big."
Overleaf: The Berlin Philharmonic horn section in Mahler 7
Brahms turned to the instrument for the purposes of lamentation. The death of his mother inspired A German Requiem and the inexpressibly mournful horn trio
Share this article