Los Angeles Philharmonic, Dudamel, Barbican Hall |

reviews, news & interviews
Los Angeles Philharmonic, Dudamel, Barbican Hall
Los Angeles Philharmonic, Dudamel, Barbican Hall
Unsentimental but potent evening of Debussy and Stravinsky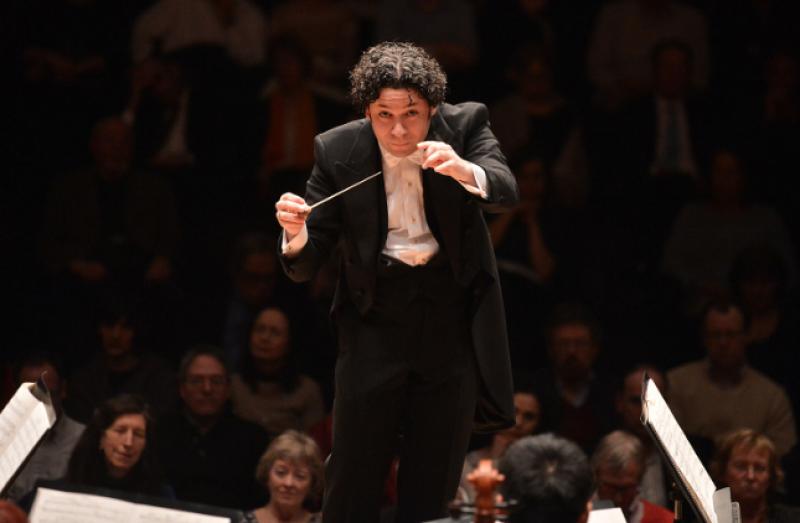 Dudamel: acquiring new levels of subtlety
Zipangu. What a name for a piece of music. Such a strange and suggestive collection of vowels and consonants. Such a musical string of sounds. A fascinating name. The name, in fact, the programme told me, for Japan during the time of Marco Polo. The life of the composer of the work, Claude Vivier, is fascinating, too, in a grisly way. While completing an opera about a young man who stabs a stranger to death, Vivier was murdered in his Paris flat by a rent boy.
Incredible story, incredible-sounding work; you can see why programmers are increasingly attracted to Vivier. I just wish I enjoyed his music more.
Zipangu is a piece that behaves contrary to the way the name onomatopoeically suggests it might. Neither nimble nor exotic, the composition instructs a small group of strings to obsess over the note of E - and its overtones - and squeeze as much colour out of it as they can. Presented almost as a series of textural variations on a theme, the piece is not pretty, not only because he demands the performers to create a grating sound with their bows, but also because the timbral permutations are crude and poorly stitched together. It felt like a laboured classroom exercise, despite some nifty harmonic work from the double bass.
The woodwind pipped the other sections to the post in the outstanding-quality stakes in La Mer
That said, the piece made sense next to Debussy and Stravinsky. This was in essence a celebration of texture. It also made sense in the hands of Gustavo Dudamel, who is becoming a very decent musical colourist. Dudamel's skill with colour doesn't seem to accompany a love of micromanagement. Not for him the soulless Pantone rainbow of, say, George Szell. For Dudamel colour is about theatre. In La Mer this had mainly positive consequences. Without too much finicky fiddling, the work became more of a whole, more of a slow-shifting sea. Yet it also sometimes felt like a sea that didn't always taste too salty.
Still, it was an attractive performance. Dudamel balances a humble, laissez-faire attitude at the podium - in which for long stretches he floats his stick with barely a beat - with moments of intense feverishness. It meant there were thrilling resolutions to each movement of La Mer, especially in a wild coda to the final movement.
If the woodwind pipped the other sections to the post in the outstanding-quality stakes in La Mer, in The Firebird, it was the brass that hogged our attention with their bright colours and tight ensemble. It's interesting to hear the complete ballet of The Firebird only insofar as it confirms that Stravinsky was right to reduce the work down for concert performances. One doesn't gain much from the longer version, and we even perhaps lose a little from the lack of economy and directness.
Still Dudamel made every note count, especially when it came to the brass, whose differing shades were graded to perfection. Unsentimental but potent, Dudamel's conducting is acquiring new levels of subtlety and appeal.
Dudamel balances a humble, laissez-faire attitude at the podium with moments of feverishness
rating
Share this article