Pavel Kolesnikov and Samson Tsoy, Bold Tendencies review - visions under the car-park roof |

reviews, news & interviews
Pavel Kolesnikov and Samson Tsoy, Bold Tendencies review - visions under the car-park roof
Pavel Kolesnikov and Samson Tsoy, Bold Tendencies review - visions under the car-park roof
Peckham hosts a dizzying Messiaen epic, plus Beethoven, Bartók and Schubert at night
Kolesnikov and Tsoy hold their distanced audience-in-the-round spellbound in Messiaen
Before the not-quite-clear all-clear was given for distanced performances indoors, Bold Tendencies already had the perfect summer solution in the floor space beneath its rooftop terrace in Peckham's former multi-storey car park.
Never was its covering more needed than on Saturday night, when the perfect storms, apocalypses and incantations of
pianists
Pavel Kolesnikov and Samson Tsoy in
Messiaen'
s gobsmacking
Visions de l'Amen
gradually magicked away the torrential rain beyond and the city skyline slowly came into focus again.
Nothing in all this, for me, quite matches the God-in-everything essence of "The Night's Music" from Bartók's Out of Doors, vibrant-still centre of the second (9.15pm) concert in Kolesnikov's spellbinding vision. There, it was a long thundering train heading into or out of Peckham Rye which found itself silenced by a strident nocturnal spasm. Messiaen's impetus, from left-hand thunder to steroidal birdsong at the top end of the keyboard, crunching dissonances and serene diatonic sequences, seemed unstoppable, the two pianists reaching out to one another across the length of the two grand pianos, perfectly synchronizing one-off chords and driving the rhythms like I've never heard them before in this extraordinary work (first time live for me).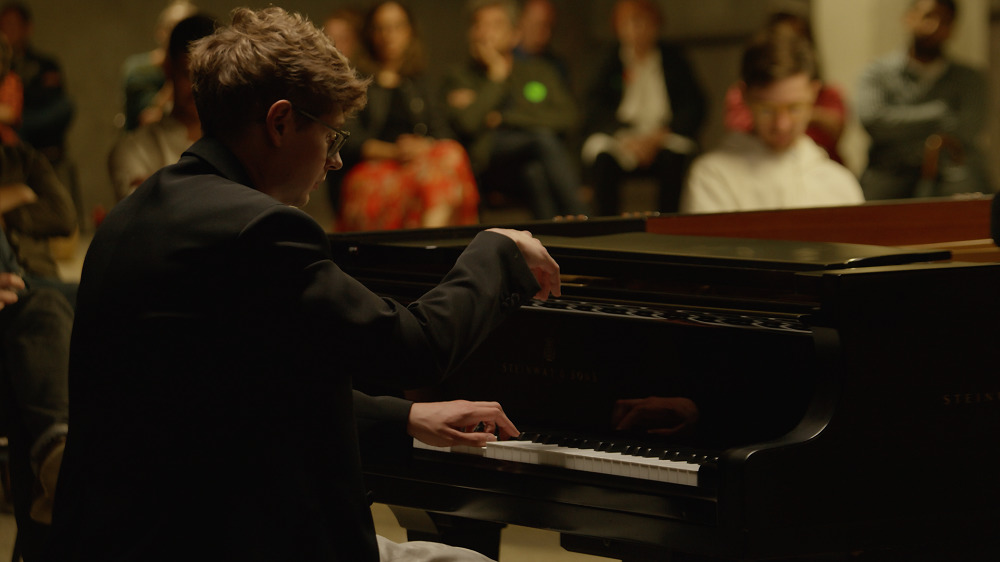 Thanks to that rhythmic intensity, always in focus, there were some surprise special guests: not least Gershwin ripping out of Kolesnikov's solo episode in the "Amen du Désir" (Kolesnikov pictured above playing Bartók in the later concert), and a stadium crowd chanting Messiaen on towards victory in the last movement. Poulenc wrote of footballing Benedictine monks providing an image for the livelier parts of his Gloria; this sounded like angel spectators supporting their team with cosmic unisons, and you wanted to laugh out loud in sheer joy. But let's not deny the profundity in this performance, which must mean there's also profundity in the music – not always a given in Messiaen interpretations. What will remain most firmly lodged in the mind's ear is the sheer richness of sonorities, sustaining-pedal haloes and echoes which worked so astonishingly well in an open-sided concrete space.
It was as well that a long interval divided the two concerts, rather than a gap between two halves – so much to digest. Even so, Messiaen somehow coloured everything else we heard later. If Bartók in one way trumped the holy Frenchman's metaphysical ambition, departing too soon, Tsoy (pictured above in the Messiaen) made us feel that Beethoven was moving in that direction, from the steady hypnosis of the "Moonlight" Sonata's first movement, bold magic even under strip lighting and the red lights of endless construction projects in the distance, via a very human transitional movement to more massive resonance at the climactic end of the finale, a true clincher.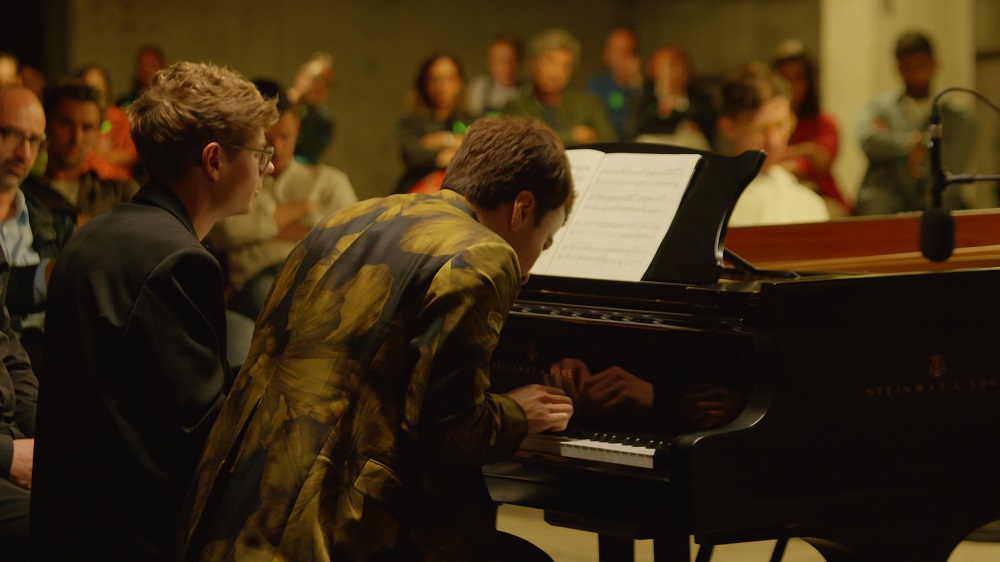 Schubert's bittersweet-to-lacerating meditations on a life coming to an untimely end in the F minor Fantaisie seemed very different, too, from when Kolesnikov and Tsoy played it as a very substantial post-dessert encore at the Fidelio Orchestra Café; here the listener was almost torn apart by how the central dance-nostalgia gives way to cosmic dimensions before the abrupt conclusion; you wanted to call back the frail melody which binds the work together, but Schubert has said it all. Temperatures were finally lowered and pain consoled by the last two (A flat major and C sharp minor) of Brahms's exquisite Op. 39 Waltzes. An evening of supernatural wonders from start to finish.
There were some surprise special guests, not least a stadium crowd chanting Messiaen on towards victory
rating
Explore topics
Share this article