Prom 38: Osborne, BBC Philharmonic, Mena |

reviews, news & interviews
Prom 38: Osborne, BBC Philharmonic, Mena
Prom 38: Osborne, BBC Philharmonic, Mena
Messiaen and John Foulds in an unlikely pairing that made for an intriguing evening
The Turangalila sweep of Prom 38
Pairing Messiaen's Turangalîla Symphony with John Foulds' Three Mantras was a smart piece of programming: established modern classic and obscure novelty sharing an inspiration from Indian music and philosophy, and both perfectly designed for showing off a very fine orchestra to its best advantage.
Before this concert I knew little of John Foulds (1880-1939) other than as a composer of light music in a blandly appealing style. The Three Mantras proved him to be a far more interesting and arresting composer. Originally preludes to the acts of a Sanskrit opera Avatara, which the composer later destroyed, Three Mantras is successful as a stand-alone piece, albeit one that Foulds never heard performed.
It starts at a rapid tempo that never lets up through the first movement. Flying string figures were precise and energetic, sweeping the music forward. The brass playing was terrific both here and throughout the evening, as was the timpanist Paul Turner and piccolo player Jennifer Hutchinson. The harmonic world owes a debt to Holst, in particular "Jupiter" from The Planets; it is similarly scrunchy without veering into atonality, built largely from intervals of a fourth.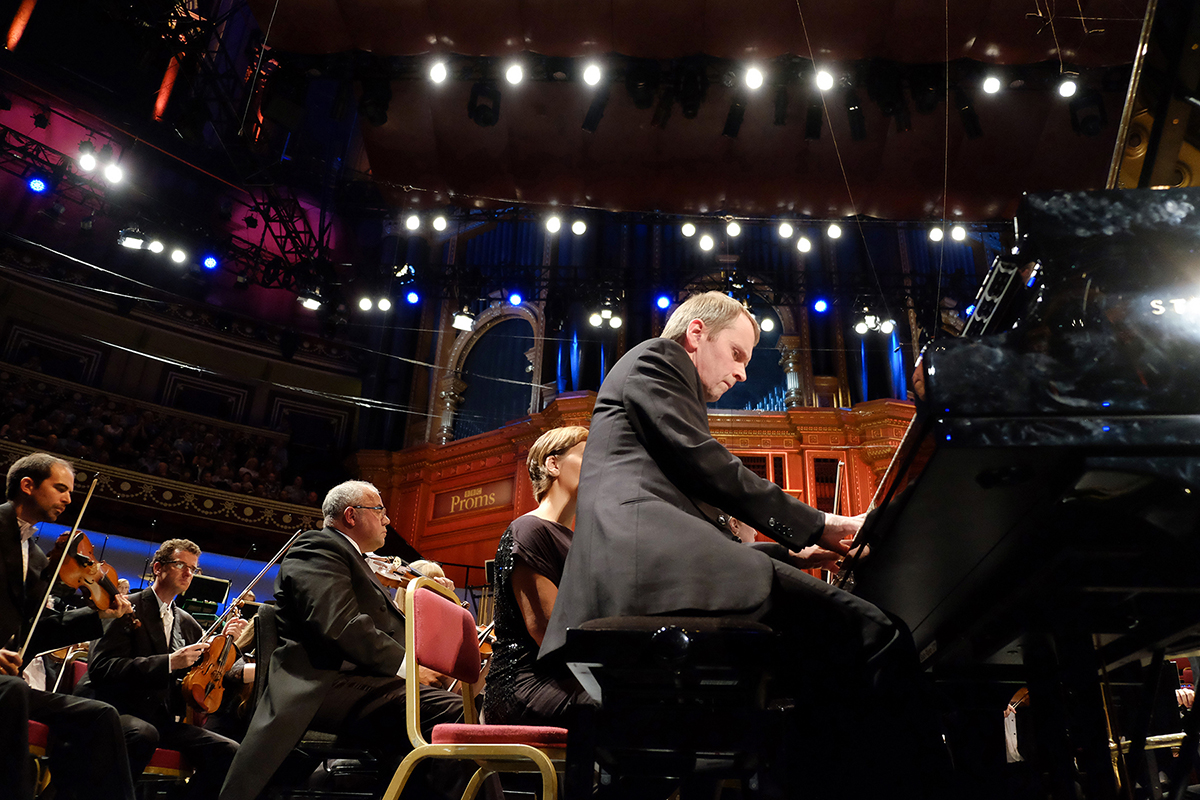 The second movement continued a Proms mini-theme by using a wordless chorus (also heard in Proms 13 and 32) over exquisite hushed strings. The last movement chaconne uses an Indian mode. Foulds was one of the first western composers to incorporate Indian music into his work, eventually travelling to – and dying in – India. The movement has a powerful momentum which Juanjo Mena was mostly in control of, but although the players went hell for leather the sound remained underwhelming.
I wondered if this was because of the Royal Albert Hall's acoustics, but it wasn't a problem in the second half, where the big moments of Turangalîla had no difficulty filling the hall (solo pianist Steven Osborne pictured above). Messiaen's symphony is a massive piece lasting some 75 minutes in 10 movements, and is a maximalist paean to erotic love. It incorporates all the elements of Messiaen's composing technique: rich (even gaudy) modal harmony, Indian-inspired isorhythmic cycles and birdsong.
And yet, despite being on a Brucknerian scale, it eschews traditional symphonic development in favour of a series of short panels, juxtaposed, repeated and alternated, building up into a large scale structure. The music is paradoxically both short-winded and long-winded at the same time.
Although there are soloistic parts for piano and ondes martenot, and these were brilliantly played by Steven Osborne and Valérie Hartmann-Claverie (pictured left), the true heroes were the brass section. Used extensively in all but one movement, every player was on top form, playing accurately but also with the ecstatic abandon that is the key to the music.
The two central movements were the highlights. First the joyful dance of "Joie du sang des étoiles" featuring razor-sharp interplay between strings and brass and a tumultuous piano cadenza. This was followed by the extraordinary "Jardin du sommeil d'amour", a sublime evocation of eternity. The strings were suitably lush, forming a background in front of which piano, woodwind and vibraphone spun Messiaen's re-imagining of birdsong.
It takes a creative master to write a piece so diffuse and yet unified, so richly romantic and yet at times so mechanical, but above all so deeply weird. Mena and the BBC Philharmonic rejoiced in the music's affirmation but also celebrated its weirdness; The Turangalîla Symphony shouldn't really work, but it can, and, here, it did.
Read theartsdesk's reviews of other concerts from the BBC Proms 2015
Mena and the BBC Philharmonic rejoiced in the music's affirmation but also celebrated its weirdness
rating
Explore topics
Share this article