Prom 46: Kanneh-Mason, CBSO, Gražinytė-Tyla review - brilliant programme, brilliant playing |

reviews, news & interviews
Prom 46: Kanneh-Mason, CBSO, Gražinytė-Tyla review - brilliant programme, brilliant playing
Prom 46: Kanneh-Mason, CBSO, Gražinytė-Tyla review - brilliant programme, brilliant playing
Blend of familiar Elgar with undervalued Weinberg shows the Proms at its best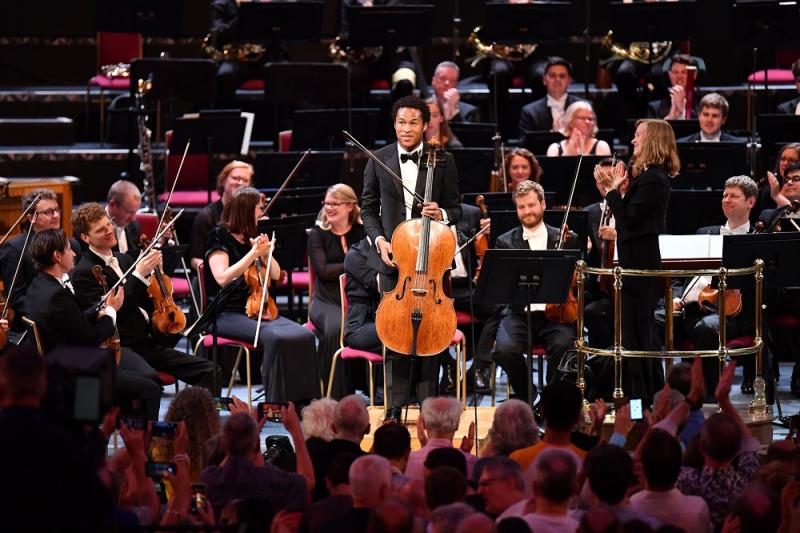 Mirga Gražinytė-Tyla and CBSO players congratulating Sheku Kanneh-Mason after his performance of Elgar's Cello Concerto
Let us never tire of singing the praises of the Proms, nor ever take them for granted. For two months concerts, many of which would be the highlight of any 'normal' week, keep coming night after night. And for all that it is a critic's job to comment in detail and find fault where necessary, it is also helpful sometimes to step back and say: the Proms is an astonishing festival which we should be grateful to have.
The thought is prompted by last night's concert, which saw the Proms at its best: a neglected favourite of previous generations, a popular concerto played by a rising young star, a nod to a recently dead British
composer
and a symphony receiving its London premiere that deserves to be well known. All performed to a dazzling standard by a British orchestra and its inspirational music director.
Dorothy Howell's short symphonic poem Lamia was completed when she was only 20, performed at the Proms in 1919 to great acclaim and repeated seven more times between 1921 and 1940. It then disappeared from view until its Proms revival in 2010, mirroring the eclipse of the composer herself. For such a young composer it showed mastery of orchestration, from the Ravel-like delicate opening to the sweeping, swooping climaxes later in the piece. There was a terrific solo by oboist Thomas Hutchinson and Graham Sibley had fun with an unusually prominent tuba part. Mirga Gražinytė-Tyla (pictured below by Chris Christodoulou) led the CBSO like a dervish, her whirling gestures capturing the predominantly Wagnerian sound world. Only towards the end did the piece threaten momentarily to sink into Victorian kitsch, only to be rescued by a remarkable ending, dark and unsettling, underpinned by a creaking contrabassoon.
Elgar's Cello Concerto was premiered the same year as the Howell but its trajectory has been quite different, accepted as the late masterpiece of a great composer. It was played by Sheku Kanneh-Mason, who has been lionised since winning the BBC Young Musician in 2016 and whose picture appears no less than four times in the concert programme. I hadn't heard him live before, and I have had a number of experiences of cello concertos not coming over well in the Albert Hall. But there was nothing to worry about, Kanneh-Mason (pictured below) projecting the opening bars powerfully, but still with the suggestion of playing to himself. Part of the success is down to Elgar's subtle scoring, occasionally allowing the orchestra free rein but mostly paring down the instrumentation when the cello plays. Gražinytė-Tyla was a subtle and fluid accompanist and the orchestra sensitive to Kanneh-Mason's nuances.
The middle movements provided the most interesting contrast. The second has an impishness that gives way to a sumptuousness that is almost camp. Kanneh-Mason caught these changes of tone and was then, in the solemn third movement, able to switch to a Beethovenian expansiveness, but admitting a fragility of tone that was quite moving.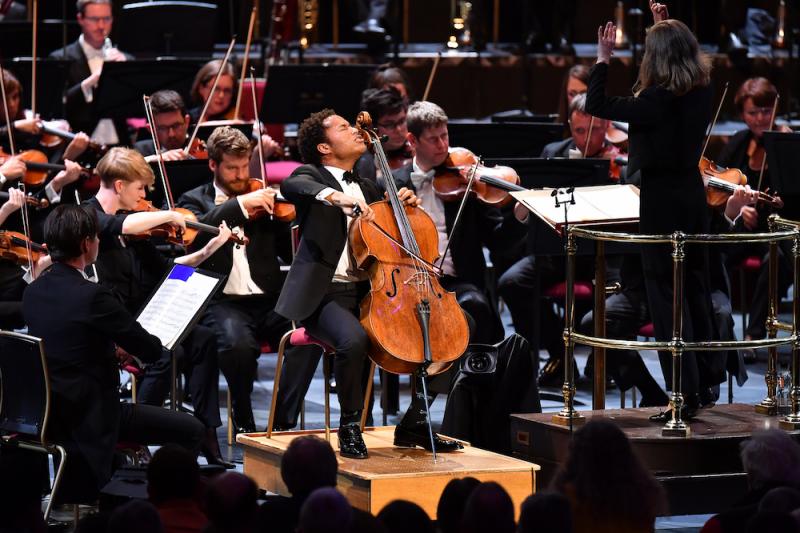 Oliver Knussen's The Way to Castle Yonder is an off-shoot of his Maurice Sendak opera Higglety-Pigglety Pop! and is scored with his customary teeming detail. At one stage someone in the stalls dropped a bottle, in perfect synchrony with the music, and it wouldn't have been beyond Knussen to have scored such an effect. There is a whole musical world packed into nine minutes, from delicate soundscape to eccentric galop, and it was delightfully performed.
The music of Mieczysław Weinberg was new to me – as it was to the Proms where, until the cello concerto was played earlier in the season, it had never been heard. He suffered more than most through 20th century political upheaval, leaving his native Poland when the Nazis invaded and killed his family he ended up in Moscow at the invitation of Shostakovich, but was arrested in 1953 and only released after Stalin's death. He lived to past the end of the Soviet Union but his vast output is little known.
His Third Symphony of 1950, receiving a belated London premiere, was a demonstration of the fact that there is so much good music out there, largely unperformed in major concerts. This should be a famous piece, and it would be so refreshing to hear a Weinberg cycle in place of the endless Mahler and Shostakovich – but it was noticeable that a good number of people didn't come back after the interval, presumably scared off by the unfamiliar name. More fool them: they missed a treat.
The music is melodic – using folk songs either in quotation or as a point of reference, colourful and varied, clearly comparable to Shostakovich's. Gražinytė-Tyla was an incongruously slight figure steering the musical juggernaut in front of her, but her control was total, as was the commitment of the players. The woodwind, in particular, shone, Marie-Christine Zupancic (flute) and Oliver Janes (clarinet) on the mark in all their solos. Most extraordinary was the icy coda to the first movement, utterly bleak, utterly captivating, which made me want to hear this piece again and again.
Kanneh-Mason projected the opening bars powerfully, but still with the suggestion of playing to himself
rating
Explore topics
Share this article