Suzman, London Schools Symphony Orchestra, Edwards, Barbican review - a cabaret from hell |

reviews, news & interviews
Suzman, London Schools Symphony Orchestra, Edwards, Barbican review - a cabaret from hell
Suzman, London Schools Symphony Orchestra, Edwards, Barbican review - a cabaret from hell
Great speeches and fine conducting hold a cornucopia of devilish tales together
Thursday, 09 January 2020
The LSSO and Chorus with (left to right) Tom Mole, Collin Shay, Janet Suzman, Sian Edwards, Brenton Spiteri and Fiona Kimm
The devil wore all manner of outlandish attire in last night's chameleonic programme devised by Peter Ash, the London Schools Symphony Orchestra's challenging artistic director.
There was searing verse from Marlowe, Milton and Goethe; music from
Berlioz
, Mendelssohn and
Liszt
to Penderecki and Schnittke featuring waltzes, marches, a galop and a Hammer-horror tango; and performers aged from 13 to 80.
Holding it all magnificently together were the encouraging, unfussy guidance of master orchestral and conducting trainer Sian Edwards and the supreme authority of Janet Suzman, viscerally exciting as well as perfectly modulated - she didn't need all the amplification - as Lucifer, Moloch, Faust and Mephistopheles. The rebel angels' fall in Paradise Lost took the sludgy, hellish background of Penderecki's Melodrama from his "sacred representation" as its frame - a bit like an amorphous response to the opening of Britten's Sinfonia da Requiem, which the National Youth Orchestra played so feelingly on Sunday night.
Then we were into the Prelude from Mendelssohn's The First Walpurgis Night (spoiled for choice from theearly romantics, the LSSO might equally well have played the Overture to Schumann's Scenes from Faust). Liszt's First Mephisto Waltz, an equally rare visitor to the concert hall, reminded us how much the Russians took from what they regarded as a seminal work (Musorgsky for Night on the Bare Mountain and Rimsky-Korsakov, a better orchestrator than Liszt, for his fairy-tale fantasies). Exemplary solos from principal cellist Emily Henderson and a very proactive leader, Leon Human, led us upwards here to the uncannily luminous flute solo of Penny Cairney-Leeming.
Moloch's troops rollicked into war to the strains of Berlioz's "Rakoczy March"; Suzman's delicious Mephistopheles speech from Goethe's Faust was followed by the" Ride to the Abyss" from the other end of The Damnation of Faust. First-class singing here from Guildhall students, tenor Brentan Spiteri and 22-year-old bass-baritone with a very bright future Thomas Mole (the two pictured above), who conveyed Mephisto's soul-claiming with perfect command and a voice of astonishing maturity.
He was equally strong in Faust's final confessional to the students as Schnittke tells it via a 16th century German text in his 1983 Faust Cantata "Seid nüchtern und wachet" ("Be sober und attentive"). The last time this flabbergasting feast of the composer's "polystylism" surfaced in London a decade ago, conducted by Vladimir Jurowski in an equally fascinating programme, it was entombed in Schnittke's later opera on the subject. Its impact is much stronger without the grey, monotonous recitatives of that oddity.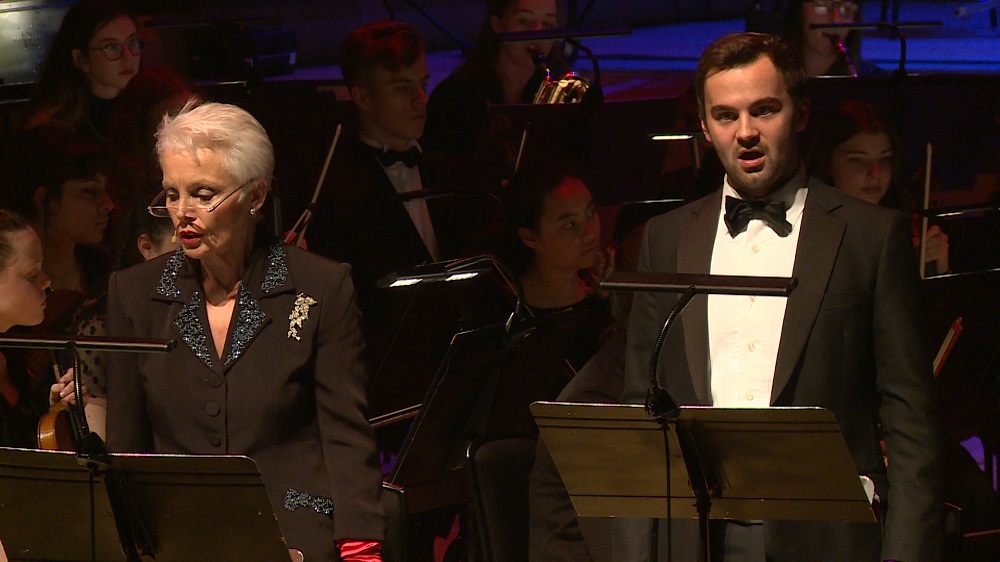 The novelty additions here were embodied in two more star solo turns. Countertenor Collin Shay, last seen as Oberon in the Guildhall School's superlatively cast production of Britten's A Midsummer Night's Dream, obviously relished his evil-spirit blandishments, at one point smearing into Bach via "A Whiter Shade of Pale"; and Fiona Kimm (the two pictured above), like a more glamorous version of Klaus Kinski (those cheekbones!), strutted down the steps of a red-bathed auditorium, microphone artist to the life, savouring every line about Faust's gory demise in infernal-cabaret style. Full marks here also to the spotlight on the young wielder of the flexatone, that novelty wailer and wobbler of an instrument made of a flexible metal strip suspended in a wire frame with a handle on the end - one of many Schnittke inheritances from Shostakovich
If there was a weakness among the performers, it came from a chorus of students, friends and parents which needed more backbone and bite; a full complement of young Guildhall singers would have done the trick. But that didn't detract from the gripping achievement of the whole. Lucky young players to be so involved with such a range of takes on a fascinating subject.
The LSSO's next Barbican concert is on 27 April, a programme of music inspired by 'Romeo and Juliet'