theartsdesk Q&A: Conductor Edward Gardner |

reviews, news & interviews
theartsdesk Q&A: Conductor Edward Gardner
theartsdesk Q&A: Conductor Edward Gardner
The English maestro on leaving ENO and London critics to take up the baton in Bergen
Saturday, 31 October 2015
Edward Gardner: 'I'm standing in front of them making no noise, waving at them and they're expected to know my innermost thoughts.'
It's odd seeing the whole of Edward Gardner, as upright as a guardsman until a passionate passage unleashes a repertoire of fierce jabs, deft feints and rapid thrusts. For nine years Gardner's main post was on the podium in the pit of the London Coliseum where all you could see were his disembodied hands and, slowly silvering over the course of his tenure, his schoolboy haircut.
It was only at the curtain that he would bound on in a boxy black suit to throw a sweeping arm in the direction of his orchestra.
That time is now over. Gardner has left English National Opera and taken up a new position at the helm of the Bergen Philharmonic, where he has been guesting for several years and now succeeds Andrew Litton. There was a festive gala concert in early October, televised and attended by King Haakon, in which Litton handed over and Gardner was officially presented with Edvard Grieg's baton.
The weeks breathe better than you would ever get in England
Why Bergen? The career in music which began in the choirstalls of Gloucester cathedral has taken in an exemplary music education via Eton (thanks to a scholarship), Cambridge, the Royal Academy and early stints at the Salzurg Festival and the Hallé before he got his first high-profile job with Glyndebourne's touring operation. Associations with British orchestras followed – the CBSO, the Philharmonia, the OAE, the BBCSO whom he conducted at the Last Night of the Proms in 2011. And from 2006 to 2015 he was at the helm of ENO where highlights included a hugely acclaimed Peter Grimes and, at the end, a towering Mastersingers of Nuremberg. But there have also been ructions. In his final year the Arts Council took a dim view of ENO's audience figures, while critics were never slow to pounce on the incursions of non-operatic talents invited inside the tent: Terry Gilliam's burlesque Berlioz, Rupert Goold's dim sum Turandot. Gardner will be back in his new role as international itinerant to conduct Tristan and Isolde next year, while this season also sees debuts with major European orchestras.
Towards the end of October Gardner took charge of his inaugural concert as chief conductor of the Bergen Philharmonic (pictured below: Gardner signs for Bergen). The programme included a gift from Britain, Britten's Serenade with Mark Padmore singing and Martin Owen on French horn, and Mahler 1. In the conversational passages of the symphony the crisp acoustic of the concert hall meant the orchestra's various sections each rejoiced in a distinct clarity. It was as if each section was an island in the jagged archipelago of Bergen's crowded coastline. No wonder Gardner is in Bergen: it rains a lot outside, but inside the concert hall it shines. British audiences will get a chance to hear for themselves when the orchestra tours in early 2017. In the mean time there is a new double bill of Janáček discs to enjoy.
The morning after the night before, I sat in the orchestra's canteen to ask Gardner about leaving ENO and coming to Bergen. Before we could start, the American principal percussionist hollered across the room: "Great concert, maestro!" Gardner looked abashed. "I promise I didn't set this up." he said.
JASPER REES: There are apparently something like 20 couples in the Bergen Philharmonic. The orchestra is even known as the Harmonie. Do you find that harmony in the musicians themselves?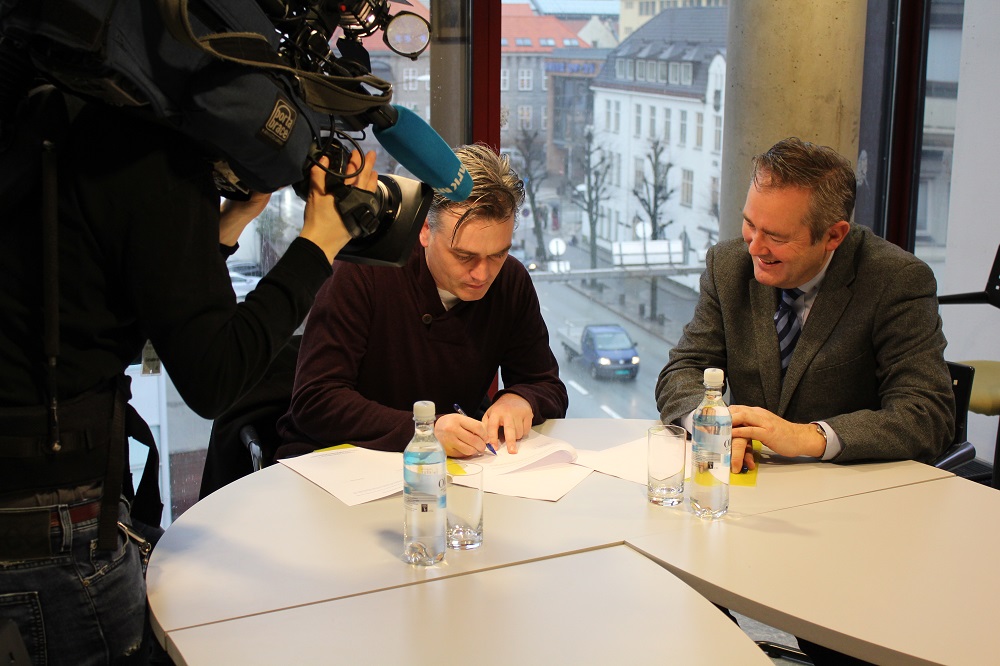 EDWARD GARDNER: I don't know if it's connected but the orchestra here has a real sense of family. They're all up here having a drink on a Thursday or Friday night and they all do it together. It's a community, they all work for each other. It's very interesting coming from London to here because in London everyone is addled by the stress and the travel, and people don't have that here; they're fresh at 10am on a Monday morning. When I worked with ENO, my old orchestra, or the Philharmonia, I don't know how they manage the work they do with living in London and the travel they have to do. And it's only going to get harder. People are going to start living further and further out. There's no option. That's scary.
How do you feel about being called "maestro"? It's only Americans who ever use the term.
I'm used to it from working out there. But it only ever comes up in England if someone is going to ask you a very sarcastic question. "So, maestro…" If an English person says it to you, you know you're in trouble.
Why here? What brought you to Bergen?

It's a very special sound in the orchestra. That string sound is really special and I fell in love with that the first time I came here.
How does it sound to your ears?
The first impression of the sound of the strings is it's quite old-fashioned. It feels like an old Viennese sound without being too heavy. It's quite hard to put into words. But it has an athleticism at the same time. It can move and it finds fantasy in the sound. The great orchestras have their sound wrapped around the strings, don't they? The string sound hugs the rest of the orchestra. That's the basis. They're wonderful players all round the orchestra but that's what's very, very special, I'd say. Every element of the orchestra is world-class but that string sound is unique and that's what really turned me onto it. And the work ethic. That sounds mundane but it's not. The willingness and hunger to delve very deeply into music is fantastic. We rehearse 10 to three, for three days before the concert day. The weeks breathe better than you would ever get in England. People really want to be pushed and in turn that pushes me and that's really good. You find yourself having to really find out everything about what you want here. I mean, the orchestra needs rehearsing. You don't take much for granted. That's another thing. But you really have to enunciate mentally what you want to achieve on every level.
That explains what you like about the sound of Bergen. But how about leaving the ENO? Had your time simply come to an end there? Could you have stayed for longer? There was a lot of offstage noise in the last year. Did you need a fresh start?
It's funny, isn't it? These things are always analysed much more minutely from the outside than they are inside. It got messy in my last few months at ENO but I had made the decision to leave two and a half years before and the ENO were well aware of it.
So the messiness validated your decision?
Actually, no. If I had known that things were going to get tough with the Arts Council and management changes I would have stayed for an extra year because I think you feel very paternal to places like that. I'd grown up in that place and ENO had helped me enormously in so many ways. I have so many great friends there that I would have loved to have helped bridge into the future. I'll be back there in a few months. I was there for nine years and I wanted to look in slightly different directions. But, actually, now I'm out I have to say I do miss being in an opera house and I'm sure one day I'm going to want another one.
What do you miss?
It's a family and it bickers, but it loves a lot as well. ENO saw me through hugely difficult times in my life. It is a unique place. It's always been a little bit messy but they really look after you. Also you can shape so far into the future. I'd really know next time how to do it properly. You can really plan things for an orchestra, for a chorus, for an audience, six years in advance. Running an orchestra is slightly different. You can build up your era with an orchestra but it's through small snapshots of concerts. A run of Meistersinger or Tristan is completely different. I relish that so much.
You have said in a previous interview that being a music director is two jobs. Is Bergen just one job?
No, it's not. It's the same, really. What I meant by that is you have to separate your comradeship as a musician and what you do with your colleagues from the long-term management. I think it probably is slightly less in an orchestra, but it's still there for sure. I just found it very hard to start with at ENO. I would be doing difficult meetings with the orchestral committee on the day of Death in Venice and I really couldn't cope. You have to compartmentalise to survive as a musician. The wonderful thing here is – Norway is so democratic that everything is done by committee and it can take longer and it can be a frustration, but when you achieve what you want everyone feels like they have ownership over the decision, and you feel that with the orchestra as well. It feels there's a common purpose. It doesn't bicker in that way and that's lovely.
It may be a superficial consideration but it doesn't half rain in Bergen.
The weather, I know. It rains. It's not superficial at all. I was really lucky with my first visits. The first one was snow-covered, and the second was one of those rare sunny weeks where it only rains for three out of five days or something. But the nature is amazing, and the air you breathe you feel so oxygenated. When you can see right up the mountains and hills it's amazing.
How many weeks will you be here a year?
I think it'll be 10 or 12, but I'm aiming for as many as they want because that's how we'll get good together.
In another interview you have referred to learning to "share a language with the orchestra... we can start rehearsing at a level about four times higher than the one we used to set off from." What level are you at here?
Monday morning is a challenge at the moment. That's one cog which is going to improve for sure and that's something you can do when you really know each other. I mean it's such a weird thing. I'm standing in front of them making no noise, hopefully, waving at them and they're expected to know my innermost thoughts. Week by week there is something that happens after a concert where you trust them more – and they trust you more. And every new week you start after that your relationship has grown, exponentially.
You've just described what a conductor does; the apparent anomaly of communicating emotion and intent silently through gesture. Does the oddity of the conductor's role ever just come and bite you? Do you ever stand back and think, this is crazy?
Yes, when it's going badly, when you're with an orchestra who aren't reacting to what you're doing. That's happened to me once or twice. I'm sure it's happened to everyone. You're waving your arms around and you think, why the fuck am doing this?! You feel like you're literally a child painting in the air, and not in a good way. That's happened.
Talking of children, what is the thread connecting the Gloucester cathedral chorister that you once were and the conductor who stands in front of the Bergen Philharmonic? Are you in any sense the same person?
Yeah, I'm sure I am. And I look back on that, that time feels very recent to me, strangely more so than stuff in the middle. I loved it. You're a sponge at that age as a kid, aren't you, and you take this stuff in, and it comes out 30 years later. Memories of singing in Mahler Eight. I've just got my score of The Apostles because I'm going to do it next summer. The first time I did the first chorus was as a chorister. We used to do it on a Sunday afternoon in Gloucester cathedral. Looking at it I can completely remember how it felt to be singing. But the other side of that is the institution of education in England is an unbelievable gift for boys and, luckily, more and more girls now – that church music, music scholarship, university, music college. But also you need to find something outside of that. I railed against it a bit. You need to free yourself up from it at a certain point if that's been your upbringing. The Academy was really good for that because I felt you were with people who were instinctive musicians rather than learnt musicians, and I think about that balance rather a lot.
So did being a chorister prepare you for the business of learning stuff quickly as a conductor?
Very much. Sight-reading, being a chorister and a pianist and a bad organist helped enormously. Piano playing is a great thing, that thing of learning multiple staves. Actually organ playing is even better, three staves at once. But actually it can be a curse being able to learn music too quickly because it's harder to delve deep into it and really get it into your muscles. Being here Monday morning can often be a bit of a car crash in terms of how it's sounding or how well the piece is known. But there is a thing that keeps going up and up. And English music-making can often go up and just plateau. That really doesn't happen here. That's really exciting – and you try and find the same in yourself.
How does the rhythm differ in the UK?
You've got to work a little quicker in England. The CBSO will have two days rather than three. They'll start from a more polished level, a British orchestra, but pushing's a little harder, maybe. Same thing with the BBCSO. With the Philharmonia you'll often do a day of rehearsals the day before. So it's quick.
You're working with three new orchestras this season: Orchestre National de France, Leipzig and Frankfurt. When you stand in front of a new orchestra for the first time, what do you go through?
It's hell, I've got to say. It's really hell. And the nice thing about getting a little bit older is you don't have to go through so many first appearances with orchestras. The anticipation of it is horrible. They're all individuals, but there is a chemistry that makes it into something. Colin Davis called it a blind date, going to a new orchestra, and it's true. You can be the same person with the same music, and sometimes it'll work and sometimes it won't. You never know. And that lack of control of it is scary. But I just make sure I do my thing to the best of my ability, and listen, and I show them that I'm serious about getting what I want.
Was that lucky break in Salzburg a benchmark for you – to say that nothing could ever be as much of a vertical clamber as learning the Lulu score overnight? Or am I mythologising that moment?
That was really something. My three years in Salzburg were amazing. More than anything that I did, seeing music-making at the top, with great orchestras and wonderful conductors and phenomenal soloists, too. I look at that time with incredible fondness. That was a step, watching for three months for three years, that quality.
You were keen to celebrate the Englishness of ENO. How are you noting the Norwegianness of the Bergen Philharmonic? Indeed, how much do you know about Norwegian music?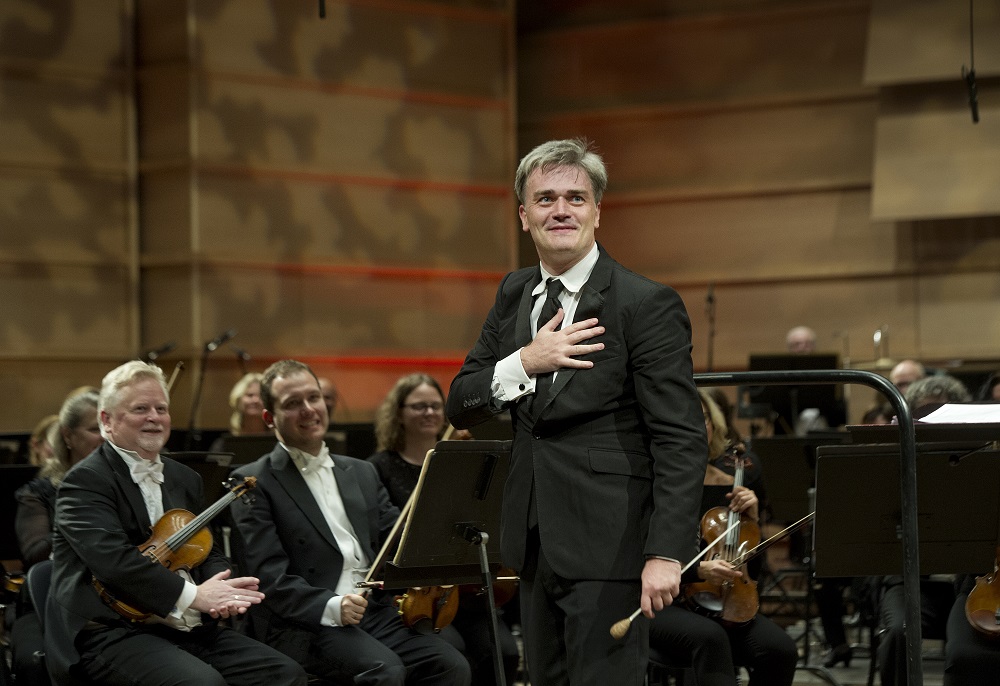 I've started delving into that with the literature, which is amazing. Norwegians are very direct in quite a polite way. More politely than the Finns, I think. They're direct but very centred. They don't need to say fluff. I like that. Norwegianness, there's a lot to celebrate. There's actually a really brilliant canon of modern composers at the moment here. I'm doing a concert with only Bergen-focused composers. The whole Grieg thing, of course the orchestra feel like they've done to death. But I've never conducted Peer Gynt and I'm going to next year. And that'll be scary. That'll be like, I would have thought, standing in front of the Vienna Philharmonic doing the New Year's Day concert. I really want to experience that music with them. But locality is so different from London because there is a sense of this orchestra existing in the community. I've never had that, because I've worked fundamentally in Glyndebourne and London. They don't have that kind of community around them. Here I went to pick up my parents from the airport and a baggage-handler said, "Can't wait to hear the concert on Thursday." The taxi drivers will talk about it on the way in. That sense of the community owning the orchestra and the orchestra giving back, I love that.
Will you be introducing more British music?
I'm not that specific about it and you don't really need to be, because Andrew Litton has done so much stuff already. Andrew Davis has recorded lots of British stuff. They know a lot but what's interesting is they haven't done Elgar's first symphony ever. We did a Gerontius three years ago and it was a revelation for the musicians. I'd like to widen the diet of music here. I'm going to be doing quite a lot of Haydn and early romantics.
Why that here?
I think symphony orchestras don't play enough classical-period music. There is a sort of insecurity about playing it. Before the period instrument movement became strong, symphony orchestras felt they had an ownership over Haydn and Mozart.
And in December you will be performing Gurrelieder with a very starry cast. What was the thinking behind that programming?
Seriously, why not? You have to pick carefully when you do that piece. It's an enormous undertaking, in terms of the resources of an institution. We wanted to do it then because it's the end of the jubilee celebrations of the 250th anniversary. I wanted to do something that was a statement of what the orchestra is capable of, but also we have the most fantastic chorus master here and he, in the time I've been working with them, has transformed what the chorus can do. The Glagolitic Mass was phenomenal and they never could have sung that music. Something choral on that scale felt right.
What else is in your head?
I'd love to do Mahler Eight but that'll take a while. The orchestra haven't done it for a fair while. A huge range. New pieces. A little bit of opera. I want to do the operas which I feel the orchestra can really benefit from, and I adore doing. I'd love to do a Wozzeck. There's a plan to do Otello and bring something that I know well.
Meanwhile you're due back at ENO next year to conduct Tristan. How do you prepare?
I've been around Tristan a lot lately. I don't know how. [Director] Daniel Kramer and I have been through the text to make sure we've got what we want from it. With Mastersingers I grabbed the singers and coach them as early as possible so you feel you have a common understanding of where you're going with it. I used to fly back from wherever I was on Saturday morning and grab Nicky Spence or whoever and do two hours on David, or find Iain Paterson when he was free to do a bit of Sachs. The more the better.
More than anyone recently you have conducted translated opera. Are you aware of the differences from working with singers on the original text?
There have definitely been occasions when I've missed the beauty of Italian. Italian is the difficult one with ENO. The ardour of the language is pretty untranslatable. And those are the ones that I felt that we had the most problems with. The audience are used to it, so maybe the working through was the hardest process of finding a translation that has the perfume of the language in those cases. I never had any issues with German to English, Czech to English – although I never did any Janáček that worked fine. Russian to English was OK. Yes, you lose a certain amount of colour but the immediacy that you gain is enormous. And it's not just an immediacy for singers to audience, although that's massively important. It's the way people sing to each other and the way choruses sing. There is a level of understanding and contact that – I'm sorry because I've experienced it – you often don't get in international opera houses, where people from many different nationalities are singing an Italian opera. That is very very special. And working on something like Rosenkavalier, I've done it in English and German, and teasing out with John Tomlinson, who has done Ochs in English and German for 25 years, what we could do with a particular translation is incredible fun. And then when you come back to do it in German you find that you've engaged with the original language much more than you would do if you were just learning it in German. So the nuance of the language is clearer to you.
(How is your Norwegian?
Pretty non-existent. But I am going to learn some.)
ENO in your years there had some very imaginative relationships with directors, quite a few of whom had not worked in opera before. The critics tend to set the agenda of whether a show has been successful whether you agree with them or not. Do you know in your heart of hearts whether a director's vision is going to work or not? Can you negotiate with them, or do you just grin and bear and get through it?
When you're music director of an opera house you can get into a director early. You can talk about what you want two years in advance. You can't do that when you're a guest conductor. Once you're in the room with them you do anything you can to make it work, to fuse what you're doing with what they're doing. That's your job. And I think anyone who backs off that isn't doing their job properly. ENO took risks on new directors, and new direction for pieces, and that's exactly what it should do. But the stable of directors there… you can say you liked things or you didn't like things, but I can honestly say I won't work with that quality consistently: David McVicar, Deborah Warner, Richard Jones, David Alden, Daniel Kramer. I mean, these people are amazing.
You're naming people who have mainly worked in opera (and theatre).
I'd definitely add Terry Gilliam to that. There are some directors who have been in theatre or films you feel you have to guide a little bit more, but that's great. Great artists are great artists, and you can learn from these people and hopefully they learn from you too
When critics land on a show like a tonne of bricks, how does it make you feel?
You've got to get back on the horse. The worst situation is when you do an opening night and it doesn't go down well and you've got 10 days before your next show. That's too much. But as soon as you're back on the horse, and it's been well rehearsed, you've got your common purpose back, and then you're in the run and it's for the audience. I think there is an issue with British critics. You feel that opera critics are fighting for attention a little bit at the moment. Newspaper criticism is a dying art form. I often feel that there wasn't advocacy of the work that you get in other countries where a critic will say, "I absolutely loathed this evening for these reasons, but I admire the company for putting it on and you should experience it for yourself." And that upset me a bit.
So the group of opera critics sometimes didn't make enough effort to investigate the intellectual underpinning of directorial choices?
I wouldn't accuse them of not having valid opinions. But just the advocacy quality. Opera and theatre criticism seems to be very personal at the moment in London in a way it's not elsewhere. "This director's not good enough, this conductor's not good enough, that actor didn't do it." That kind of thing. It's probably always been like that. There should surely at the centre of every piece be a celebration of whatever work it is.
What are your memories of the handover night in early October when you and Andrew Litton performed in the presence of King Haakon?
It was lovely. I felt for him having to sit through three and a half hours of us playing music. Especially when I started off. I am really glad we did Miraculous Mandarin because the rest of the concert was quite fluffy. You did think, is this appropriate? But it was a great thing for the orchestra to have a proper showpiece, and I did in the Last Night of the Proms and actually it's really good in that context to have something that's gritty and virtuosic. But it was amazing. We did it for two nights and the first night was quite formal and it was on telly and it was a big celebration. And the second night was more for the people that normally come to the concerts and that was equally wonderful. A celebration of what they bring to us as well.
And the handover was smooth and cheerful?
With Andrew? It was lovely! I know from my experience of leaving places, those situations you've got to handle really delicately. Even if it's the direction that everyone wants to go in, it's like a break-up, even if it's on the best of terms. You're very tender. And it was fantastic to spend the week with Andrew. We went out drinking and we had dinner together, and conductors never get a chance to do that together. You're never in the same town.
How was the break-up with ENO – the final evening?
It was absolutely lovely. I sort of felt it most of all in Meistersinger, because that's a piece about the creation of art. And I think you judge an era in a company from those sort of pieces, how they're performed. It was around the time of the Arts Council stuff, the drop in our subsidy and all that, but we could create that thing. That was the most emotional I got about it.
Although this is your main base you'll be on a plane a lot.
That's a lifestyle change which I wasn't prepared for. I didn't realise how lucky I was to have seven months in London and be able to go down and take my boy to school a couple of times a week. I go home on Saturday morning and do some washing, and I'm at Heathrow again on Sunday. That's tough.
It's the Gergiev way.
Not quite. But you've got to be a bit zen about it. Trains is when I do my best work. I am dreading when HS2 comes into action because my train journeys to Birmingham are going to be too short.
From your perspective of no longer being based mainly in the UK, is your perception that classical music is in a healthy state? There is constant pressure on orchestras and opera houses to get new audiences in, while there is much less money around for recording. Are you, broadly speaking, and from your Norwegian eyrie, optimistic about the art form?
Oh yeah! Because the quality keeps getting better. We're in a golden era for music-making, I think. The qualities of orchestra around the world… British orchestras are amazing at the moment, and so are we here. It's really tough – the whole thing about a generation growing up with music for free. There'll be a backlash to that because it's not sustainable. We'll have to go back to people buying the product that we make, I'm sure. What I'm interested in – and I think about this all the time – is that my generation and younger now don't have a relationship to acoustic music. Everything is piped in. There are speakers in every coffee shop. People walk round the streets with these enormous headphones on the whole time. So the relationship to acoustic music is sort of gone. If you talk to a 20-year-old who is not anything to do with classical music about what it is to be a Strauss Salome, to sing above a 106-piece orchestra, people don't really know what you're talking about. But actually that makes me more optimistic, because I think there will be a time when that sound of The Rite of Spring thrilling through your body will become quite sacred. The Proms is testament to the energy in an audience classical music can generate. But I think about that a lot.
The nice thing about getting older is you don't have to go through so many first appearances with orchestras
Explore topics
Share this article