TUKS Camerata, Voces8 Live from London online review - a diverse choral selection |

reviews, news & interviews
TUKS Camerata, Voces8 Live from London online review - a diverse choral selection
TUKS Camerata, Voces8 Live from London online review - a diverse choral selection
South African students offer voices of hope within a typically colourful festival
Singers from the TUKS Camerata in Live from London
The Voces8 Live from London, now in its seventh iteration, has progressed from streaming choral chamber music from an empty studio to an 80-strong visiting choir in a packed Christ Church, Spitalfields. In doing this the festival has retained its best features – a variety of repertoire, collaboration with a range of ensembles – while adding scale and the warmth of a live audience.
The final concert of the current series of ten saw TUKS Camerata (pictured below), a student choir from the University of Pretoria, singing both alone and alongside Voces8 themselves, in a programme called "Hope" that brought various traditions together.
They opened with Aandgesang, an Afrikaans hymn reflecting the historical origins of the university. The choir is now fully multi-cultural (although, it must be said, still majority white) and came to life in the traditional songs Tshela Moya Ke nna yo Morena and Swilo yini. Here the sound transformed into something far removed from the European – or Afrikaans – tradition, an open-throated and rousing sound, replete with improvised wails and fluid choreography.
Of the numbers TUKS sang alongside Voces8 the best was perhaps Paul Smith's Alone (which he conducted) – a touching and understated setting of Maya Angelou, and the traditional Indodana, in a powerful arrangement by TUKS Camerata's charismatic MD Michael Barrett. Finishing with Bruckner's Os Justi showed TUKS's stylistic versatility and was an excellent programming choice, its rich chordal writing dissolving into a touchingly simple unison ending.
The rest of the festival offered some of the usual delights, and some unexpected extras (including a sequence of recitals from the Oxford Chamber Music Festival which I haven't yet had the chance to sample). There were perhaps fewer contemporary pieces than in the past – but there was still novelty. I Fagiolini (pictured below), who have been in all the Live from London events going back to 2020, offered a typically entrancing programme of polychoral music, accompanied by the English Cornett and Sackbut Ensemble, their usual colourful continuo, and two groups of young singers, the Choral Scholars of St Martin-in-the-Fields and HeartEdge Manchester Choral Scholars.
I Fagiolini's founder Robert Hollingworth is a restless searcher after new ways of presenting old music, and the pick in that respect was a Renaissance remix, Palestrina's Ave Verum Corpus with an embellishing cornett part by Giovanni Battista Bovicelli. It was intriguing and sounded deceptively modern. And Gabrieli's In Ecclesiis, restored to full glory by Hugh Keyte and ending the programme with singers and players spread around St Martin-in-the-Fields, was, as per the title of the concert, "super-excellent".
The ethnically diverse orchestra Chineke! has featured in previous festivals but here we had their choral offshoot, Chineke! Voices (pictured below), offering similar opportunities to black singers. The programme offered a fascinating primer in the music of Vicente Lusitano (c.1520-c.1561), now regarded as the first European composer of black descent to have his music published.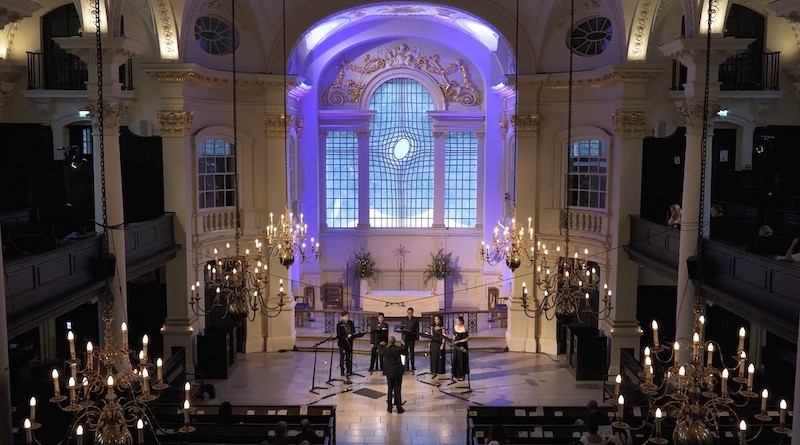 His biography is mysterious – even the surname "Lusitano" just means "Portuguese" – and he was probably born to a black mother and white father. (This, and much more, is in Joanna Wyld's detailed programme note.) The singers were conducted by Joseph McHardy, who is also the scholar from whose editions they sang. The music is polyphonic, austere and restrained – but coloured by some piquant dissonances. The standout singers were sopranos Elizabeth Ajao and Madison Nonoa, and countertenor Garreth Romain. I look forward to hearing more of them, and of McHardy, whose conducting was excellent.
As ever, the concerts are presented on screen by the personable brothers Barnaby and Paul Smith, the joint driving forces behind Voces8 and the festival. Their easy confidence in, and mutual respect for, each other makes for comfortable viewing and they are surely an example to adult siblings everywhere. Or maybe they start throwing things at each other as soon as the cameras go off. Either way, they have a winning formula.
The sound transformed into something far removed from the European tradition, open-throated and rousing, replete with improvised wails
rating
Explore topics
Share this article